Pressure Cell
The Pressure Cell is a sealed vessel that can be pressurized up to 138 bar (2,000 psi), over a temperature range of -10 °C to 300 °C.
View brochure
Contact Us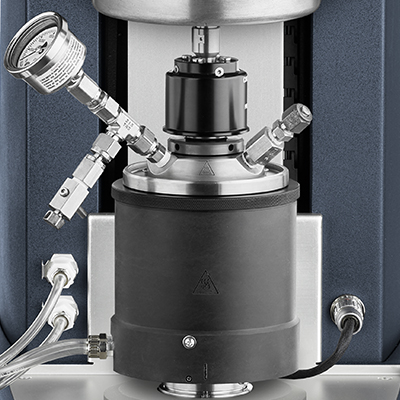 Pressure Cell Accessory
The Pressure Cell is a sealed vessel that can be pressurized up to 138 bar (2,000 psi), over a temperature range of -10 °C to 300 °C. It can be used either in self-pressurizing mode, in which the pressure is produced by the volatility of the sample, or by externally applying the pressurization, typically with a high pressure tank of air or nitrogen gas. The accessory includes a 26 mm conical rotor and optional vane and starch rotors are available. All necessary plumbing and gauges are included as a manifold assembly. The Pressure Cell is ideal for studying the effect of pressure on rheological properties, as well as studying the materials that volatilize under atmospheric pressure.
Features
Sealed system for rheological measurements at high pressure and temperature
Steady and dynamic measurements
Pressure up to 138 bar (2,000 psi)
Wide temperature range

Peltier Concentric Cylinder: -10 °C to 150 °C
Electrically Heated Concentric Cylinder: ambient to 300 °C

Copper exterior sheath maximizes temperature accuracy and uniformity
Stainless steel and titanium internal construction resists aggressive environments
Low friction jeweled bearing for maximum measurement sensitivity
Operate in self-pressurizing or external-pressurizing configurations
Simple installation and fast conversion for ambient pressure rheology
Technology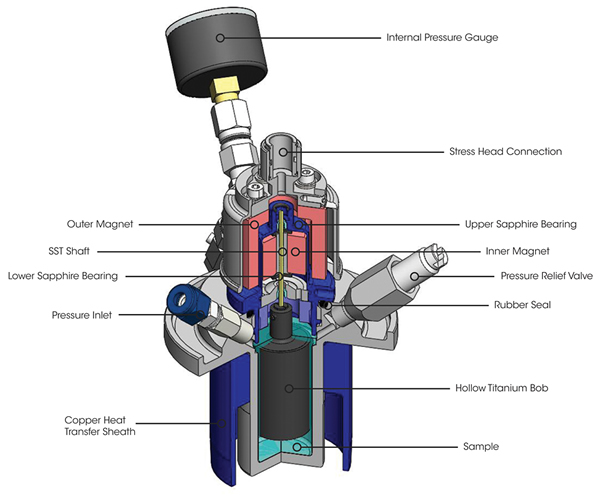 The Pressure Cell Accessory is used with the Peltier Concentric Cylinder jacket or Electrically Heated Concentric Cylinder jacket. The sealed and pressurized volume is contained within a stainless steel cup to withstand high pressures and is surrounded by a copper sheath for optimal heat transfer. Also connected to the cup are the pressure inlet, internal pressure gauge, and pressure relief valve. An outer magnet assembly is attached to the rheometer drive shaft and houses strong rare earth magnets. The rotor assembly houses the inner magnet which couples to, and is levitated by, the outer magnet assembly and drives the hollow titanium cylindrical rotor. The rotor shaft is made from low friction Titanium nitride-coated stainless steel and is supported above and below by precision sapphire bearings. This innovative high-powered magnetic coupling and low-friction bearing design allows for both steady shear and dynamic measurements.
Pressure Cell Rotors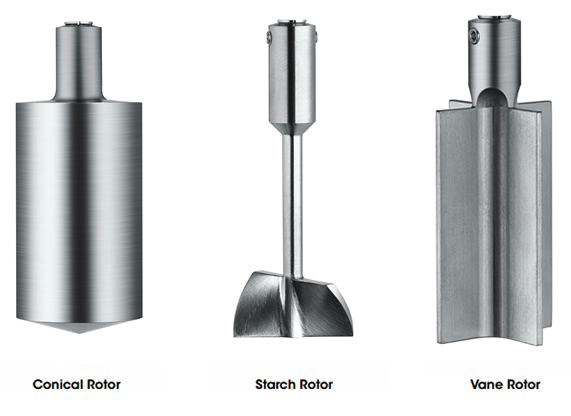 Pressure Cell Rotors
The Pressure Cell Accessory is compatible with any of three rotor designs. The standard rotor is the Conical Rotor, which is ideal for the quantitative measurement of liquids. Suspensions and slurries may be more well-suited to testing using the Starch Rotor, which prevents settling, or the Vane Rotor that is tolerant to larger particles and inhibits slip.
Effect of Pressure on Motor Oil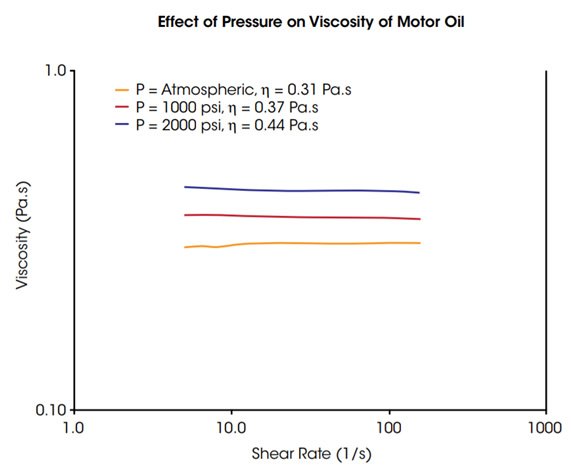 Effect of Pressure on Motor Oil
To understand the ability of motor oil to provide necessary lubrication under different environmental conditions, it is critical to know its viscosity over a range of temperatures and pressures. The figure to the right shows results of steady state flow tests conducted on automotive motor oil. The temperature was held constant at 20 °C and tests were run at atmospheric pressure, 1,000 psi (69 bar), and 2,000 psi (138 bar) of pressure. The results show that the pressure acts to increase internal friction, as observed by the increase in viscosity
Pressure Cell Accessory

The Pressure Cell is a sealed vessel that can be pressurized up to 138 bar (2,000 psi), over a temperature range of -10 °C to 300 °C. It can be used either in self-pressurizing mode, in which the pressure is produced by the volatility of the sample, or by externally applying the pressurization, typically with a high pressure tank of air or nitrogen gas. The accessory includes a 26 mm conical rotor and optional vane and starch rotors are available. All necessary plumbing and gauges are included as a manifold assembly. The Pressure Cell is ideal for studying the effect of pressure on rheological properties, as well as studying the materials that volatilize under atmospheric pressure.

Features

Sealed system for rheological measurements at high pressure and temperature
Steady and dynamic measurements
Pressure up to 138 bar (2,000 psi)
Wide temperature range

Peltier Concentric Cylinder: -10 °C to 150 °C
Electrically Heated Concentric Cylinder: ambient to 300 °C

Copper exterior sheath maximizes temperature accuracy and uniformity
Stainless steel and titanium internal construction resists aggressive environments
Low friction jeweled bearing for maximum measurement sensitivity
Operate in self-pressurizing or external-pressurizing configurations
Simple installation and fast conversion for ambient pressure rheology

Technology

The Pressure Cell Accessory is used with the Peltier Concentric Cylinder jacket or Electrically Heated Concentric Cylinder jacket. The sealed and pressurized volume is contained within a stainless steel cup to withstand high pressures and is surrounded by a copper sheath for optimal heat transfer. Also connected to the cup are the pressure inlet, internal pressure gauge, and pressure relief valve. An outer magnet assembly is attached to the rheometer drive shaft and houses strong rare earth magnets. The rotor assembly houses the inner magnet which couples to, and is levitated by, the outer magnet assembly and drives the hollow titanium cylindrical rotor. The rotor shaft is made from low friction Titanium nitride-coated stainless steel and is supported above and below by precision sapphire bearings. This innovative high-powered magnetic coupling and low-friction bearing design allows for both steady shear and dynamic measurements.

Pressure Cell Rotors

Pressure Cell Rotors

The Pressure Cell Accessory is compatible with any of three rotor designs. The standard rotor is the Conical Rotor, which is ideal for the quantitative measurement of liquids. Suspensions and slurries may be more well-suited to testing using the Starch Rotor, which prevents settling, or the Vane Rotor that is tolerant to larger particles and inhibits slip.

Effect of Pressure on Motor Oil

Effect of Pressure on Motor Oil

To understand the ability of motor oil to provide necessary lubrication under different environmental conditions, it is critical to know its viscosity over a range of temperatures and pressures. The figure to the right shows results of steady state flow tests conducted on automotive motor oil. The temperature was held constant at 20 °C and tests were run at atmospheric pressure, 1,000 psi (69 bar), and 2,000 psi (138 bar) of pressure. The results show that the pressure acts to increase internal friction, as observed by the increase in viscosity