Refrigerated Cooling System 120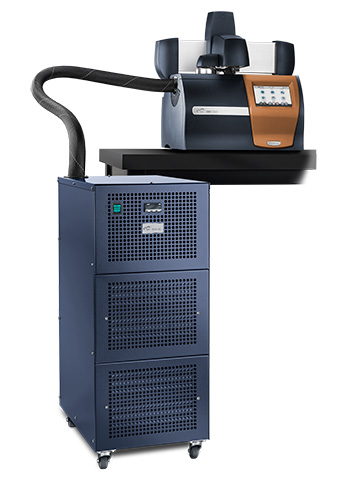 The Refrigerated Cooling System (RCS120) employs a three-stage refrigeration system, which permits convenient DSC/MDSC operation over the temperature range from ­-120°C to 400°C. This RCS120 enables cycling, controlled and ballistic cooling experiments, and is compatible with the Discovery Series DSC 2500, DSC 250, and DSC 25.
Refrigerated Cooling System 90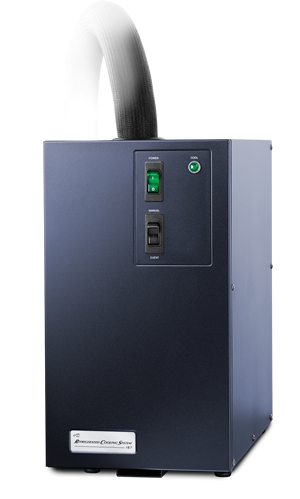 The Refrigerated Cooling System (RCS90) employs a two-stage refrigeration system, which permits convenient DSC/MDSC operation over the temperature range from -90 to 550°C.  Balistic cooling from 500°C to ambient is achieved in about 7 minutes. The RCS90 is compatible with all TA DSC's
Refrigerated Cooling System 40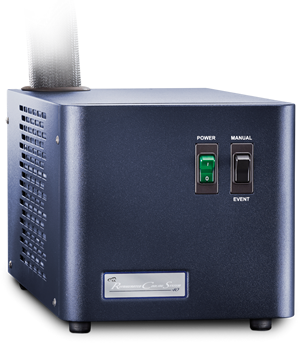 The Refrigerated Cooling System (RCS40) employs a single-stage refrigeration system, which permits convenient DSC/MDSC operation over the temperature range from -40 to 400°C.  Balistic cooling from 400°C to ambient is achieved in about 7 minutes. The RCS40 is compatible with all TA DSC's
Quench Cooling Accessory
The Quench Cooling Accessory (QCA) is a manual-cooling accessory for TA DSC Cells. It is a cost effective alternative to refrigerated and liquid nitrogen cooling systems. The QCA is commonly used to rapidly cool the cell to sub-ambient temperatures and for improving turn- around times by quickly cooling the cell to ambient temperature. The QCA reservoir is easily filled with ice, ice / water, dry ice, liquid nitrogen or other cooling mediums. Stable baselines and linear heating and cooling rates can be achieved from below -170 to 550°C.
Finned Air Cooling System (FACS)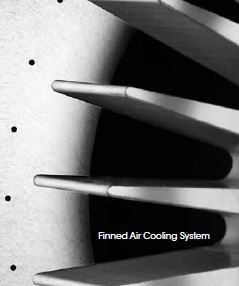 The FACS is an innovative cooling accessory that offers a cost-effective alternative to the RCS or LN2P cooling systems. The FACS can be used for controlled cooling experiments, thermal cycling studies, and to improve sample turnaround time. Stable baselines and linear heating and cooling rates can be achieved between ambient and 725°C.
Discovery Liquid Nitrogen Pump Accessory (LN2P)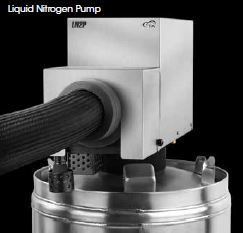 The LN2P provides the highest performance and greatest flexibility in cooling for the Discovery DSC. It facilitates the lowest operational temperature (to -180 °C), greatest cooling rate capacity (to 140 °C/min), fastest sub-ambient equilibration times, and an upper temperature limit of 550 °C. Operating at ambient pressure, the LN2P uses liquid nitrogen efficiently, thus reducing operating costs. It includes a 50-liter Dewar with auto-fill capability which allows the LN2P to be automatically refilled from a larger source, even during a DSC experiment, for continuous DSC operation with no disruption.
Quench Cooling Accessory for the FACS
The Quench Cooling Accessory (QCA) for the FACS is a manually operated cooling accessory whose primary use is with the FACS (Finned Air Cooling System). It is used to return the FACS to ambient conditions between experiments for improved turn-around time and productivity. It can also be used with the Pressure DSC, the Discovery DSC 25P, to quench cool a sample to a sub-ambient temperature prior to heating. The QCA for FACS extends the temperature range of the DSC 25P down to -130°C. The QCA reservoir is easily filled with ice, water, liquid nitrogen, dry ice, or other cooling media.
Autosampler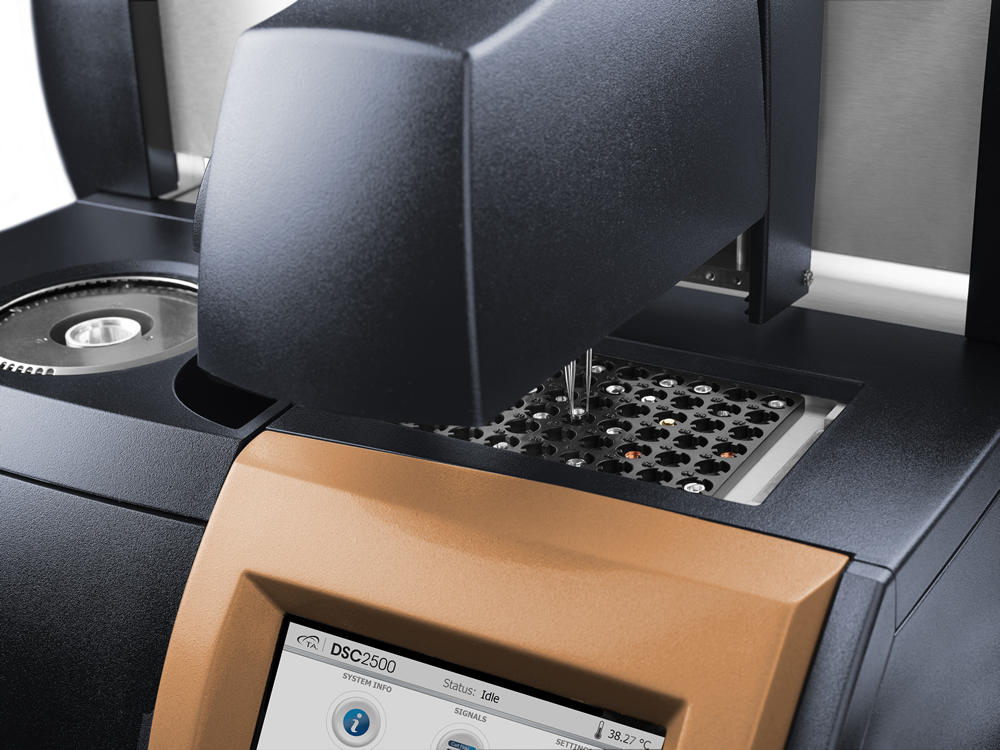 The DSC 25 and DSC 250 non-Auto systems can be field retrofitted to the 54-position autosampler.
Autosampler Features and Benefits:
New Linear X-Y-Z design with integrated auto lid reduces sample loading time for increased throughput and reliability.
The integrated auto lid gives consistent and repeatable cell closure further improving the repeatability of measurements.
New laser positioning system enables one-touch automatic calibration and pan location verification.
Scheduled and unattended calibrations and verifications gives scientists more time for research.
New TRIOS software makes it easier than ever to manage and run a large and diverse sample queue.
The Design view and Running queue allow for quick and efficient autosampler programming.
Sample and reference pans may be assigned to any combination of the available 54 positions.
Includes two quick-change trays for more convenient remote sample preparation.
Convenient design allows the choice of unloading pans back to the tray, or disposing of them freeing space for continuous sample queuing.
Sample Press
Proper sample preparation is of critical importance to the quality of data generated on a DSC. The Tzero sample encapsulation press and pans take into consideration every detail necessary by design to ensure simple and proper preparation for the highest data quality.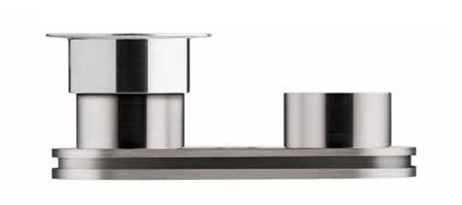 Tzero® Pans
Tzero high-performance pans and lids are designed to maximize pan flatness and sample contact. Coupled with the unparalleled flatness and uniformity of the Fusion cell sensor, the Tzero pans and lids provide the most direct, uniform heat flow path from the sample to the sensor. These pans are tolerant of many sample forms and are designed with lids that conform to the top of irregular specimens, efficiently transferring heat to and from the entire sample. Competitive pan designs that have non-flat bases are unable to achieve appropriate thermal contact with solid specimens. Fabricated using advanced technology and to extremely tight tooling specifications, the Tzero pans offer significant improvements in resolution and repeatability over any other pan design.
Tzero® DSC Sample Encapsulation Press
The Tzero press takes sample encapsulation to a higher level of performance and convenience in conventional and hermetic sealing of a wide variety of materials. The press kit includes four die sets for Tzero aluminum and hermetic pans & lids. Optional die sets are available for high-volume DSC pans and Discovery TGA sealed pans. The die sets are magnetically attached with no tools or adjustments required. In addition, each die set is color-coded to the box containing the compatible Tzero or standard aluminum hermetic pans and lids.
Useful Resources
Standard Hermetic Pan Preparation
Standard Crimped Pan Preparation
High Volume Pan Preparation
Tzero Crimped Pan Preparation
Tzero Pan Selection: Improving DSC Data
Tzero Powder Sample Preparation Kit
Photocalorimeter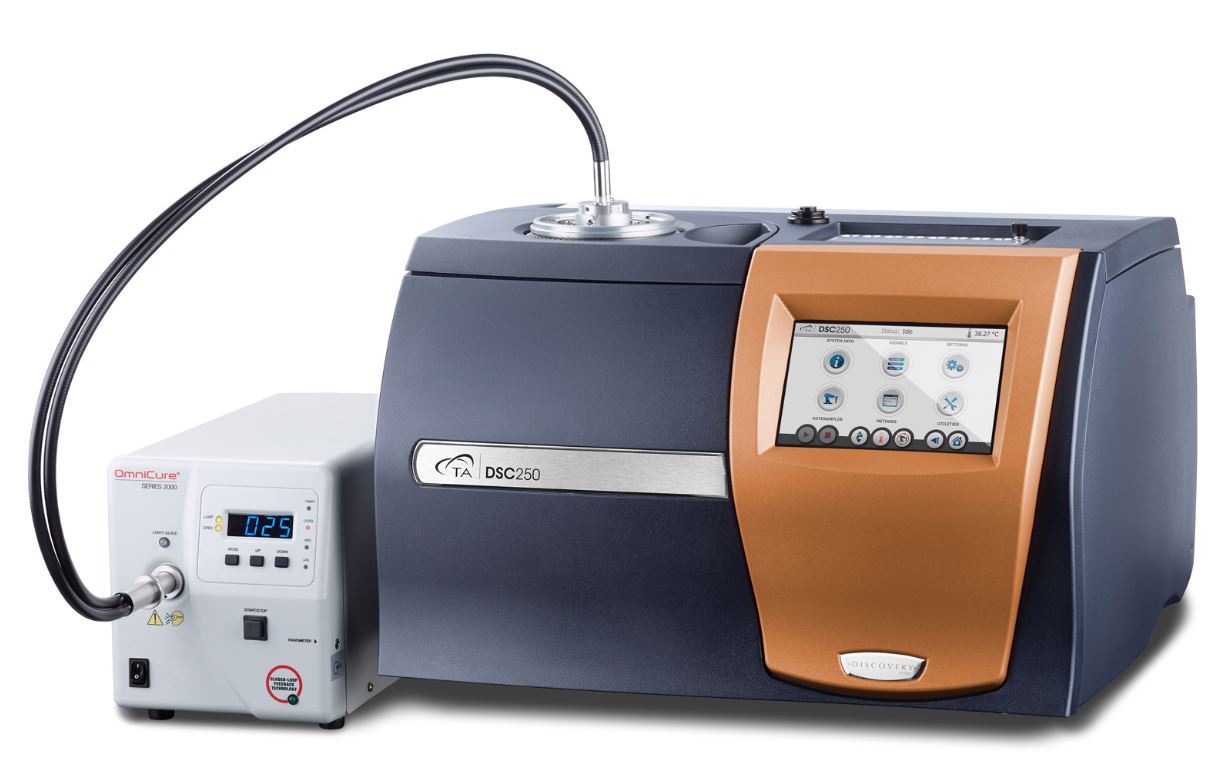 The Photocalorimeter Accessory (PCA) permits characterization of photocuring materials between -50 and 250°C. UV/Visible light (320- 500 nm) from a 200 W high pressure mercury source is transmitted to the sample chamber via an extended range, dual-quartz light guide with neutral density or band pass filters. Tzero® technology permits direct and accurate measurement of light intensity at both the sample and reference positions without the need for an external radiometer. It also provides for simultaneous measurement of two samples.
Optical Accessory Kit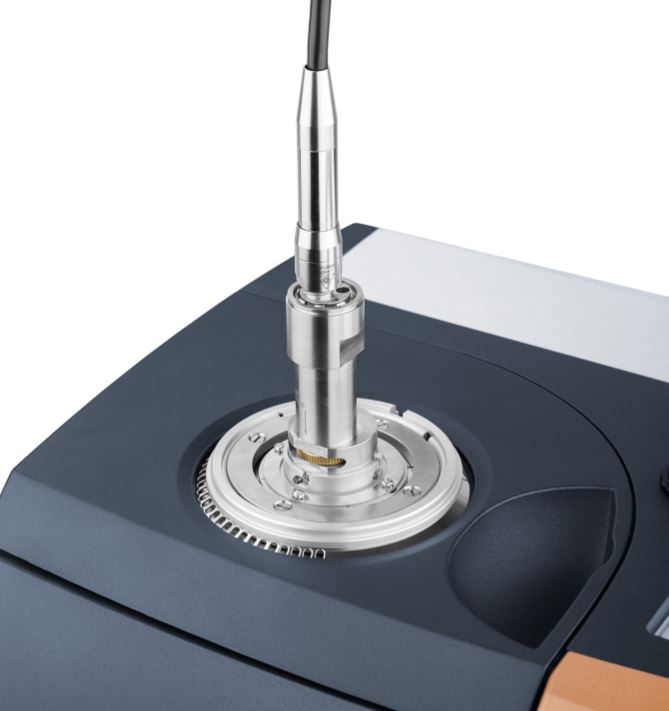 The Optical Accessory Kit provides the capabilities for measuring the calorimetric characteristics of a sample, such as heat flow and heat capacity, while simultaneously collecting information on the optical characteristics, such as Raman, Near-IR and visible changes in the sample. Such measurements can provide information on the chemical or structural changes that are occurring within a material that is complementary to the heat flow data collected by the DSC. A specially designed cell lid assembly allows for direct observation of the sample by the external optical probe while maintaining high-quality calorimetric performance. This flexible interface can be configured to work with many optical systems through the use of an appropriate probe adapter supplied by any 3rd-party vendor.
Discovery DSC Microscope Accessory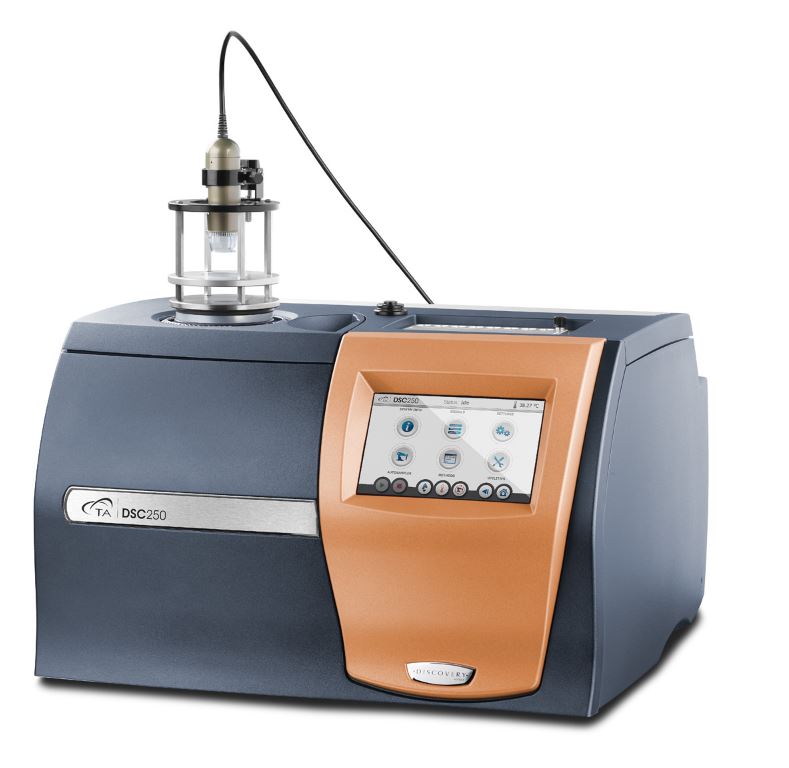 DSC thermograms can sometimes be complicated and difficult to interpret. On many occasions, multiple DSC experiments must be performed to better understand a thermal event. The Discovery DSC Microscope Accessory allows the user to easily view the sample while performing a DSC experiment. This accessory aides in the identification of endothermic solid-solid phase transitions that may erroneously be interpreted as melting endotherms. Furthermore, the experimenter can now observe physical changes in a material as it undergoes phase transitions and volumetric dimensional changes, such as shrinkage, associated with a transition, evaporation or sublimation.
The Discovery DSC Microscope Accessory is a high resolution digital microscope camera which simultaneously captures images and video during a DSC experiment.
Discovery DSC Microscope Features and Benefits
The Discovery DSC Microscope Accessory can be used with any of the new Discovery DSC 2500, 250 and 25 instruments
It is compatible with the LN pump, FACS and RCS cooling accessories for a wide operational temperature range of -180 to 725 °C
The accessory is user-installable and is quickly installed when needed to study a material
3 method segments (Image Capture, Video and Dynamic Video) make it easier than ever to simultaneously capture images and video in a single experiment. Dynamic Video is a unique command used to capture video clips only when a heat flow thermal event in the test sample is detected. This helps reduce the size of the video footage by not capturing video during inactive heat flow time periods
DSC performed with the microscope accessory has several applications that may prove insightful to better understanding materials' properties and behaviors. It allows the scientist to capture images
of:
crystallization and melt transitions
flow of materials above the glass transition and melting point
volumetric, dimensional changes associated with a phase transition, evaporation and sublimation
visual observations of coloration and other deviations in appearance