SDT 650
Simultaneous Thermal Analyzer
DSC/TGA system that delivers the purest real-time simultaneous heat flow and weight data possible.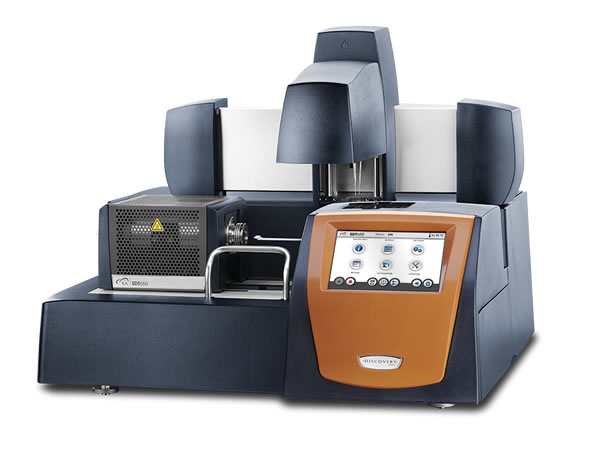 TA Instruments invites you to experience the world's finest Simultaneous DSC/TGA, the Discovery SDT 650. Discover the advanced engineering and attention to detail that provides enhancements in every aspect of performance and a new level of user experience. Available with or without an Autosampler, the Discovery SDT is sure to meet your needs and exceed your expectations.
Features and Benefits:
Horizontal dual-beam design for superior heat flow and weight measurements.
Dual-sample TGA mode for double the productivity of competitive systems.
Ultra-low drift balance design for unrivaled performance in baseline flatness, sensitivity, and resolution.
Modulated DSC®,(MDSC®), for the best determination of heat capacity.
Hi-Res™ TGA for the best separation of overlapping weight losses.
Modulated TGA™,(MTGA™), for increased productivity for studying kinetics.
Reliable linear autosampler with programmable tray positions for worry-free 24/7 operation, most flexible programming of experiments, and automated calibration and verification routines.
New innovative "app-style" touch screen puts instruments functionality simply One-Touch-Away™, enhancing usability and making it easier than ever to get great data.
Commitment to quality backed by the industries ONLY five-year furnace warranty for peace of mind.
Find relevant TA TGA applications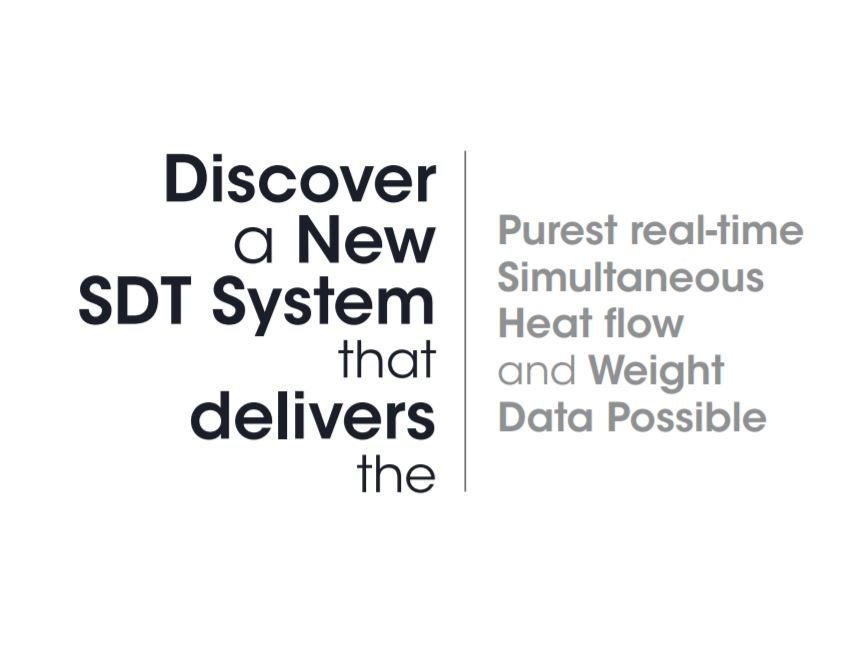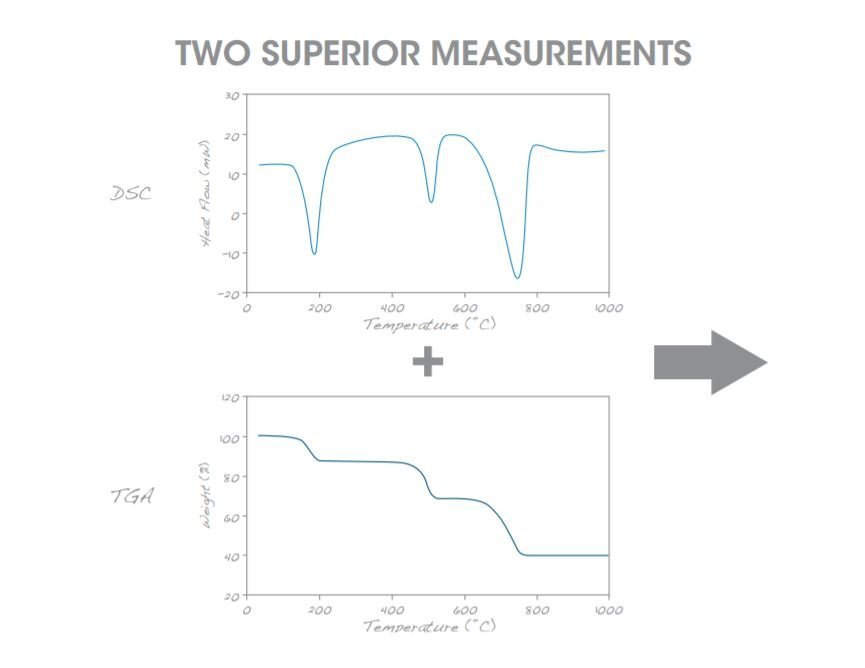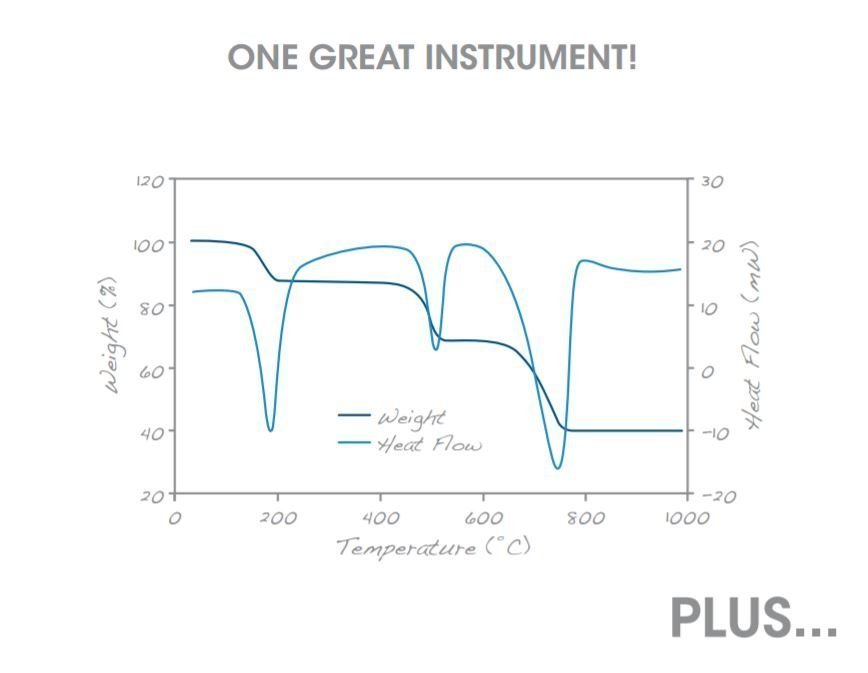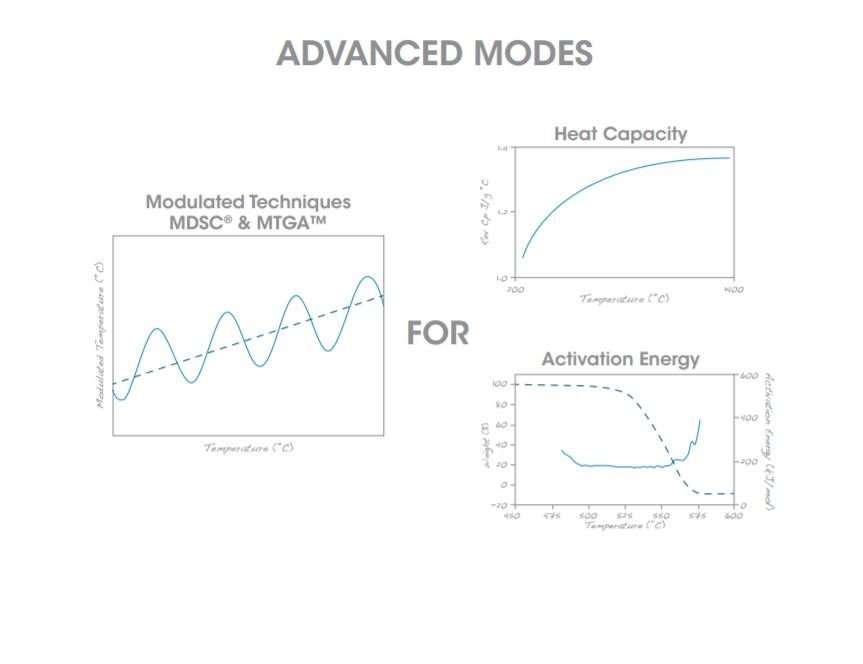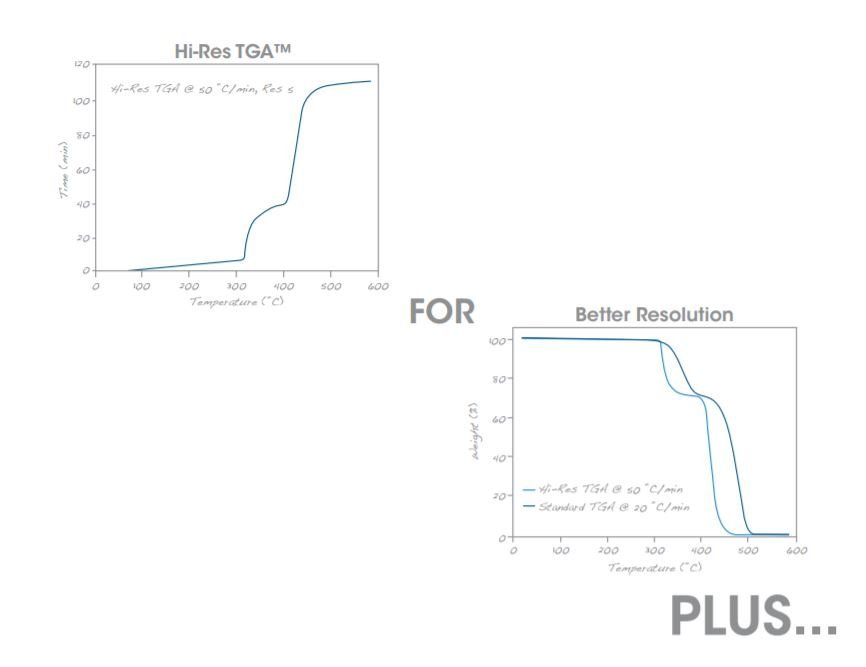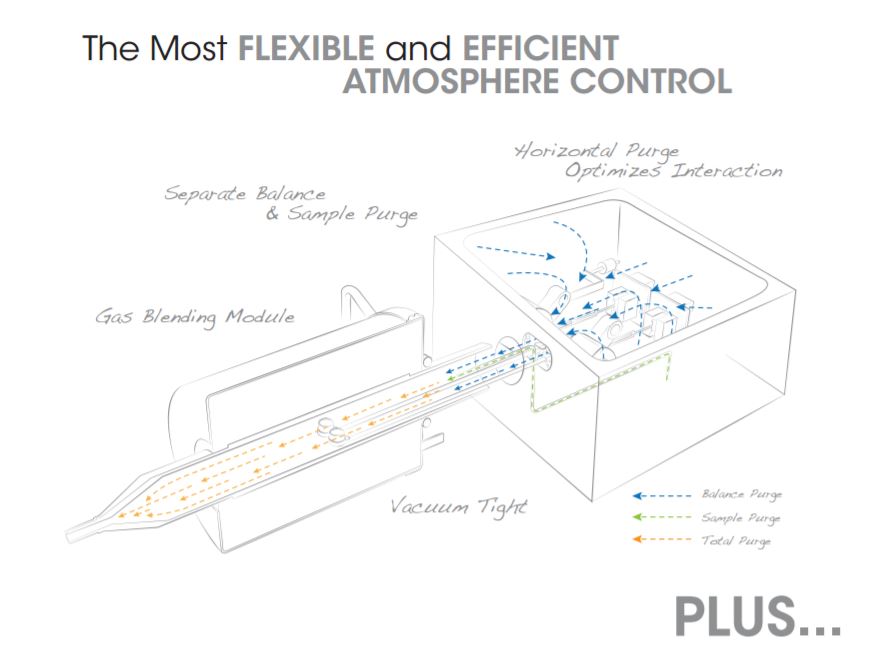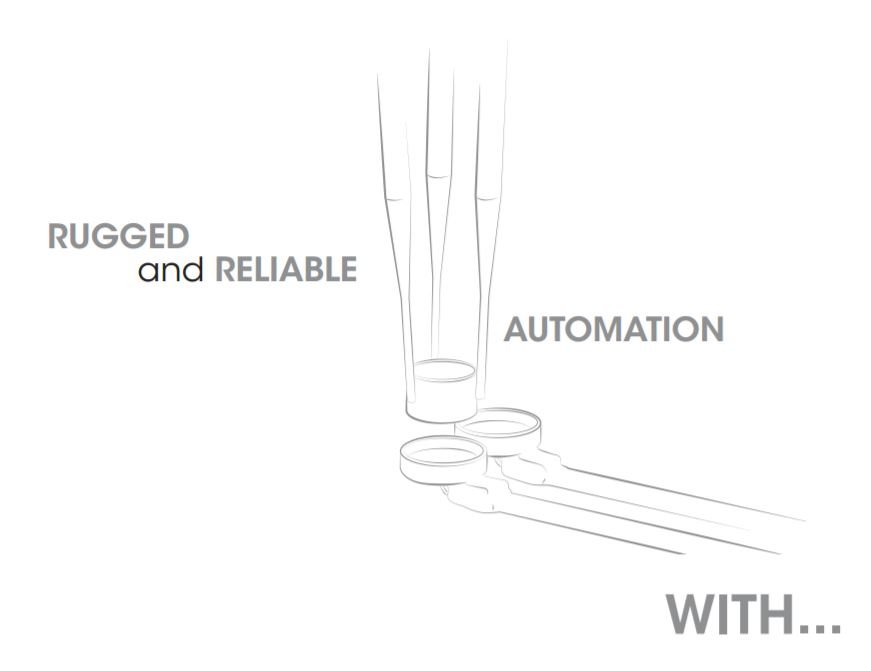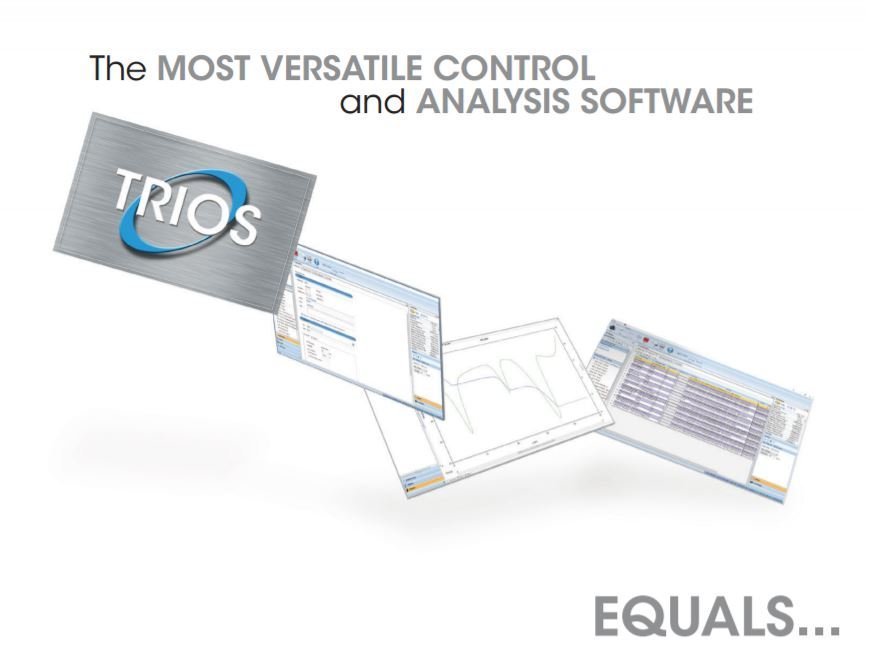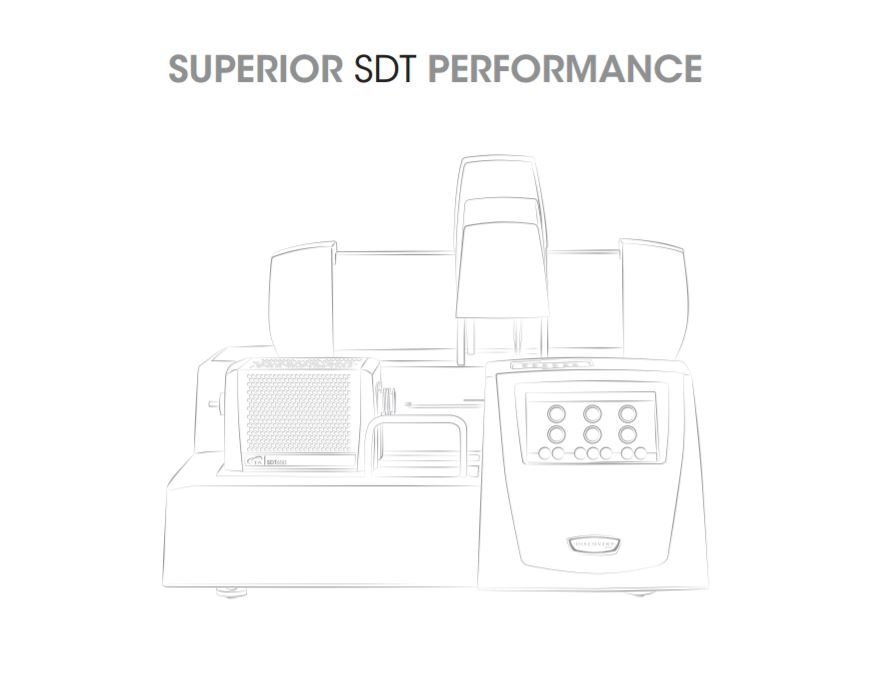 Standard
Modulated DSC
Hi-Res TGA™
Modulated TGA™
Dual Sample Mode
Auto-Stepwise TGA
Color App-Style Touch Screen
EGA Furnace Capable
Dual Input Gas-Delivery Manifold
Temperature Calibration Curie Point (ASTM E1582)
Temperature Calibration Melting Point Standards
Options
30-Position Autosampler
4-Gas Blending Module
TGA/MS Operation
TGA/FTIR Operation
Specifications
| | |
| --- | --- |
| Temperature Range | Ambient to 1500 °C |
| Dynamic Temperature Precision | ±0.5 °C |
| Heating Rate (Linear) | 0.1 to 100 °C/min |
| Calorimetric Accuracy/Precision | ±2% (based on metal standards) |
| Heat Capacity Accuracy | ±5% |
| Sample Weight Capacity | 200 mg |
| Weighing Accuracy | ±0.5% |
| Weighing Precision | ±0.1% |
| Weight Baseline Drift[1] |  <50 µg to 1000°C & <50µg 1000 to 1500°C |
| Vacuum | 50 µTorr |
[1] Without baseline subtraction
Horizontal Dual-Beam Thermobalance
Horizontal Dual-Beam Thermobalance
At the core of every new Discovery SDT is the exclusive TA horizontal dual-beam thermobalance. The integrated thermocouple design within the ceramic beams provides direct sample, reference and differential temperature measurements. This ensures superior DSC and TGA performance and unlike competitive designs, the SDT 650 gives this performance without requiring baseline subtractions and other post-test manipulation. The result is an innovative new SDT with unrivaled performance in weight drift, sensitivity and simultaneous DSC AND TGA measurements.
Dual-Beam Thermobalance Features and Benefits:
Ultra-low drift balance design ensures accurate detection of even the smallest weight changes
Simultaneous TGA/TGA – Our unique dual-sample mode permits independent TGA measurement simultaneously for double the productivity of any other TGA.
Dual-beam design makes heat flow measurements intrinsically superior to that of single-beam designs.
Quick-connect beam design with integrated pop-up beam support makes changing beams as simple as turning a screw, ensuring maximum productivity and ease of use.
Quick and Easy Beam Replacement
QUICK and EASY BEAM REPLACEMENT ensures MAXIMUM UPTIME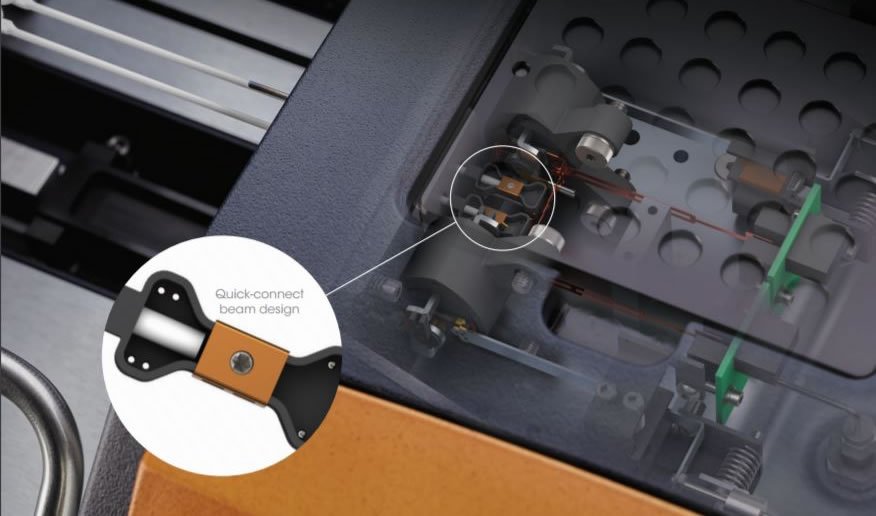 Versatile & Durable Furnace
VERSATILE & DURABLE FURNACE for LONG LIFE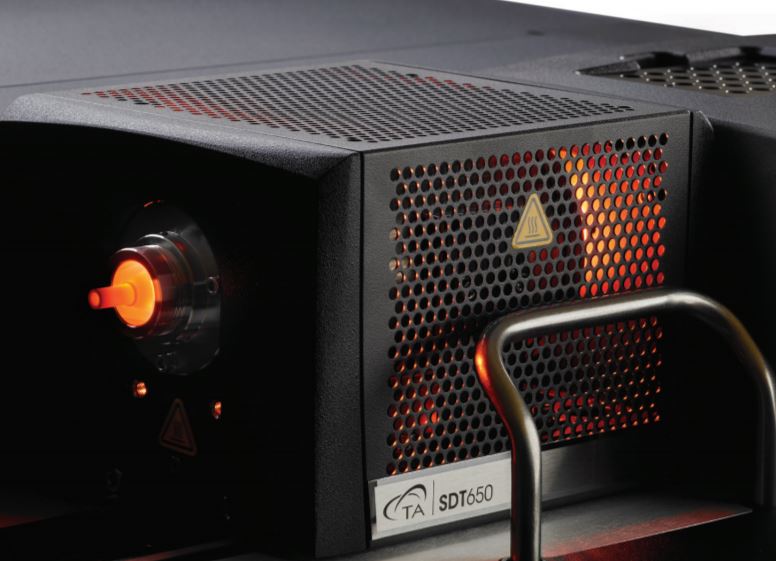 Every furnace on Every system is designed and manufactured by TA specifically for high performance DSC AND TGA measurements. This durable horizontal furnace offers better temperature uniformity than competitive systems.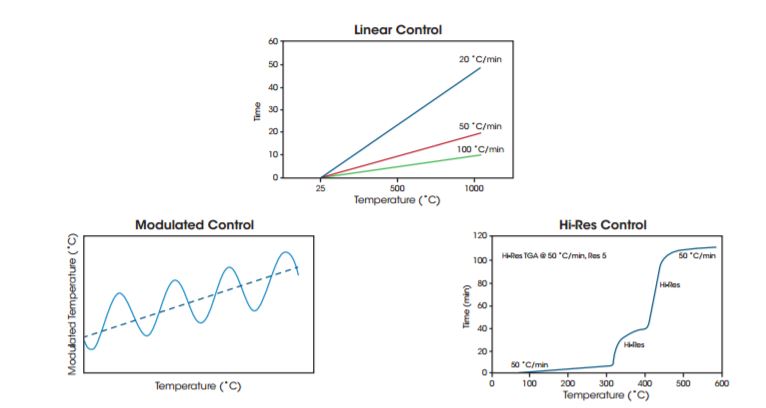 Ambient to 1500°C with a wide range of heating rates for maximum flexibility in experimental design.
Horizontal design for excellent evolved gas results without chimney effects of competitive systems.
Cooling from 1500 °C to 100 °C in under 40 min for quick sample turnaround.
All TA furnaces are covered by the industry's ONLY 5-YEAR WARRANTY
Atmosphere Control
The most EFFICIENT SAMPLE-ATMOSPHERE INTERACTION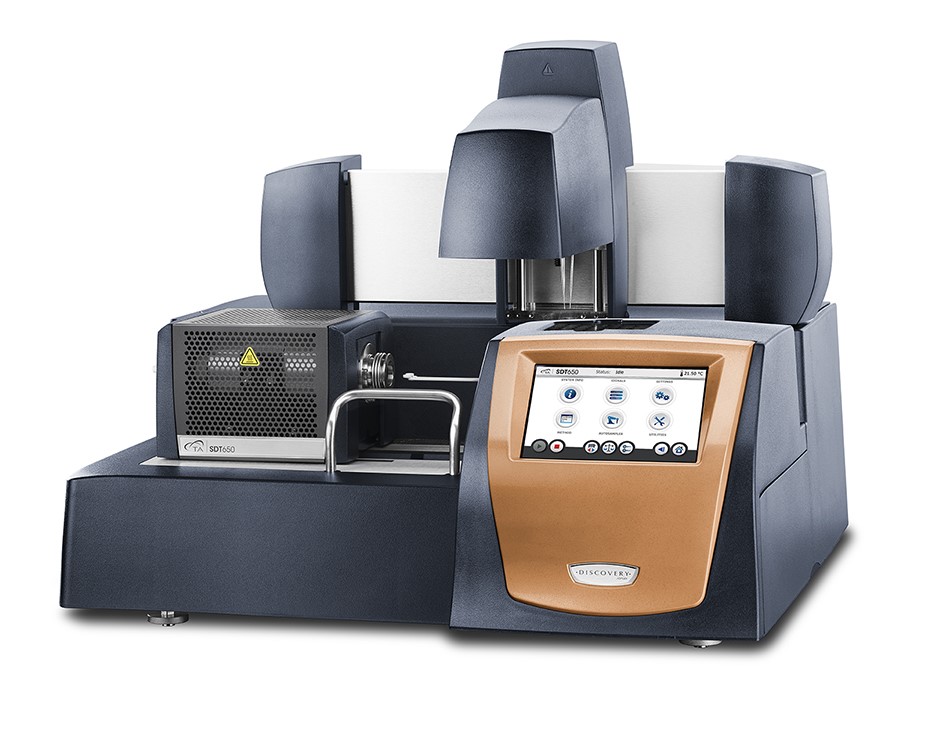 Discovery SDT's are designed with superior atmosphere control to meet the most demanding applications. Whether maintaining an inert atmosphere, switching to an oxidative purge, or maintaining a high vacuum the Discovery SDT is up to the task.
Atmosphere Control Features and Benefits:
Innovative Gas-Delivery manifold design minimizes potential leak points from tubing and hardware connections ensuring the most consistent, repeatable atmosphere.
Integrated software-controlled gas switching for experiments requiring dynamic or reactive atmospheres
New Gas blending and switching module allows inputs of up to 4 gases for flexibility and widest range of applications
Separate balance and sample purge ensures efficient gas switching and minimizes purge times
Horizontal design for optimal purge gas/sample interactions and superior evolved gas measurements
Vacuum tight to ensure inert, oxygen-free atmospheres
Reliable Automation
Reliable Automation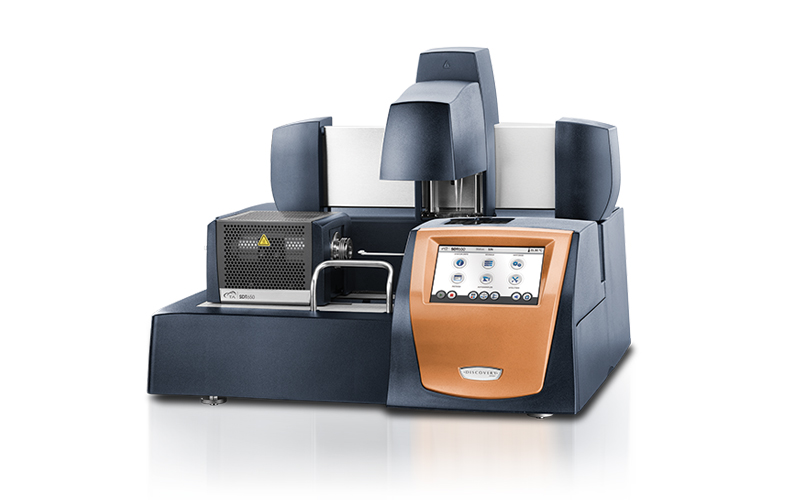 The NEW Discovery SDT features our 30-position autosampler to optimize productivity. Based on our proven Discovery DSC design these rugged autosamplers are cycled extensively in our factory to ensure worry-free operation.
Autosampler Features and Benefits:
Scheduled and unattended experiments, calibrations and verifications give scientists more time for research.
Innovative dual-sample mode doubles throughput over any other TGA.
New TRIOS software makes it easier than ever to manage and run a large and diverse sample queue. The Design view and Running queue allow for quick and efficient autosampler programming.
For optimum flexibility, sample and reference pans may be assigned to any combination of the available 30 positions.
"APP" Style Touch Screen
"APP" Style Touch Screen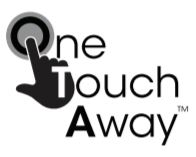 Touch Screen Features and Benefits:
Ergonomic design for easy viewing and operation
Packed with functionality to simplify operation and enhance user experience. The apps-style touch screen includes:

Start/stop runs
Test and instrument status
Real-time signals
Real-time plot
Active method viewing
Advance method segments
Autosampler calibration
Loading/unloading and taring pans
System information
The app-style touch screen, powerful new TRIOS software, the robust and reliable autosampler with automated calibration and verification routines all work seamlessly to dramatically improve laboratory workflow and productivity.
ITS NEVER BEEN EASIER TO GET GREAT DATA!
Modulated DSC®
DISCOVER more about your MATERIALS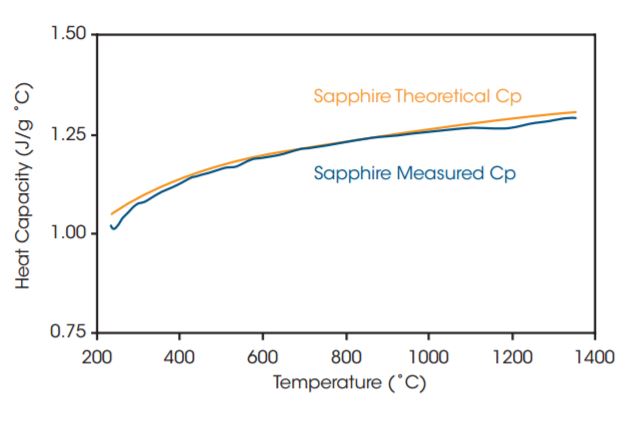 In TA Modulated DSC, a sinusoidal temperature oscillation is overlaid on the traditional linear ramp. The net effect of this on a DSC/TGA instrument is that Heat Capacity (Cp) can be measured directly in a single run. TA invented MDSC and understands it like no other company. Modulated DSC is standard on EVERY Discovery SDT model.
Benefits of MDSC include:
Direct measurement of heat capacity in a single run.
Most accurate and repeatable measurement of Cp up to 1500 °C.
Can measure changes in Cp isothermally to look at structure changes vs time.
Hi-Res™ TGA
Hi-Res™ TGA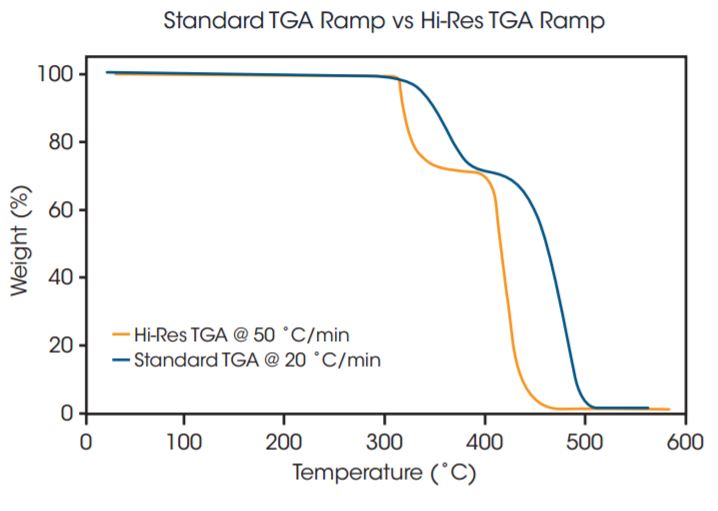 In Hi-Res TGA the heating rate is controlled by the decomposition rate of the sample. The Discovery SDT 650 design is ideal for these measurements with a furnace designed for precise temperature control, and sensitive thermobalances designed to quickly detect small weight changes.
Benefits of Hi-Res TGA include:
Separation of broad and overlapping weight losses.
Increased productivity with better resolution.
Rapid survey over wide temperature range with excellent resolution.
Simple method setup.
Modulated TGA™
Modulated TGA™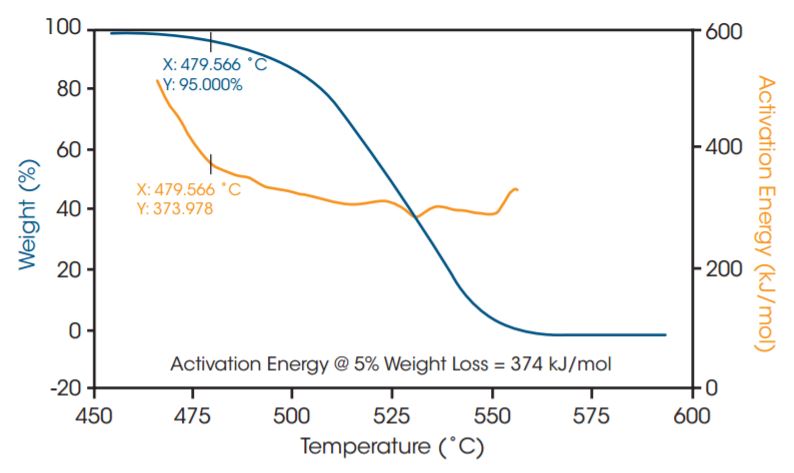 TA's patented MTGA™ is another TA Instruments innovation that offers advantages for material decomposition studies. Developed from the proprietary heater control technology utilized by Hi-Res TGA and MDSC, MTGA produces model-free kinetic data. Activation energy can be calculated real-time and studied as a function of time, temperature, and conversion.
Benefits of MTGA TGA include:
Increased productivity for studying kinetics.
Model-free kinetic data.
Can be combined with Hi-Res for better separation of overlapping weight losses.
Direct measurement of activation energy.
Evolved Gas Analysis
Evolved Gas Analysis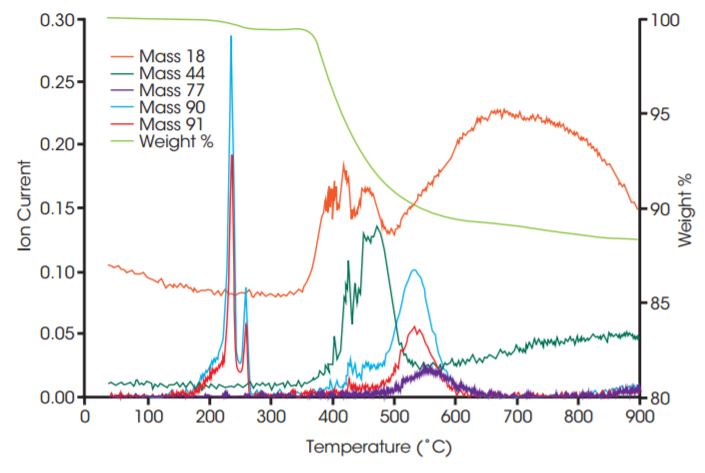 Evolved gas analysis involves the qualitative investigation of the evolved gas products from an SDT or TGA experiment. These products are generally the result of decomposition, but can also evolve from desorption, evaporation or chemical reactions. Evolved gas analysis is typically performed by interfacing a mass spectrometer (MS) or Fourier transform infrared spectrometer (FTIR) to the exit port of the furnace. Through the use of a heated transfer line, the evolved gas stream is delivered to the MS or FTIR instrument, and the compositional analysis is performed in real time. TA Instruments offers a 300 amu bench-top, quadrapole mass spectrometer with a heated capillary interface, with an instrument specific interface kit. A variety of FTIR suppliers provide gas cells and interfaces.
The Discovery SDT is the ideal platform for evolved gas analysis studies. A horizontal purge stream over the sample and a short path to the exit port eliminates dead volume in the furnace, thereby reducing product dilution and optimizing EGA sensitivity.
TA Instruments TRIOS software supports the importation of MS (trend analysis) and FTIR data (Gram-Schmidt and Chemigram reconstructions), allowing DSC/TGA and EGA data to be displayed on a common axis of temperature and/or time.
EGA Features and Benefits:
Identification of decomposition products.
Additional information for the interpretation of the reactions during DSC/TGA scans.
Exact control of the furnace atmosphere before and during experiments.
Design Features and Benefits of the Discovery SDT for EGA Analysis:
Horizontal purge stream over the sample for optimal sensitivity.
Low volume furnace to eliminate dead volume, reducing dilution.
Powerful TRIOS software allows importation of MS or FTIR data for improved data interpretation.
Discovery Mass Spec
Discovery Mass Spec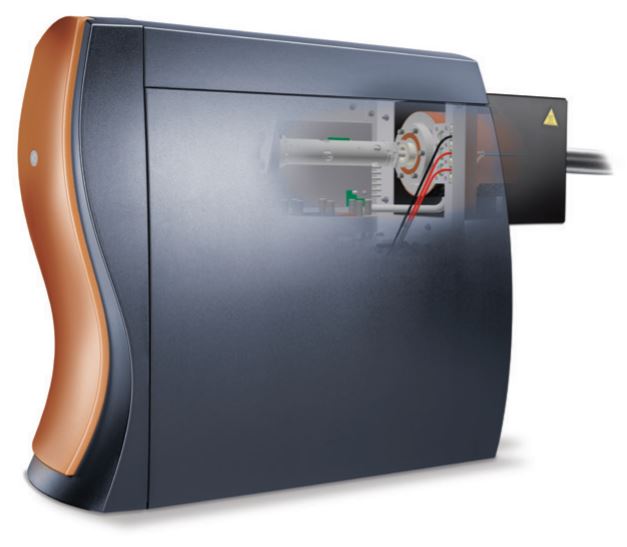 The Discovery MS is a benchtop quadrupole mass spectrometer, designed and optimized for evolved gas analysis. It features industry-standard technology configured for the efficient transfer and rapid detection of offgas from the TGA furnace. Parts per billion (ppb) sensitivity is ensured with our state-of-the-art quadrupole detection system, including a closed ion source, a triple mass filter and a dual (Faraday and Secondary Electron Multiplier) detector system. This analyzer configuration is selected to optimize sensitivity and long-term stability performance.
Control of the experimental parameters and analysis of the mass spectral data is achieved through a user-friendly, recipe-driven software interface. Data collection can be triggered directly from the TGA software, and the resulting MS data can be combined with the corresponding TGA results for direct overlaying and comparison.
| | |
| --- | --- |
| Parameter | Performance |
| Mass range (amu) | 1-300 |
| Mass Resolution | >0.5 amu |
| Sensitivity | < 100 ppb (gas-dependent) |
| Ionization Source | Electron Ionization |
| Detector System | Dual (Faraday and Second Electron Multiplier) |
| Sample Pressure | 1 atm (nominal) |
| Data Collection Modes | Bargraph and Peak Jump |
| Scanning Speed | |
| Bargraph Mode | >50 amu/s |
| Peak Jump Mode | >64 channel/s |
| Transfer line Temperature | 300 °C (fixed) |
| Transfer line | 1.8 meters, flexible |
| Filaments | Dual, customer changeable |
| Capillary | Stainless Steel, changeable |
| Capillary size | I.D. = 0.22 mm |
| Inputs | Data collection controlled by TGA Trigger |
Blending Gas Delivery Module (GDM)
Blending Gas Delivery Module (GDM) for the Discovery TGA 550 and TGA 5500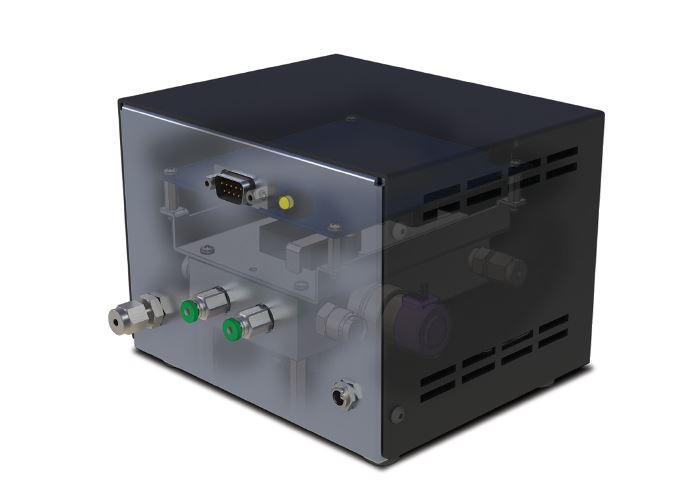 The Blending Gas Delivery Module (GDM) delivers flexibility in gas handling on the Discovery TGA 5500 and TGA 550. The GDM is an external accessory with two additional gas inlet ports that connect to the reactive gas port on the TGA. The GDM used in conjunction with the TGA allows for automated switching between the gas ports, as well as software-controlled blending of binary mixtures of gases. The added capability to perform controlled blending of binary gas mixtures allows for TGA experiments to be carried out in an atmosphere where the concentration of gases may be in a fixed ratio, stepped incrementally or ramped at a controlled rate. The GDM is compatible with Nitrogen, Argon, Helium, Air, Oxygen, Carbon Dioxide, Carbon Monoxide and Forming Gas (4%H2/96% N2).  This accessory can be used to study sorption of gasses onto a material at atmospheric pressure, Redox reactions, and thermal stability of materials in a controlled atmosphere.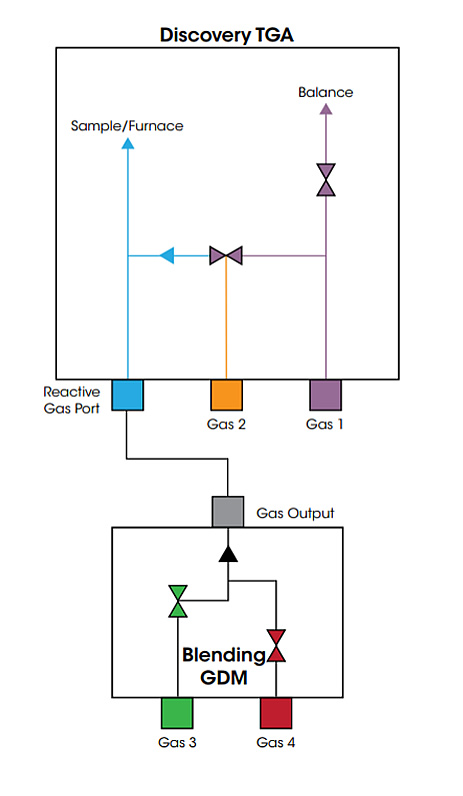 Trios Software
Discover powerful TRIOS software that delivers exceptional user experience in a combined package for instrument control, data analysis and reporting. New features such as automated calibration routines, multiple calibration sets, real-time test method editing, and inter-laboratory data and test method sharing provide unmatched flexibility, while one-click analysis and custom reporting raise productivity to new levels.
Control multiple instruments with a single PC and software package
TRIOS software makes calibration and operation simple
Autosampler-enable, unattended calibrations and verifications to raise productivity, ensure data accuracy and minimize instrument downtime
Create and switch between calibration data sets generated under different heating rates and gas selections to match the experimental conditions used for sample analysis
Effortlessly monitor real-time signals and progress of experiments with the added capability of editing the test method of an existing experiment on the fly
The advanced data collection system automatically saves all relevant signals, active calibrations, and system settings. This comprehensive set of information is invaluable for method development, procedure deployment and data validation
Optional TRIOS Guardian with electronic signatures for audit trail and data integrity
A feature-rich platform for analysis and reporting
Overlay and compare results across techniques including DSC, TGA, DMA, SDT and rheometers
One-click repeated analysis for increased productivity
Automated custom report generation including experimental details, data plots and tables, and analysis results
Convenient data export to plain-text, CSV, XML, Excel®, Word®, PowerPoint®, and image formats
TA Instruments invites you to experience the world's finest Simultaneous DSC/TGA, the Discovery SDT 650. Discover the advanced engineering and attention to detail that provides enhancements in every aspect of performance and a new level of user experience. Available with or without an Autosampler, the Discovery SDT is sure to meet your needs and exceed your expectations.

Features and Benefits:

Horizontal dual-beam design for superior heat flow and weight measurements.
Dual-sample TGA mode for double the productivity of competitive systems.
Ultra-low drift balance design for unrivaled performance in baseline flatness, sensitivity, and resolution.
Modulated DSC®,(MDSC®), for the best determination of heat capacity.
Hi-Res™ TGA for the best separation of overlapping weight losses.
Modulated TGA™,(MTGA™), for increased productivity for studying kinetics.
Reliable linear autosampler with programmable tray positions for worry-free 24/7 operation, most flexible programming of experiments, and automated calibration and verification routines.
New innovative "app-style" touch screen puts instruments functionality simply One-Touch-Away™, enhancing usability and making it easier than ever to get great data.
Commitment to quality backed by the industries ONLY five-year furnace warranty for peace of mind.

Find relevant TA TGA applications

Standard

Modulated DSC
Hi-Res TGA™
Modulated TGA™
Dual Sample Mode
Auto-Stepwise TGA
Color App-Style Touch Screen
EGA Furnace Capable
Dual Input Gas-Delivery Manifold
Temperature Calibration Curie Point (ASTM E1582)
Temperature Calibration Melting Point Standards

Options

30-Position Autosampler
4-Gas Blending Module
TGA/MS Operation
TGA/FTIR Operation

Specifications

| | |
| --- | --- |
| Temperature Range | Ambient to 1500 °C |
| Dynamic Temperature Precision | ±0.5 °C |
| Heating Rate (Linear) | 0.1 to 100 °C/min |
| Calorimetric Accuracy/Precision | ±2% (based on metal standards) |
| Heat Capacity Accuracy | ±5% |
| Sample Weight Capacity | 200 mg |
| Weighing Accuracy | ±0.5% |
| Weighing Precision | ±0.1% |
| Weight Baseline Drift[1] |  <50 µg to 1000°C & <50µg 1000 to 1500°C |
| Vacuum | 50 µTorr |

[1] Without baseline subtraction

Horizontal Dual-Beam Thermobalance

Horizontal Dual-Beam Thermobalance

At the core of every new Discovery SDT is the exclusive TA horizontal dual-beam thermobalance. The integrated thermocouple design within the ceramic beams provides direct sample, reference and differential temperature measurements. This ensures superior DSC and TGA performance and unlike competitive designs, the SDT 650 gives this performance without requiring baseline subtractions and other post-test manipulation. The result is an innovative new SDT with unrivaled performance in weight drift, sensitivity and simultaneous DSC AND TGA measurements.

Dual-Beam Thermobalance Features and Benefits:

Ultra-low drift balance design ensures accurate detection of even the smallest weight changes
Simultaneous TGA/TGA – Our unique dual-sample mode permits independent TGA measurement simultaneously for double the productivity of any other TGA.
Dual-beam design makes heat flow measurements intrinsically superior to that of single-beam designs.
Quick-connect beam design with integrated pop-up beam support makes changing beams as simple as turning a screw, ensuring maximum productivity and ease of use.

Quick and Easy Beam Replacement

QUICK and EASY BEAM REPLACEMENT ensures MAXIMUM UPTIME

 

Versatile & Durable Furnace

VERSATILE & DURABLE FURNACE for LONG LIFE

Every furnace on Every system is designed and manufactured by TA specifically for high performance DSC AND TGA measurements. This durable horizontal furnace offers better temperature uniformity than competitive systems.

Ambient to 1500°C with a wide range of heating rates for maximum flexibility in experimental design.

Horizontal design for excellent evolved gas results without chimney effects of competitive systems.
Cooling from 1500 °C to 100 °C in under 40 min for quick sample turnaround.

All TA furnaces are covered by the industry's ONLY 5-YEAR WARRANTY

Atmosphere Control

The most EFFICIENT SAMPLE-ATMOSPHERE INTERACTION

Discovery SDT's are designed with superior atmosphere control to meet the most demanding applications. Whether maintaining an inert atmosphere, switching to an oxidative purge, or maintaining a high vacuum the Discovery SDT is up to the task.

Atmosphere Control Features and Benefits:

Innovative Gas-Delivery manifold design minimizes potential leak points from tubing and hardware connections ensuring the most consistent, repeatable atmosphere.
Integrated software-controlled gas switching for experiments requiring dynamic or reactive atmospheres
New Gas blending and switching module allows inputs of up to 4 gases for flexibility and widest range of applications
Separate balance and sample purge ensures efficient gas switching and minimizes purge times
Horizontal design for optimal purge gas/sample interactions and superior evolved gas measurements
Vacuum tight to ensure inert, oxygen-free atmospheres

Reliable Automation

Reliable Automation

The NEW Discovery SDT features our 30-position autosampler to optimize productivity. Based on our proven Discovery DSC design these rugged autosamplers are cycled extensively in our factory to ensure worry-free operation.

Autosampler Features and Benefits:

Scheduled and unattended experiments, calibrations and verifications give scientists more time for research.
Innovative dual-sample mode doubles throughput over any other TGA.
New TRIOS software makes it easier than ever to manage and run a large and diverse sample queue. The Design view and Running queue allow for quick and efficient autosampler programming.
For optimum flexibility, sample and reference pans may be assigned to any combination of the available 30 positions.

"APP" Style Touch Screen

"APP" Style Touch Screen

Touch Screen Features and Benefits:

Ergonomic design for easy viewing and operation
Packed with functionality to simplify operation and enhance user experience. The apps-style touch screen includes:

Start/stop runs
Test and instrument status
Real-time signals
Real-time plot
Active method viewing
Advance method segments
Autosampler calibration
Loading/unloading and taring pans
System information

The app-style touch screen, powerful new TRIOS software, the robust and reliable autosampler with automated calibration and verification routines all work seamlessly to dramatically improve laboratory workflow and productivity.

ITS NEVER BEEN EASIER TO GET GREAT DATA!

Modulated DSC®

DISCOVER more about your MATERIALS

In TA Modulated DSC, a sinusoidal temperature oscillation is overlaid on the traditional linear ramp. The net effect of this on a DSC/TGA instrument is that Heat Capacity (Cp) can be measured directly in a single run. TA invented MDSC and understands it like no other company. Modulated DSC is standard on EVERY Discovery SDT model.

Benefits of MDSC include:

Direct measurement of heat capacity in a single run.
Most accurate and repeatable measurement of Cp up to 1500 °C.
Can measure changes in Cp isothermally to look at structure changes vs time.

Hi-Res™ TGA

Hi-Res™ TGA

In Hi-Res TGA the heating rate is controlled by the decomposition rate of the sample. The Discovery SDT 650 design is ideal for these measurements with a furnace designed for precise temperature control, and sensitive thermobalances designed to quickly detect small weight changes.

Benefits of Hi-Res TGA include:

Separation of broad and overlapping weight losses.
Increased productivity with better resolution.
Rapid survey over wide temperature range with excellent resolution.
Simple method setup.

Modulated TGA™

Modulated TGA™

TA's patented MTGA™ is another TA Instruments innovation that offers advantages for material decomposition studies. Developed from the proprietary heater control technology utilized by Hi-Res TGA and MDSC, MTGA produces model-free kinetic data. Activation energy can be calculated real-time and studied as a function of time, temperature, and conversion.

Benefits of MTGA TGA include:

Increased productivity for studying kinetics.
Model-free kinetic data.
Can be combined with Hi-Res for better separation of overlapping weight losses.
Direct measurement of activation energy.

Evolved Gas Analysis

Evolved Gas Analysis

Evolved gas analysis involves the qualitative investigation of the evolved gas products from an SDT or TGA experiment. These products are generally the result of decomposition, but can also evolve from desorption, evaporation or chemical reactions. Evolved gas analysis is typically performed by interfacing a mass spectrometer (MS) or Fourier transform infrared spectrometer (FTIR) to the exit port of the furnace. Through the use of a heated transfer line, the evolved gas stream is delivered to the MS or FTIR instrument, and the compositional analysis is performed in real time. TA Instruments offers a 300 amu bench-top, quadrapole mass spectrometer with a heated capillary interface, with an instrument specific interface kit. A variety of FTIR suppliers provide gas cells and interfaces.

The Discovery SDT is the ideal platform for evolved gas analysis studies. A horizontal purge stream over the sample and a short path to the exit port eliminates dead volume in the furnace, thereby reducing product dilution and optimizing EGA sensitivity.

TA Instruments TRIOS software supports the importation of MS (trend analysis) and FTIR data (Gram-Schmidt and Chemigram reconstructions), allowing DSC/TGA and EGA data to be displayed on a common axis of temperature and/or time.

EGA Features and Benefits:

Identification of decomposition products.
Additional information for the interpretation of the reactions during DSC/TGA scans.
Exact control of the furnace atmosphere before and during experiments.

Design Features and Benefits of the Discovery SDT for EGA Analysis:

Horizontal purge stream over the sample for optimal sensitivity.
Low volume furnace to eliminate dead volume, reducing dilution.
Powerful TRIOS software allows importation of MS or FTIR data for improved data interpretation.

Discovery Mass Spec

Discovery Mass Spec

The Discovery MS is a benchtop quadrupole mass spectrometer, designed and optimized for evolved gas analysis. It features industry-standard technology configured for the efficient transfer and rapid detection of offgas from the TGA furnace. Parts per billion (ppb) sensitivity is ensured with our state-of-the-art quadrupole detection system, including a closed ion source, a triple mass filter and a dual (Faraday and Secondary Electron Multiplier) detector system. This analyzer configuration is selected to optimize sensitivity and long-term stability performance.

Control of the experimental parameters and analysis of the mass spectral data is achieved through a user-friendly, recipe-driven software interface. Data collection can be triggered directly from the TGA software, and the resulting MS data can be combined with the corresponding TGA results for direct overlaying and comparison.

| | |
| --- | --- |
| Parameter | Performance |
| Mass range (amu) | 1-300 |
| Mass Resolution | >0.5 amu |
| Sensitivity | < 100 ppb (gas-dependent) |
| Ionization Source | Electron Ionization |
| Detector System | Dual (Faraday and Second Electron Multiplier) |
| Sample Pressure | 1 atm (nominal) |
| Data Collection Modes | Bargraph and Peak Jump |
| Scanning Speed | |
| Bargraph Mode | >50 amu/s |
| Peak Jump Mode | >64 channel/s |
| Transfer line Temperature | 300 °C (fixed) |
| Transfer line | 1.8 meters, flexible |
| Filaments | Dual, customer changeable |
| Capillary | Stainless Steel, changeable |
| Capillary size | I.D. = 0.22 mm |
| Inputs | Data collection controlled by TGA Trigger |

Blending Gas Delivery Module (GDM)

Blending Gas Delivery Module (GDM) for the Discovery TGA 550 and TGA 5500

The Blending Gas Delivery Module (GDM) delivers flexibility in gas handling on the Discovery TGA 5500 and TGA 550. The GDM is an external accessory with two additional gas inlet ports that connect to the reactive gas port on the TGA. The GDM used in conjunction with the TGA allows for automated switching between the gas ports, as well as software-controlled blending of binary mixtures of gases. The added capability to perform controlled blending of binary gas mixtures allows for TGA experiments to be carried out in an atmosphere where the concentration of gases may be in a fixed ratio, stepped incrementally or ramped at a controlled rate. The GDM is compatible with Nitrogen, Argon, Helium, Air, Oxygen, Carbon Dioxide, Carbon Monoxide and Forming Gas (4%H2/96% N2).  This accessory can be used to study sorption of gasses onto a material at atmospheric pressure, Redox reactions, and thermal stability of materials in a controlled atmosphere.

Trios Software

Discover powerful TRIOS software that delivers exceptional user experience in a combined package for instrument control, data analysis and reporting. New features such as automated calibration routines, multiple calibration sets, real-time test method editing, and inter-laboratory data and test method sharing provide unmatched flexibility, while one-click analysis and custom reporting raise productivity to new levels.

Control multiple instruments with a single PC and software package
TRIOS software makes calibration and operation simple

Autosampler-enable, unattended calibrations and verifications to raise productivity, ensure data accuracy and minimize instrument downtime
Create and switch between calibration data sets generated under different heating rates and gas selections to match the experimental conditions used for sample analysis
Effortlessly monitor real-time signals and progress of experiments with the added capability of editing the test method of an existing experiment on the fly

The advanced data collection system automatically saves all relevant signals, active calibrations, and system settings. This comprehensive set of information is invaluable for method development, procedure deployment and data validation
Optional TRIOS Guardian with electronic signatures for audit trail and data integrity

A feature-rich platform for analysis and reporting

Overlay and compare results across techniques including DSC, TGA, DMA, SDT and rheometers
One-click repeated analysis for increased productivity
Automated custom report generation including experimental details, data plots and tables, and analysis results

Convenient data export to plain-text, CSV, XML, Excel®, Word®, PowerPoint®, and image formats