Environmental Test Chamber (ETC)
Hybrid temperature control design provides fast response and temperature stability over a continuous range of 760 °C.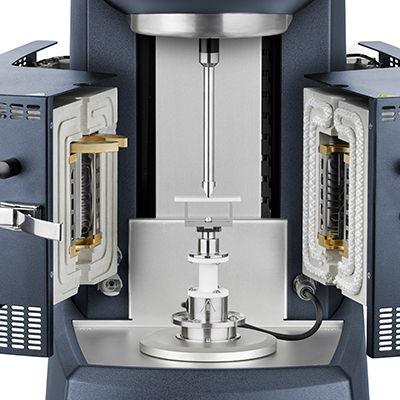 Environmental Test Chamber (ETC)
The ETC is a high temperature Smart Swap™ accessory that employs a combination of radiant and convective heating and has a temperature range of -160 °C to 600 °C with heating rates up to 60 °C/min. This hybrid temperature control design provides fast response and temperature stability over a continuous range of 760 °C. The ETC is a very popular option for polymer applications and can be used with parallel plate, cone and plate, disposable plate, rectangular torsion and DMA clamps for solids, and the SER3 for extensional viscosity measurements. Typical materials that can be tested include thermoplastics, thermosets, elastomers, caulks and adhesives, solid polymers, asphalt binder, and oils and greases.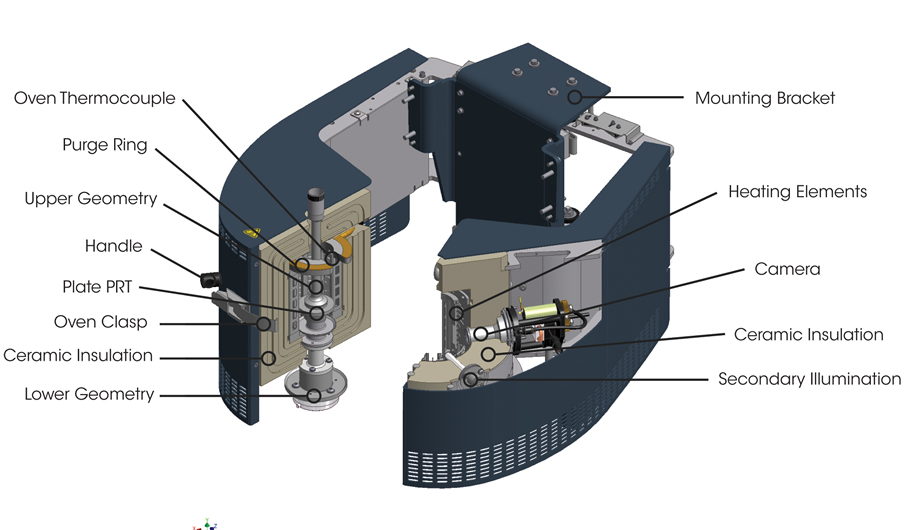 ETC Technology
The Smart Swap™ ETC is a "clam-shell" design. Each half of the oven contains an electric radiant heating element surrounded by a ceramic insulation block. Air or nitrogen gas is introduced through a purge ring with the gas flow directed over the heated coils, providing heat transfer by convection. For sub-ambient testing, both gas and liquid nitrogen are fed through the purge ring. Liquid nitrogen usage is kept to a minimum by switching from gas to liquid nitrogen only when cooling is required. Temperature sensors are used both in the oven and below the lower plates for temperature measurement and control. The ETC also features a camera viewer option installed through the chamber's right-side ceramic block. The camera option features multiple light sources, remote focusing, and can be used over the entire temperature range. Used in conjunction with the streaming video and image capture software, real-time images can be displayed in the software and an image is stored with each data point for subsequent viewing. The ETC camera viewer is an ideal tool for data validation.
Features and Benefits
Smart Swap™ technology
No extra electronic boxes
Combined convection and radiant heating design
Wide temperature range: -160 °C to 600 °C
Maximum heating rate of 60 °C/min
Liquid nitrogen option connects directly to bulk source
Wide variety of stainless steel plates, cones, crosshatched, and disposable geometries
Optional built-in camera viewer
Melt rings for thermoplastic pellet samples
Die punch for molded plaques
Sample cleaning and trimming tools
Extensional rheology measurements with SER3 Universal Testing Platform
ETC Geometry Accessory Kits
The ETC features five standard geometry accessory kits configured for thermoplastics and rubber, thermosetting and other curing systems, solid polymers, pressure-sensitive adhesives, asphalt binder, and extensional viscosity testing. In addition, a wide variety of stainless steel geometries of various diameters and cone angles, and a wide variety of disposable plates are available to fully accessorize the temperature system. The kits feature patented Smart Swap™ geometries that are automatically recognized and configured for use.
Parallel Plate
Parallel Plate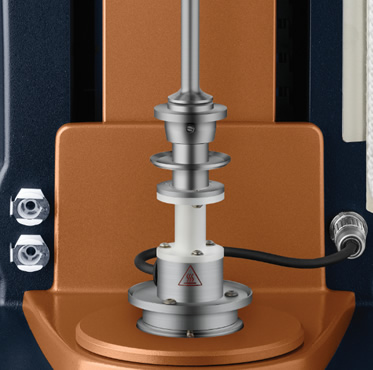 Disposable Plate
Disposable Plate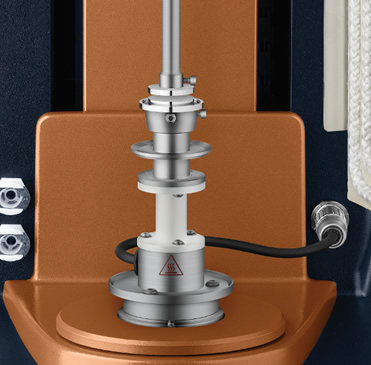 Torsion Rectangular
Torsion Rectangular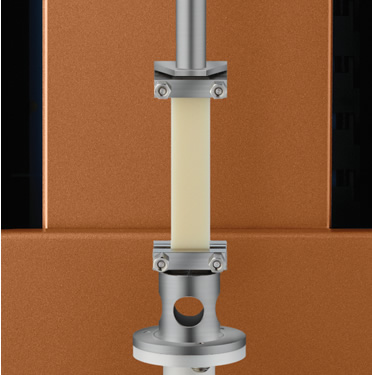 Torsion Cylindrical
Torsion Cylindrical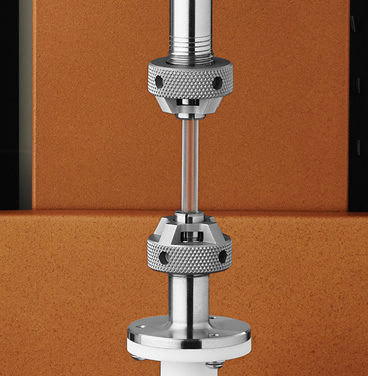 Extensional Viscosity
Extensional Viscosity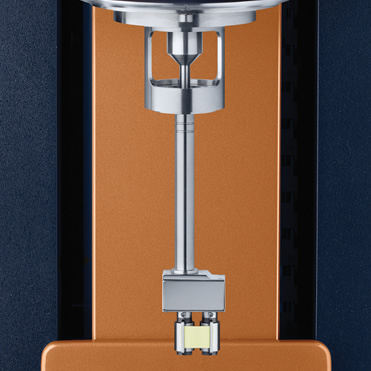 Extensional viscosity measurements and a range of additional material tests are realized on the DHR with the Extensional Viscosity Accessory (EVA) or the SER3 Universal Testing Platform. Samples are secured to the surfaces of two windup drums which counter-rotate at equal speeds thanks to a system of intermeshing gears. At a constant drum rotation speed, a constant Hencky strain rate is applied to the sample. The sample stress that resists this deformation is measured by the torque transducer, allowing for the measurement of extensional viscosity. The frame of reference of these accessories is fixed, making it well-suited to sample imaging and optical analysis during deformation. In addition to extensional viscosity measurements on polymer melts, both accessories are capable of a range of physical property measurements such as tensile, peel, tear and friction testing on hard and soft solid samples
Air Chiller System (ACS-3)
The new Air Chiller System, ACS-3, is a unique gas flow cooling system that enables temperature control of the Environmental Test Chamber to temperatures as low as -85 °C. Equipped with a three-stage cascading compressor design, the ACS-3 allows for low temperature environmental control without the use of liquid nitrogen, instead utilizing compressed air (7 bar, 200 L/ min) as the cooling medium. The ACS-3 can help eliminate or reduce liquid nitrogen usage and associated hazards from any laboratory and offers an incredible return on investment.
Features and Benefits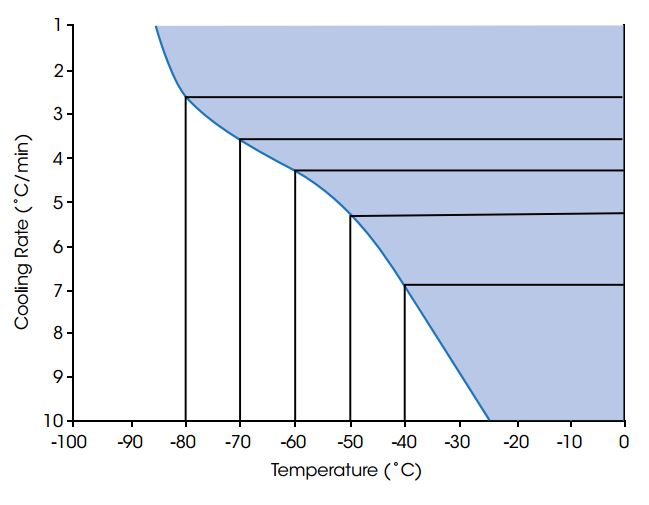 Features and Benefits
Safe: eliminates the need for liquid nitrogen or other refrigerated gases
Convenient: never change, refill, or order another tank of liquid nitrogen. The ACS-3 is ready to run whenever you are.
Small: occupies less space than equivalent liquid nitrogen cooling systems.
Affordable: provides considerable cost savings over recurring gas deliveries.
Low Temperature Polymer Transitions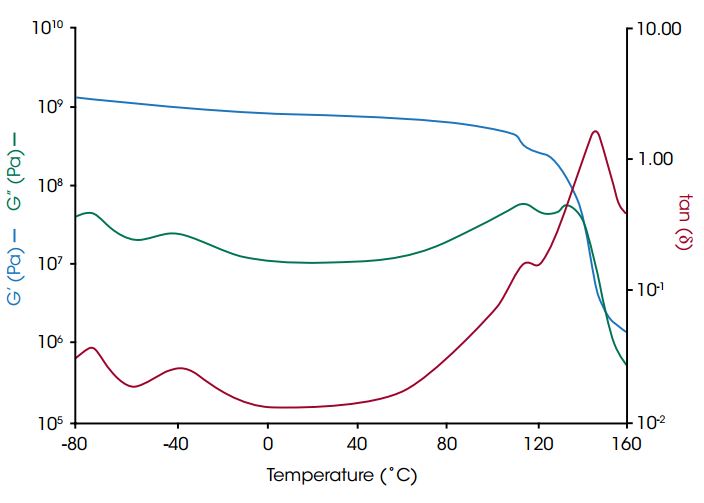 Low Temperature Polymer Transitions
Polymers are often blended to produce a desirable combination of toughness, modulus, and processing characteristics. One such combination is a blend of polycarbonate (PC) with acrylonitrile butadiene styrene (ABS). The ACS-3 provides a sufficient range of temperature control to characterize the multiple low and high temperature transitions of this multi-component sample. The data in the figure were collected during a temperature ramp with a rectangular specimen in torsion.