Dry Asphalt Accessory
Dry asphalt accessory and FastTrack software for asphalt testing.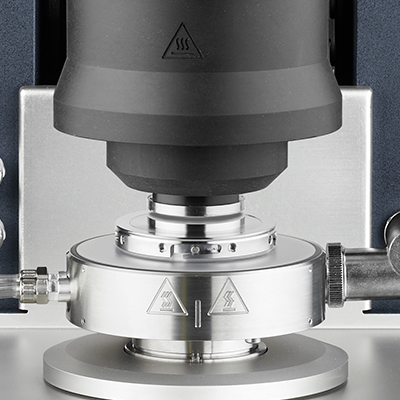 Dry Asphalt & FastTrack for Asphalt Testing
The new Discovery series Dynamic Shear Rheometers (DSRs) for asphalt testing are the latest generation of rotational rheometers from TA Instruments. Combining the patented magnetic bearing design with the superior drag cup motor technology, the new Discovery Hybrid Rheometer (DHR) delivers exceptional performance in a rugged package. The DSR is powered by the user-friendly FastTrack software package, designed exclusively for ASTM and AASHTO compliant testing, that intuitively guides the operator for routine testing with minimal training. The DSR can be equipped with an extensive variety of modular configurations to accommodate the widest range of tests, from QC lab testing to advanced research and development. These include the convenient and responsive Dry Asphalt system, the Environmental Test Chamber (ETC), Peltier and Electrically heated concentric cylinders, and geometries for torsional and tribology testing.
With its unique combination of state-of-the-art hardware and easy to use software, the Discovery series DSRs from TA Instruments offers a comprehensive package tailored specifically for the requirements of the asphalt community. Backed by TA Instruments, the world leader in thermal analysis and rheology instrumentation, the Discovery Hybrid Rheometer is fully accessorized and is capable of meeting and exceeding the requirements mandated by current and future ASTM and AASHTO standards.
Dry Asphalt Accessory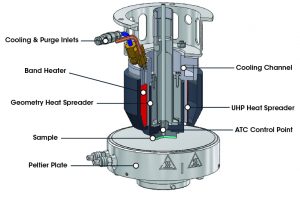 The Dry Asphalt system from TA Instruments is specifically configured around the unique needs of the asphalt testing laboratory. The system consists of a lower Peltier plate and an Upper Heated Plate (UHP) to simultaneously heat the upper and lower plates and eliminate vertical temperature gradients in the sample. These thermal gradients can become significant above 50 °C and are especially important when testing thermally sensitive samples like asphalt, where even small gradients in the sample temperature can lead to large errors in the absolute rheological data.
The Dry Asphalt system is the most advanced non-contact heating system available, making use of the patented heat spreader technology to deliver the most accurate and reliable temperature control. The UHP consists of a cylindrical heat transfer unit with an integrated electric heater and a liquid/gas cooling channel that surrounds the cylindrical heat spreader geometry. These two components are in very close proximity, but do not contact, enabling efficient heat transfer and unimpeded torque measurement. Unlike competitive designs, the heat transfer unit and the geometry heat spreader remain in constant spatial relation to one another regardless of the test gap, keeping heat transfer uniform at all times. A unique calibration permits the system to match upper and lower plate temperatures at all heating rates, ensuring uniform sample heating on both sides, virtually eliminating the need for thermal equilibrium time and enabling true temperature ramp experiments. Conventional, non-contact upper heaters require an offset calibration between the directly measured heater temperature and the indirectly calibrated plate temperature.
The Dry Asphalt kit for the DHR is completely self-contained and includes the upper heater, stepped Peltier plate, upper Smart Swap geometry shaft, two sets each of 8 mm and 25 mm parallel plates, a trimming tool, asphalt sample molds, and an environmental cover.
Other Configurations
TA Instruments offers a full suite of environmental control systems and test geometries to satisfy the widest range of test requirements. In addition to the standard configurations, custom geometries for the development of novel and new test methods are also available by request.
Environmental Test Chamber
The Environmental Test Chamber (ETC) employs a combination of radiant and convective heating and has a temperature range from -160 to 600 °C with heating rates up to 60 °C/min. Test fixtures are available in a conveniently packaged kit that includes 8 and 25 mm parallel plates along with silicone sample preparation molds. 4 mm parallel plates are also available. Optional cylindrical torsion end pieces permit fatigue testing of asphalt core samples at room temperature. The ETC can also be equipped with the four-ball tribology fixture to directly measure friction and lubrication, further extending the capabilities of your TA Instruments DSR.
Peltier Concentric Cylinder
The Peltier concentric cylinder system offers a temperature range from -20 to 150 °C and is suitable for performing AASHTO T316 tests on the DSR. The diverse array of DIN-compliant rotors and cups, vane rotors, grooved cups, and double gap rotor and cup are supplemented by a wide gap conical rotor, designed specifically for testing crumb rubber modified asphalt.
Features and Benefits
Compliant with AASHTO T315, T350, M332, TP-101, TP-123, T316, ASTM D7175, D7405
Smart Swap™ technology
Wide temperature ranges:

Dry Asphalt system: -30 °C* to 150 °C
Environmental Test Chamber (ETC): -160 °C to 600 °C
Peltier concentric cylinder: -20 °C* to 150 °C

Key features of dry asphalt system:

Eliminates vertical temperature gradients
Compatible with Peltier liquid cooling, circulator, or gas cooling options
Patented heat spreader technology for optimum heat transfer
Substantially reduces thermal equilibrium time

Turnkey system for asphalt testing – includes the following:

8 mm and 25 mm parallel plates
Sample molds
Sample trimming, plate removal tools, and environment cover (Dry asphalt system only)
Optional 4 mm plates available

Automated temperature calibration, guided by FastTrack software
* With appropriate cooling device
The true test of any rheometer temperature control system is to compare sample response to the reported system temperature. This evaluation is especially important for a combined lower Peltier device with intimate contact heating and an upper non-contact heating device. In this situation, the top plate heats more slowly than the bottom plate. Because the top and bottom plates heat at different rates, the sample temperature differs greatly from the reported system temperature. In competitive systems, the sample response lags the temperature profile, requiring the user to determine system-based thermal equilibration times and program long delays. This issue is eliminated with TA's unique UHP design, by continuously controlling and matching the upper and lower plate temperatures. This accurate response is demonstrated in the following figure with simple oscillation time sweep measurements.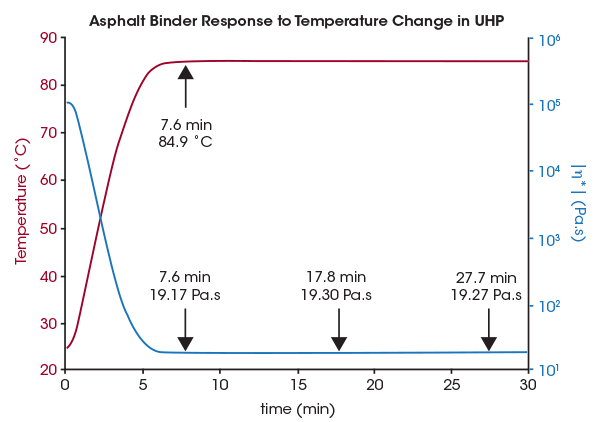 The figure shows a test performed on an Asphalt binder sample which, according to federal standards, cannot be tested until temperature is fully equilibrated to within 0.1 °C of the set-point. The data show that the complex viscosity response exactly follows the reported temperature profile, proving that there is no lag between set-point and real sample temperature – as soon as the temperature is within 0.1 °C, the viscosity of the asphalt binder is fully equilibrated and no change is seen in the viscosity even after 20 additional minutes. By matching upper and lower temperature and heating rates, TA provides the most advanced and accurate non-contact heating technology.
TA Instruments proudly introduces FastTrack – a dedicated software package optimized for testing and grading asphalt binders on the DHR rotational rheometers. Thoughtfully designed with the operator in mind, FastTrack consists of an intuitive, easy-to-use graphical interface and a full suite of AASHTO and ASTM tests relevant to the rheological testing of asphalt samples. Designed from the ground up, the intuitive interface visually guides the operator trough the test procedure via a series of context-appropriate instructions and videos. Prominent visual cues convey the instrument's current status at a glance.
FastTrack offers a flexible configuration that can be completely optimized to match your testing needs. This includes testing of Original Binder, Rolling Thin Film Oven (RTFO), Pressure Aged Vessel (PAV) samples, support for standard tests such as Multiple Step Repeated Creep (MSCR), Large Amplitude Sweep (LAS), Binder Yield Energy Test (BYET), as well as an Automated Temperature Calibration and Cannon standard verification. For each test, the software automatically evaluates the data based on the pass/fail criteria defined in the standard and generates a report for records and audits.