This product is no longer available. You may be interested in our Other Instruments. We also encourage to you Contact Us so we can discuss your application and help you determine the solution that best meets your needs.
Q600 SDT
Provides research quality results on a broad range of samples over a wide temperature range.
Sales Promotions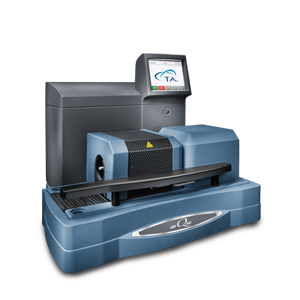 Simultaneous Thermal Analyzers measure both heat flow & weight changes in a material as a function of temperature (or time) under a controlled atmosphere.
A simultaneous DSC-TGA can be used in a phases of research, quality control, and manufacturing operations. TA Instruments offers the Q600 for DSC-TGA measurements up to 1500°C.
Sensitive, rugged and reliable are words that describe the TA Instruments SDT Q600, a second generation simultaneous TGA / DSC that provides research quality results on a broad range of samples over a wide temperature range. Its strong performance, ease-of-use, and our unmatched support make the Q600 an excellent investment for any laboratory.
System Design
Horizontal Balance & Furnace
Balance Design
Dual Beam (growth compensated)
Sample Capacity
200 mg (350 mg including sample holder)
Balance Sensitivity
0.1 µg
Furnace Type
Bifilar Wound
Temperature Range
Ambient to 1500°C
Heating rate – Ambient to 1000 °C
0.1 to 100 °C/min
Heating rate – Ambient to 1500 °C
0.1 to 25 °C/min
Furnace Cooling
Forced Air: 1500 to 50 °C in < 30 min 1000 to 100°C in < 20 min
Thermocouples
Platinum/Platinum•Rhodium (T pe RI
Temperature Calibration
Curie Point or Metal Standards (1 to 5 Points)
DTA Sensitivity
0.001 'C
Calorimetric Accuracy/Precision
±2% (based on metal standards)
Mass Flow Controller with Automatic Gas Switching
Included
Vacuum
to 7 Pa 10.05 torr)
Reactive Gas Capability
Included – separate gas tube
Dual Sample TGA
Included
Auto-Stepwise TGA
Included
Sample Pans
Platinum: 40 µL, 110µL
Aluminia: 40µL, 90µL
Thermobalance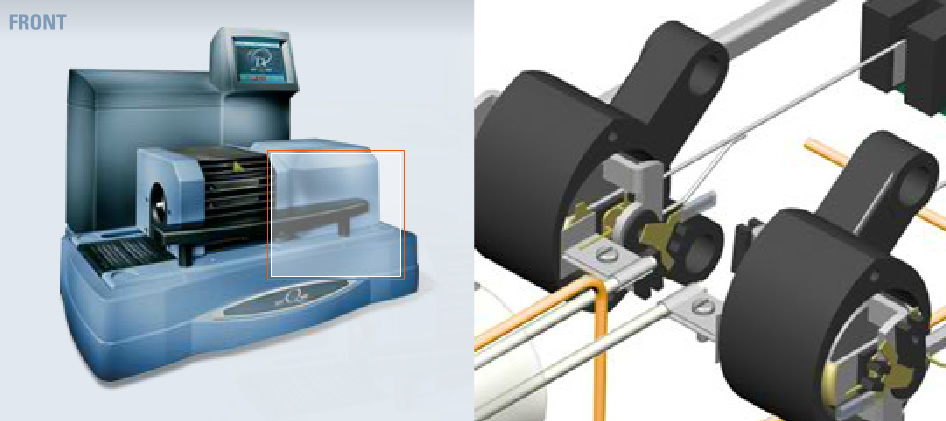 Accurate and reliable horizontal dual-balance
Supports both DSC and TGA measurements
Weight signal is the differential between the sample and reference beams
Less drift compared to single-beam designs
Independent TGA measurements on two samples simultaneously
Temperature Control & Measurement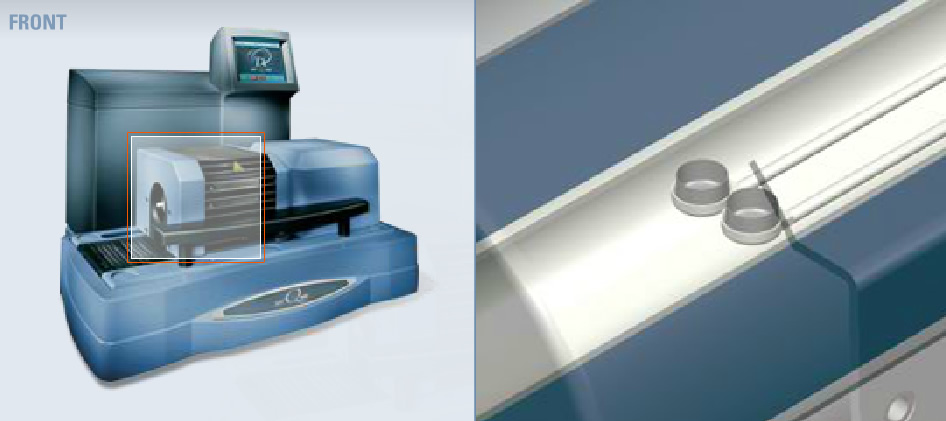 Platinum / Platinum-Rhodium thermocouple pair
Direct sample, reference, and differential temperature from ambient to 1,500 °C
Superior ΔT accuracy compared to single-beam designs
True differential heat flow signal
Superior baseline performance
Furnace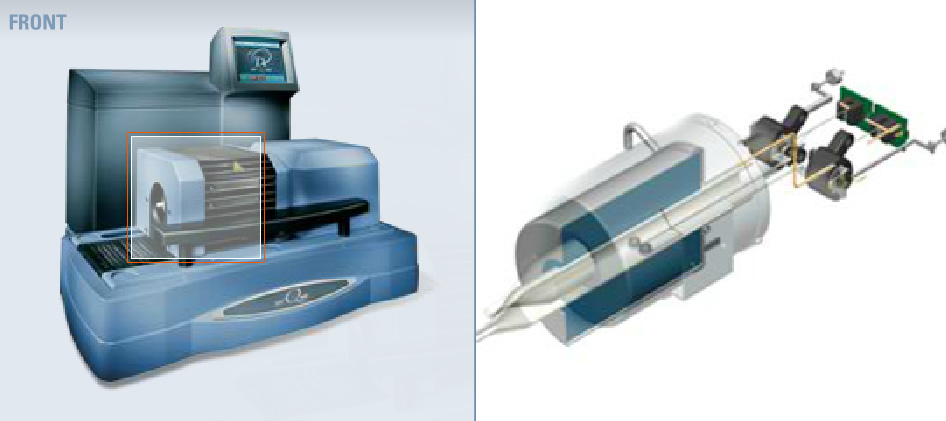 Rugged, bifilar-wound, horizontal furnace
Accurate and precise heating rate ramps and isothermal operation
Smooth automatic furnace opening / closing
Easy sample loading
Rapid post-experiment furnace cool-down.
Purge Gas System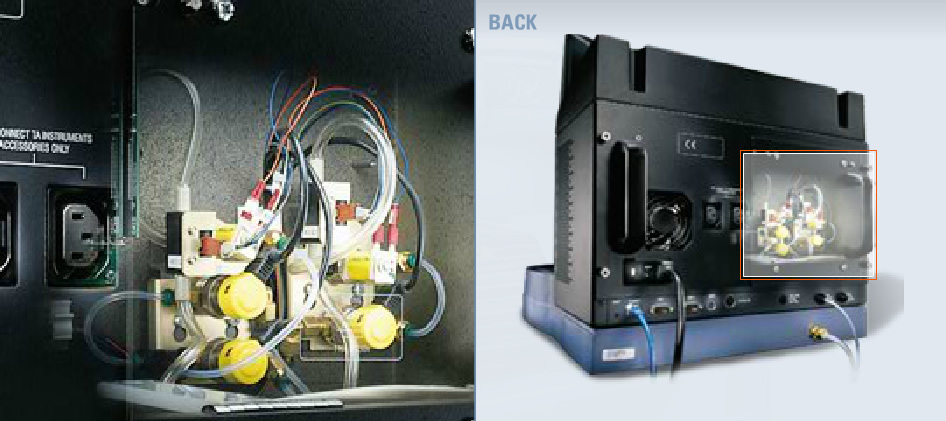 Field-proven, horizontal purge gas system
Dual digital mass flow controllers and gas switching capability
Inconel® reactive gas inlet
Easily interfaced to a MS or FTIR
Better baselines with minimum buoyancy effects
® Inconel is a registered trademark of Special Metals Corporation
Improved DSC Data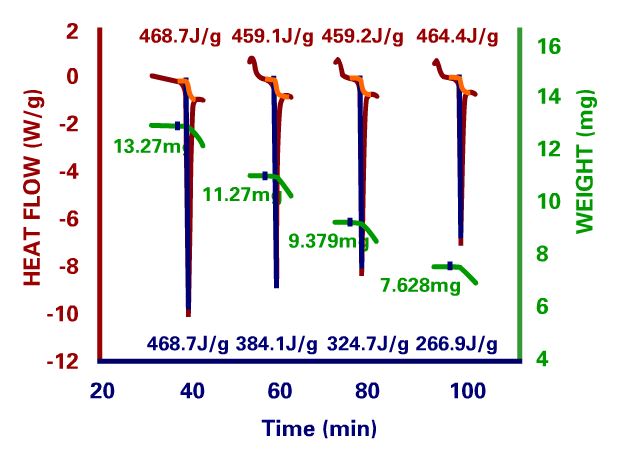 Certified calibration standards (melting & curie point)
High Sensitivity
Detection of weak heat flow transitions.
True Simultaneous Differential Heat Flow/TGA Measurement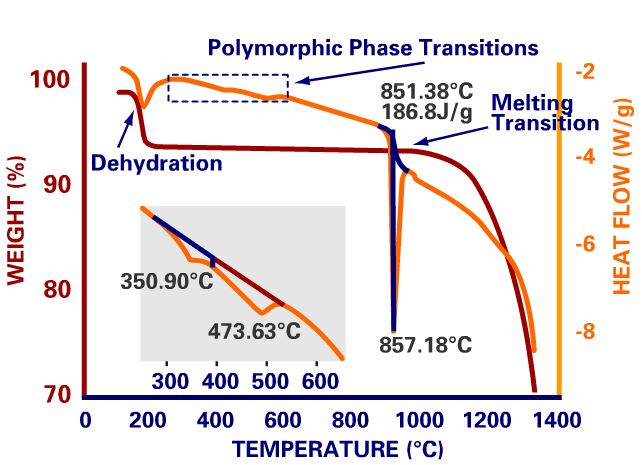 Dual-beam design provides quantitative heat flow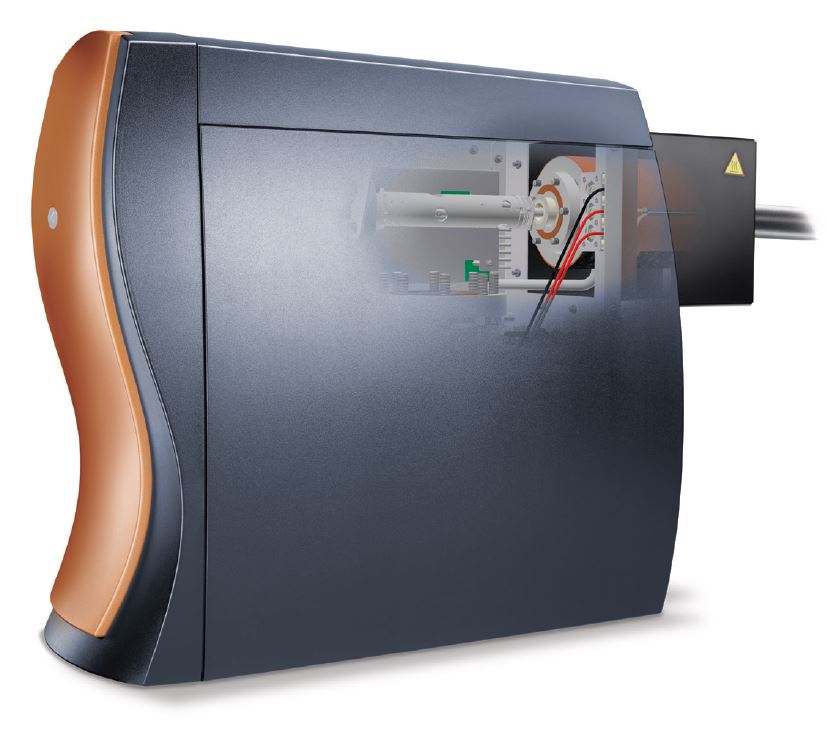 The Discovery MS is a benchtop quadrupole mass spectrometer, designed and optimized for evolved gas analysis. It features industry-standard technology configured for the efficient transfer, and rapid detection of offgas from the TGA furnace. Parts per billion (ppb) sensitivity is ensured with our state-of-the-art quadrupole detection system, including a closed ion source, a triple mass filter and a dual (Faraday and Secondary Electron Multiplier) detector system. This analyzer configuration is selected to optimize sensitivity and long-term stability performance.
Control of the experimental parameters and analysis of the mass spectral data is achieved through a user-friendly, recipe-driven software interface. Data collection can be triggered directly from the TGA software, and the resulting MS data can be combined with the corresponding TGA results for direct overlaying and comparison.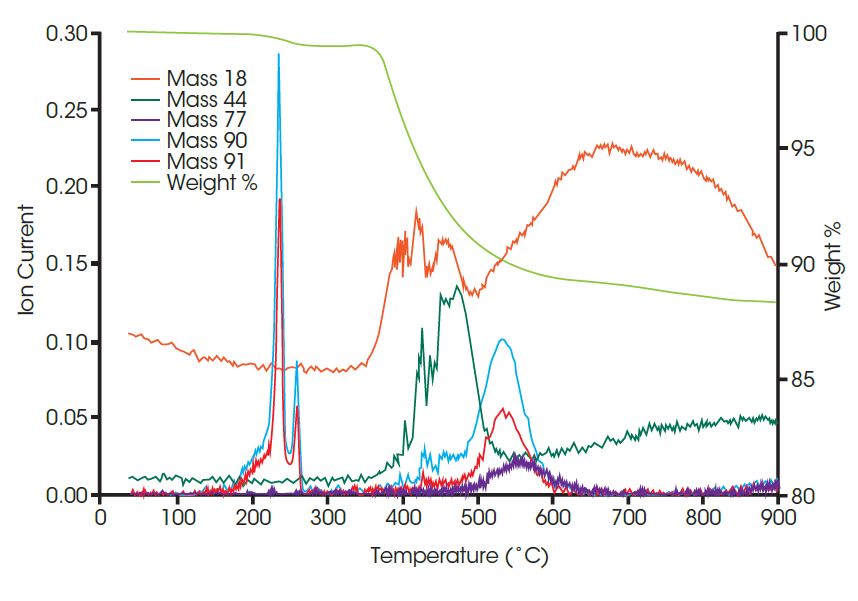 | | |
| --- | --- |
| Parameter | Performance |
| Mass range (amu) | 1-300 |
| Mass Resolution | >0.5 amu |
| Sensitivity | < 100 ppb (gas-dependent) |
| Ionization Source | Electron Ionization |
| Detector System | Dual (Faraday and Second Electron Multiplier) |
| Sample Pressure | 1 atm (nominal) |
| Data Collection Modes | Bargraph and Peak Jump |
| Scanning Speed | |
| Bargraph Mode | >50 amu/s |
| Peak Jump Mode | >64 channels/s |
| Transfer line Temperature | 300 °C (fixed) |
| Transfer line | 1.8 meters, flexible |
| Filaments | Dual, customer changeable |
| Capillary | Stainless Steel, changeable |
| Capillary size | I.D. = 0.22 mm |
| Inputs | Data collection controlled by TGA Trigger |