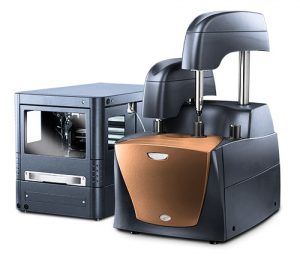 New Castle, Delaware, USA. March 9, 2015 – TA Instruments introduces the Affinity ITC Auto, a new isothermal titration calorimeter for characterizing a wide variety of molecular interactions, including protein-protein binding, drug-ligand binding, small molecule-receptor interaction and enzyme kinetics. The Affinity ITC Auto is a fully automated, ultrasensitive isothermal titration calorimeter. This automated ITC is available with fixed in place cells of either the standard volume (1.0 mL) or low volume (190 µL). For laboratories requiring higher throughput of ITC measurements, this new instrument improves sample throughput with an industry-proven 96-well plate liquid handling system and ensures the utmost reliability in an automated system through all-new innovations to provide the most accurate, reproducible, high-quality ITC data.
Commenting on the introduction, Terry Kelly, President of TA Instruments said, "Previous attempts by other manufacturers to automate ITC have met with only limited success. The Affinity ITC is a leap forward, perfecting the automation necessary for improving laboratory throughput while maintaining flexibility and the highest sensitivity available for ITC."
Intelligent Hardware Positioning is an integral part of the Affinity ITC Auto that adds accuracy and dependability to the automation hardware. The Affinity ITC Auto features the new FlexSpin™ stirring and AccuShot™ injection systems. The AccuShot™ injection system is completely separate from the FlexSpin™ stirring mechanism and delivers accurate sub-microliter injections at the top of the stirring paddle, resulting in rapid and complete mixing at slower stirring speeds. The Affinity ITC Auto provides the next step in ITC innovations while maintaining instrument flexibility and the highest sensitivity available.
TA Instruments – a subsidiary of Waters Corporation (NYSE: WAT) – is the leading manufacturer of analytical instruments for thermal analysis, rheology, and microcalorimetry. The company is headquartered in New Castle, Delaware, USA, and has direct operations in 23 countries.
Contact Ed Moriarty, Worldwide Marketing Manager