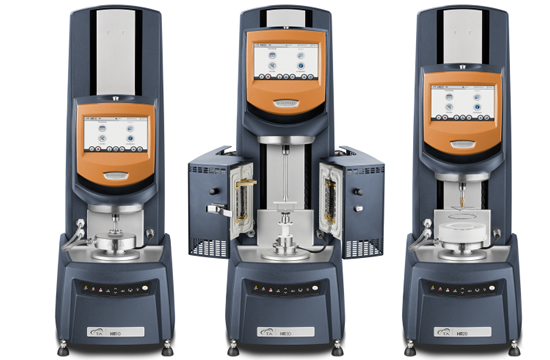 New Castle, Delaware, March 2, 2020 – Today TA Instruments introduced a brand-new line of high-performance rheometers, highlighted by the Discovery™ Hybrid Rheometer HR 30. This new trio of high-performance rheometers are five times more sensitive than previous versions and offer class-leading versatility in a platform that makes it easier for users of all experience levels to obtain accurate rheological data.
TA has further enhanced their patented Magnetic Thrust Bearing, Optical Encoder Dual Reader, and Advanced Drag Cup Motor technologies to provide improved measurement sensitivity and dynamic data accuracy. Scientists are now empowered to measure weak intermolecular structures, lower viscosities, and obtain results on smaller volumes of low viscosity or weakly structured fluids, than previously possible – a critical consideration when working with scarce or novel materials.
Unique integrated axial dynamic mechanical analysis capability enables the characterization of solid samples in dynamic tension, bending, or compression. Scientists can measure both torsional and linear mechanical properties from a single instrument and thereby obtain more information more efficiently. The Discovery Hybrid Rheometers are supported by more than 50 environmental systems and advanced measurements accessories. These are supported by Smart Swap™ technology to extend the versatility of the rheometer to address a wide range of analytical needs.
To make the capabilities of the Discovery Hybrid Rheometer available to more scientists, TA Instruments is introducing new software innovations to serve users of all levels of expertise. The brand new "TRIOS Express" interface simplifies test set-up for users with little prior experience. The new AutoPilot feature provides custom, guided rheometer interactions, from user instructions and test methods to data analysis and reporting, empowering laboratories to streamline and standardize operations and decision-making across local or global laboratory enterprises. Together, the unique technologies and innovations in the new Discovery rheometers deliver better measurements and continue to expand on the versatility of TA's rheometers.
Commenting on the development, David Bohnsack, Product Manager for Rheology at TA Instruments said "Our customers tell us that rheology is growing more important to their workflows every day. They need better data on a wider range of materials, and they have more people in their organizations making those measurements. The new Discovery Hybrid Rheometers support that need with better measurements, a system that is easier to use, and versatility to grow with their business."
View Discovery™ Hybrid Rheometers View brochure
About TA Instruments, Inc. ( www.tainstruments.com )
TA Instruments, a subsidiary of Waters Corporation, is the leading manufacturer of analytical instruments for thermal analysis, rheology and microcalorimetry. The company is headquartered in New Castle, Delaware, USA, and has direct operations in 24 countries.
About Waters Corporation (www.waters.com)
Waters Corporation (NYSE:WAT), the world's leading specialty measurement company, has pioneered chromatography, mass spectrometry, and thermal analysis innovations serving the life, materials, and food sciences for more than 60 years. With approximately 7,000 employees worldwide, Waters operates directly in 31 countries, including 15 manufacturing facilities, and with products available in more than 100 countries.