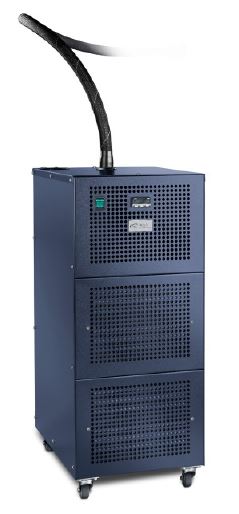 New Castle, Delaware, USA. March 29, 2016 – TA Instruments today announced the introduction of the ACS-2 Air Chiller System. Following on the tremendous popularity of the ACS-3, the ACS-2 is a mechanical refrigeration system that provides subambient temperature control for mechanical and rheological testing. Paired with a DMA850, DMA3200, Discovery Hybrid Rheometer, ARES-G2 Rheometer, or RSA-G2 Solids Analyzer, the ACS-2 provides reliable temperature control as low as -55°C without the use of liquid nitrogen.
David Bohnsack, Product Manager for Rheology at TA Instruments commented on the introduction: "The ACS-3 was introduced in response to our customers' demand to perform low temperature mechanical measurements while avoiding the cost, safety concerns, and inconvenience associated with routine liquid nitrogen usage. The ACS-3 has been extremely popular with those customers. We are pleased to extend that product offering with the introduction of the ACS-2, which provides similar convenience within its range of operation, and at a lower investment cost than the ACS-3." In addition to subambient temperature control, the ACS-2 also decreases cool-down time between experiments. This results in a typical reduction of total test time by more than 20%, reducing operator time and increasing laboratory throughput.
TA Instruments – a subsidiary of Waters Corporation (NYSE: WAT) – is the leading manufacturer of analytical instruments for thermal analysis, rheology, and microcalorimetry. The company is headquartered in New Castle, Delaware, USA, and has direct operations in 23 countries.