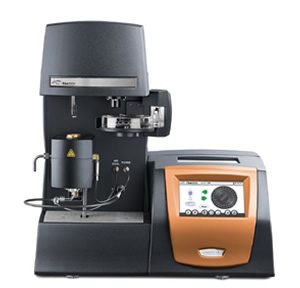 New Castle, Delaware, USA. August 15, 2016 – TA Instruments is pleased to introduce a new line of Thermogravimetric Analyzers, the Discovery TGA 5500, TGA 550, and TGA 55. These instruments feature an all-new system design resulting in unprecedented performance in sensitivity, temperature control, atmosphere control, and baseline drift. This new line again affirms TA's position as the technology and global leader in thermal analysis.
At the core of every new Discovery TGA is the exclusive TA proprietary Tru-Mass™ balance system, which delivers the highest sensitivity and most accurate real time weight data in the industry. A new app-style user interface is standard with each model. Combined with powerful new TRIOS software, automated calibration and verification routines work seamlessly to dramatically improve laboratory workflows and productivity.
The Discovery TGA measures sample weight changes under controlled conditions of temperature, time, and atmosphere. It is used to characterize the thermal stability and composition of a wide range of materials including polymers, elastomers, composites, pharmaceuticals, electronics, and inorganics. It excels in both research environments and production control processes.
Commenting on the introduction, Terry Kelly, President of TA Instruments said, "The new features of our Discovery TGA systems provide compelling reasons for current TGA users to upgrade to the latest in TGA technology. Its performance is unrivaled. The new user interface and powerful TRIOS operating system make it easier than ever to get great TGA data. It is the perfect complement to our new Discovery DSC systems."
The TGA 5500 comes standard with all options including TA's exclusive and patented IR Furnace that provides the fastest heating and cooling rates in the industry. Also included is a new 25-position autosampler that allows for ultimate flexibility in programing experiments, as well as auto calibration and verification routines. It includes TA's patented Modulated TGA™ as well as Hi-Res™ TGA, enabling the highest performance and productivity of any TGA on the market.
The TGA 550 is a flexible and configurable research-grade TGA that is well equipped to satisfy the most demanding researcher. The TGA 55 is a cost-effective, easy to use, general purpose TGA with performance superior to competitive research grade systems.  The TGA 55 is ideal for research, teaching, and quality control laboratories that require a rugged, reliable, basic TGA.
TA Instruments – a subsidiary of Waters Corporation (NYSE: WAT) – is the leading manufacturer of analytical instruments for thermal analysis, rheology, and microcalorimetry. The company is headquartered in New Castle, Delaware, USA, and has direct operations in 26 countries.
Contact: Ed Moriarty, Director, Worldwide Marketing at +1 302.427.1033 or webmaster@tainstruments.com.
See the New Discovery TGA!