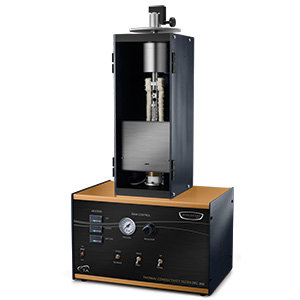 DTC 300
A research grade instrument for the direct determination of thermal conductivity of a wide range of low-to-medium thermal conductivity materials, including solid, liquid, paste, powder, thin film by using guarded heat flow method.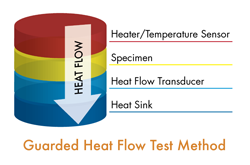 DTC 300 is a guarded heat flow meter measuring the thermal conductivity over a wide range of temperatures accordingly to the ASTM E1530 Standard.
It employs one calorimeter module, located in the bottom stack, for the measurement of thermal conductivity, and a side guard furnace to prevent edge heat loss. The contact resistance is minimized by applying a pneumatic load to the test stack, and by using a thermally conductive interface compound.
Very versatile the DTC 300 covers an extremely wide conductivity range using three different stack modules easily interchangeable by the user. Tests can be run from -20°C up to 300°C. Typical sample size is 50mm (2"). Due to its flexibility and expanded analytical range the DTC 300 is ideally suited for research laboratories
ASTM E1530
Reproducible sample load for accurate measurements
Wide Temperature Analytical Range
Easy interchangeable measuring stacks
Software
ASTM E1530
A guarded heat flow meter, DTC 300 does comply with ASTM method E1530
Reproducible sample load for accurate measurements
The test specimen is held under a user-selectable compressive load between two polished metal surfaces. TThis reproducible, pneumatic load to the test stack also helps to minimize the contact resistance.
Wide Temperature Analytical Range
DTC 300 operates from -20°C up to 300°C For sub-ambient testing, the DTC-300 is supplied with an airtight compartment, keeping the atmosphere relatively moisture-free with dry air purge. Polymers can be tested through the melt using special containment cells.
Easy interchangeable measuring stacks
Three easily user-swappable stacks expand the thermal conductivity range from 0.0005 to 0.05  m2K/W
Software
Each DTC-300 system includes a Windows™ operating and data analysis software. Once the user specifies test parameters as specimen size and desired test temperatures, the equipment runs unattended until test completion, when thermal conductivity results are printed and plotted. 
Method:
Guarded Heat Flow Meter
Standard Test Method:
ASTM E1530
Specimen Compatibility:
solids, pastes, liquids, thin films
Specimen Thickness:
Maximum 1′
Specimen Diameter:
50 mm
Temperature Range:
-20°C to 300°C
Thermal Conductivity Range:
0.1 to 40 W/mK
Thermal Resistance Range (for each module):
0.0005 to 0.010 m2K/W
0.002 to 0.020 m2K/W
0.01 to 0.05 m2K/W
Accuracy:
±3%
Reproducibility:
±1 to ±2% depending on thermal resistance
Dimensions:
25″(63.5cm) W x 28″ (71.12 cm) D x 37″ (93.98 cm) H