Thermogravimetric Analysis Accessories
Discovery Mass Spec
Hi-Res™ TGA
MTGA™
EGA Furnace
Sample Press
TGA Pans
DTA signal
Discovery Mass Spec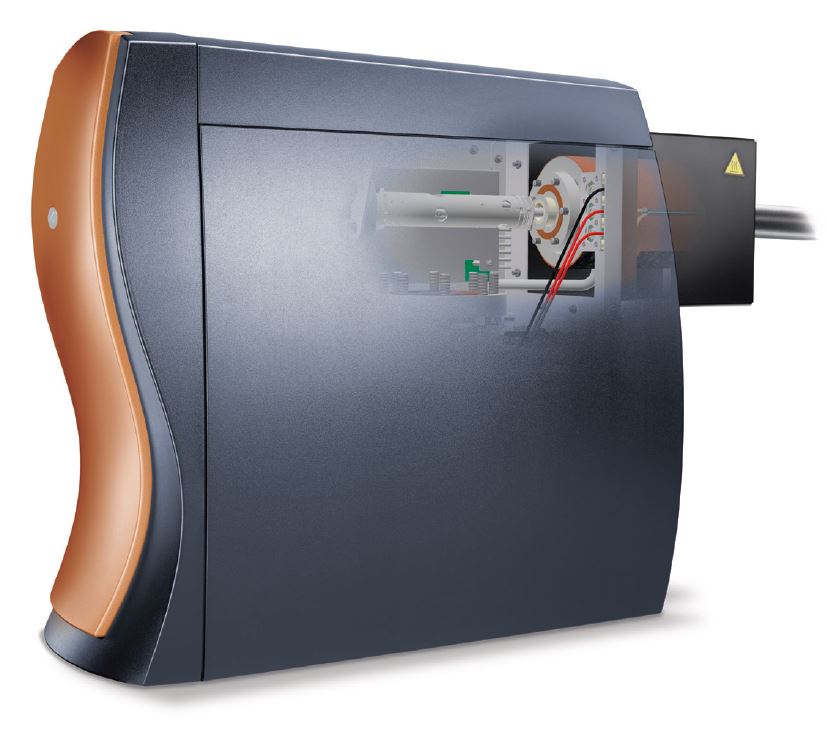 The Discovery MS is a benchtop quadrupole mass spectrometer, designed and optimized for  evolved gas analysis. It features industry-standard technology configured for the efficient transfer,  and rapid detection of offgas from the TGA furnace. Parts per billion (ppb) sensitivity is ensured with our state-of-the-art quadrupole detection system, including a closed ion source, a triple mass filter and a dual (Faraday and Secondary Electron Multiplier) detector system. This analyzer configuration is selected to optimize sensitivity and long-term stability performance.
Control of the experimental parameters and analysis of the mass spectral data is achieved through a user-friendly, recipe-driven software interface. Data collection can be triggered directly from the  TGA software, and the resulting MS  data can  be combined  with the corresponding TGA results for direct overlaying and comparison.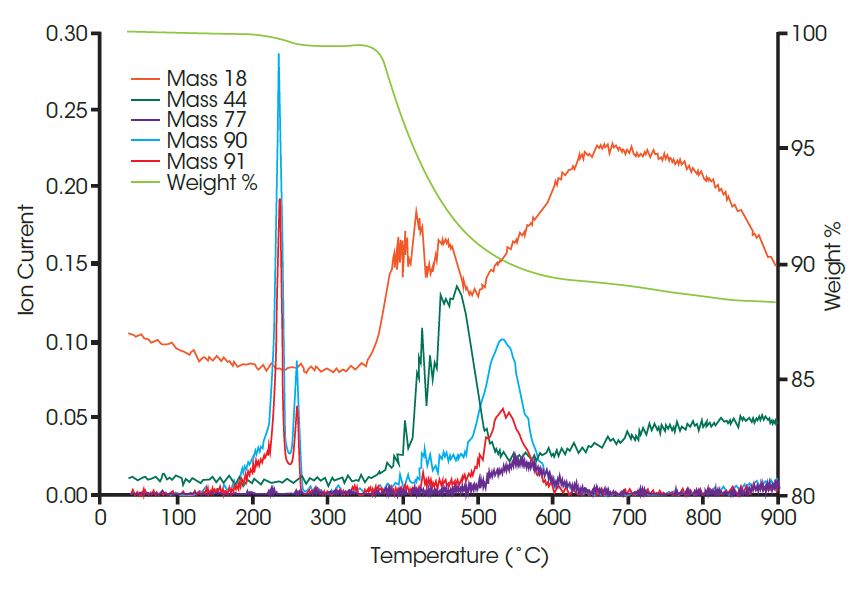 | | |
| --- | --- |
| Parameter | Performance |
| Mass range (amu) | 1-300 |
| Mass Resolution | >0.5 amu |
| Sensitivity | < 100 ppb (gas-dependent) |
| Ionization Source | Electron Ionization |
| Detector System | Dual (Faraday and Second Electron Multiplier) |
| Sample Pressure | 1 atm (nominal) |
| Data Collection Modes | Bargraph and Peak Jump |
| Scanning Speed | |
| Bargraph Mode | >50 amu/s |
| Peak Jump Mode | >64 channels/s |
| Transfer line Temperature | 300 °C (fixed) |
| Transfer line | 1.8 meters, flexible |
| Filaments | Dual, customer changeable |
| Capillary | Stainless Steel, changeable |
| Capillary size | I.D. = 0.22 mm |
| Inputs | Data collection controlled by TGA Trigger |
Hi-Res™ TGA
In Hi-Res TGA, the heating rate is controlled by the decomposition rate of the sample. The Discovery TGA 5500 and 550 designs are ideal for these measurements with rapid response furnaces for precise temperature control, and sensitive thermobalances designed to quickly detect small weight changes.
Benefits of Hi-Res TGA include:
Separation of broad and overlapping weight losses
Increased productivity with better resolution
Rapid survey over wide temperature range with excellent resolution
Simple method set up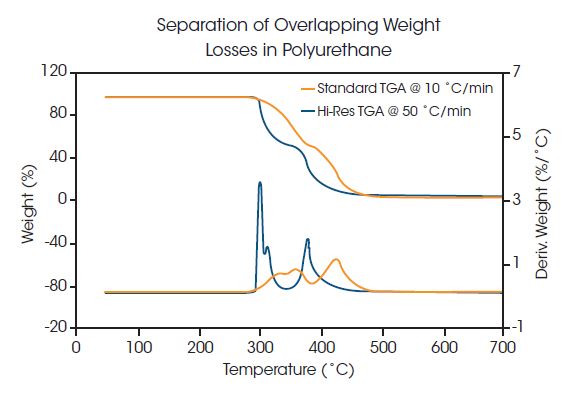 The figure above shows the Hi-Res TGA results for a polyurethane material by standard and Hi-Res TGA. The superior resolution provided by the Hi-Res technique is clearly evident in both the TGA weight loss and the first derivative (DTG) signals. The latter signal is especially useful in defining the onset and the end-set of the individual weight loss segments, as well as indicating subtle events that provide a "fingerprint" of the sample.
MTGA™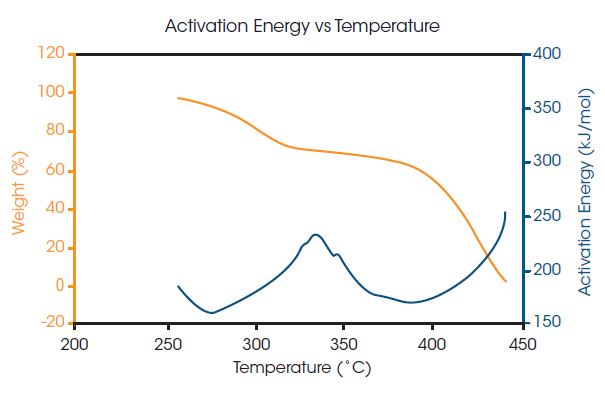 TA's patented MTGA* is another TA Instruments innovation that offers advantages for material decomposition studies. Developed from the proprietary heater control technology utilized by Hi-Res TGA and MDSC, MTGA produces model-free kinetic data. Activation energy can be calculated real-time and studied as a function of time, temperature, and conversion.
Benefits of MTGA include:
Increased productivity for studying kinetics
Model-free kinetic data
Can be combined with Hi-Res for better separation of overlapping weight losses
Direct measurement of activation energy
EGA Furnace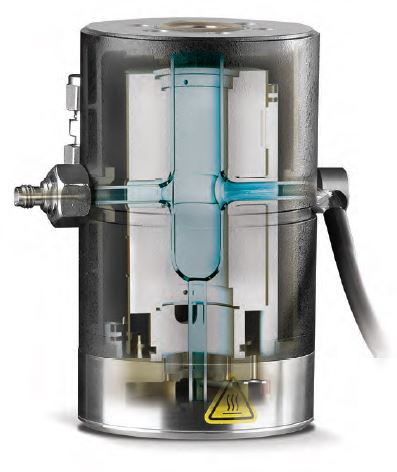 Optional Evolved Gas Analysis (EGA) furnace for the TGA 55 and TGA 550.
Features & Benefits
Ambient to 1000 °C
Heating rates of 0.1 to 50 °C/min linear controlled
Low volume, vacuum tight, and quartz lined for good evolved gas results
Quartz liner makes furnace easy to clean
Sample Press
Proper sample preparation is of critical importance to the quality of data generated on a DSC. The Tzero sample encapsulation press and pans take into consideration every detail necessary by design to ensure simple and proper preparation for the highest data quality.
Tzero® Pans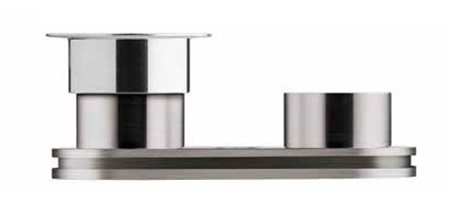 Tzero high-performance pans and lids are designed to maximize pan flatness and sample contact. Coupled with the unparalleled flatness and uniformity of the Fusion cell sensor, the Tzero pans and lids provide the most direct, uniform heat flow path from the sample to the sensor. These pans are tolerant of many sample forms and are designed with lids that conform to the top of irregular specimens, efficiently transferring heat to and from the entire sample. Competitive pan designs that have non-flat bases are unable to achieve appropriate thermal contact with solid specimens. Fabricated using advanced technology and to extremely tight tooling specifications, the Tzero pans offer significant improvements in resolution and repeatability over any other pan design.
Tzero® DSC Sample Encapsulation Press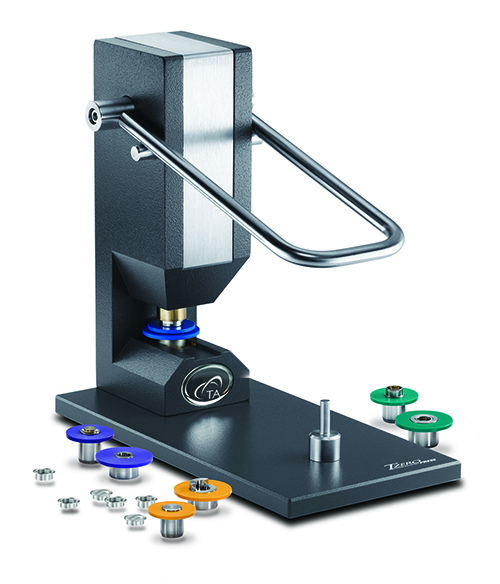 The Tzero press takes sample encapsulation to a higher level of performance and convenience in conventional and hermetic sealing of a wide variety of materials. The press kit includes four die sets for Tzero aluminum and hermetic pans & lids. Optional die sets are available for high-volume DSC pans and Discovery TGA sealed pans. The die sets are magnetically attached with no tools or adjustments required. In addition, each die set is color-coded to the box containing the compatible Tzero or standard aluminum hermetic pans and lids.
TGA Sealed Pans – Discovery TGA – Q5000
TGA Pans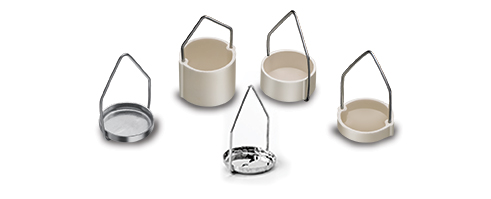 Pan Specifications
| | | | |
| --- | --- | --- | --- |
| Material | Size | Temperature Range | Notes |
| Platinum | 50µL100µL | Ambient to 1000°C | Robust, high performance, reusable pans |
| Ceramic | 100µL 250µL | Ambient to 1200°C | Reusable pans for higher temperatures |
| Aluminum | 80µL | Ambient to 600°C | One time use, can be sealed to prevent volatilization before experiment |
DTA signal
The DTA signal is a qualitative measurement of endothermic and exothermic reactions occurring in the TGA. This signal can also be used for temperature calibration by using melting point standards.