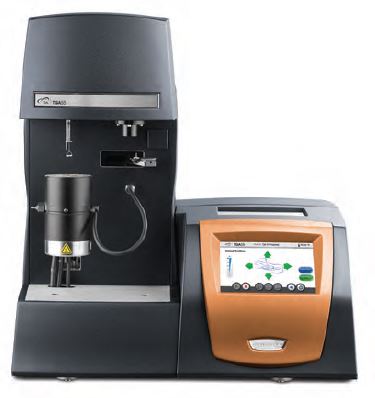 The TGA 55 is specifically designed for those that want rugged, reliable, and cost-effective TGA, and are not willing to accept poor data. Utilizing TA's proprietary Tru-Mass™ Balance as the core of the system, the TGA 55 will outperform competitive research-grade models. Its sensitivity, accuracy and ease-of-use make this TGA an ideal instrument for basic research, teaching or industrial labs that need quality results.
Find relevant TA TGA applications
Features & Specifications

Instrument Features
TGA 55
TGA 550
TGA 5500
Low Mass IR Furnace

—

—

●

Hi-Res TGA™

—

○

●

Modulated TGA™

—

○

●

Auto-Stepwise TGA

●

●

●

DTA Signal

—

○

●

Auto-loader

●

●

—

25-Position Autosampler

—

○

●

Sealed Pan Punch

—

○

●

Color App-Style Touch Screen

●

●

●

Long-Life Wire Wound (Pt/Rh) Furnace

●

●

—

EGA Furnace Capable

○

○

●

Dual Input Gas-Delivery Manifold

●

●

●

Integrated Electromagnet

—

—

●

Temperature Calibration
Curie Point (ASTM E1582)

●

●

●

Temperature Calibration
Melting Point Standards

—

○

●

Blending Gas Delivery Module

—

○

○

Heated EGA Furnace Adapter

—

—

○

TGA/MS Operation

○

○

○

TGA/FTIR Operation

○

○

○
●Included ○Optional —Not Available
Instrument Specifications
TGA 55
TGA 550
TGA 5500
Temperature Range
Ambient to 1000 °C
Ambient to 1000 °C
Ambient to 1200 °C
Temperature Accuracy

±1 °C

±1 °C

±1 °C

Temperature Precision

±0.1 °C

±0.1 °C

±0.1 °C

Heating Rate (Linear)
0.1 to 100 °C/min
0.1 to 100 °C/min
0.1 to 500 °C/min
Heating Rate (Ballistic)
>600 °C/min

>600 °C/min

>1600 °C/min
Furnace Cooling (Forced air/N2)
1000 °C to 50 °C
in <12 min
1000 °C to 50 °C
in <12 min
1200 °C to 35 °C
in <10 min
Sample Weight Capacity

1000 mg

1000 mg

1000 mg

Dynamic Weighing Range

1000 mg

1000 mg

1000 mg

Weighing Precision

±0.01 %

±0.01 %

±0.01 %

Resolution

0.1 µg

0.1 µg

<0.1 µg

Weight Baseline Drift[1]
(Ambient to 1000 ˚C)

<25 µg

<25 µg

<10 µg

 Vacuum
50 µtorr
(EGA furnace)
50 µtorr
(EGA furnace)

50 µtorr
[1] No baseline subtractions
Tru-Mass™ Balance
Tru-Mass™ Balance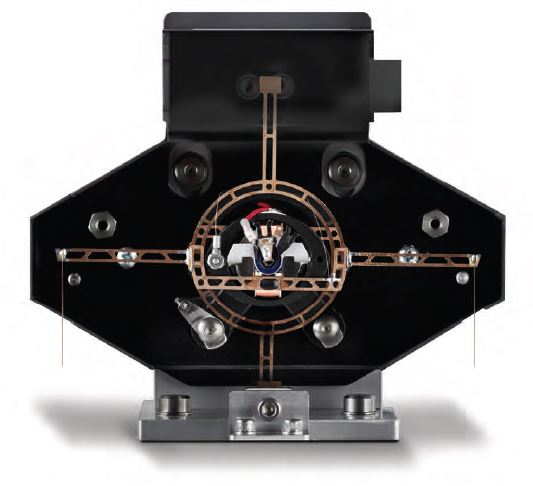 At the core of every new Discovery TGA is the proprietary Tru-Mass™ Balance. The Tru-Mass Balance system is Thermally isolated for high sensitivity in every laboratory environment, delivers highest Resolution to separate the components of the most challenging TGA samples, and Ultra low drift (Tru-Mass). Unlike competitive designs, the Discovery TGA delivers optimum performance without requiring baseline subtractions and other post-test manipulation required by competitors to make the data better. The result is an innovative new TGA with unrivaled performance in weight drift and sensitivity.
Balance Features and Benefits:
Ultra-low drift balance design ensures accurate detection of even the smallest weight changes.
High capacity (1 g) Tru-Mass balance with auto-ranging capability to ensure the best sensitivity no matter the size of the sample.
Free-hanging sample eliminates the heat sink prevalent in top-loading designs, for the most efficient heat transfer and gas flow around the sample.
Thermally isolated balance with low drift and high sensitivity to deliver the most accurate real time data.
The new proprietary balance system delivers the purest real-time weight data possible.
Wire-Wound (Pt/Rh) Furnace
Wire-Wound (Pt/Rh) Furnace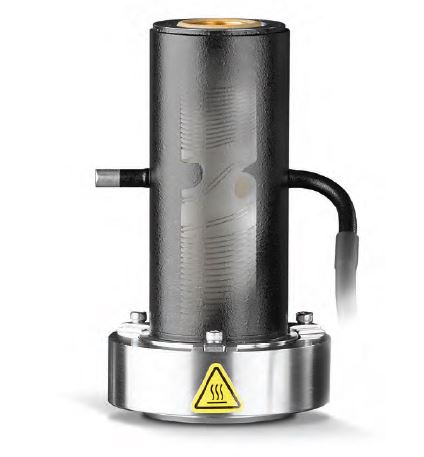 Standard furnace for the TGA 55 and TGA 550.
Features & Benefits
Ambient to 1000 °C
Linear controlled heating rates of 0.1 to 100 °C/min
Ballistic heating rates >600 °C/min
Low mass furnace allows fast cooling for quick and efficient turn around between runs
EGA Furnace
EGA Furnace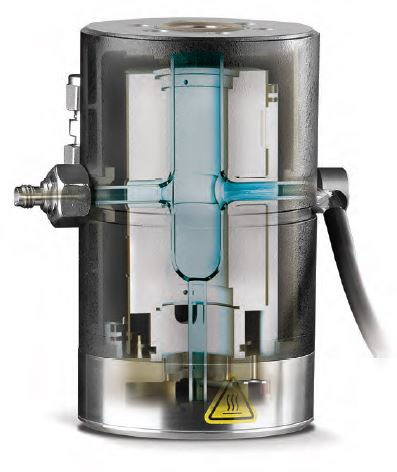 Optional Evolved Gas Analysis (EGA) furnace for the TGA 55 and TGA 550.
Features & Benefits
Ambient to 1000 °C
Heating rates of 0.1 to 50 °C/min linear controlled
Low volume, vacuum tight, and quartz lined for good evolved gas results
Quartz liner makes furnace easy to clean
Atmosphere Control
Atmosphere Control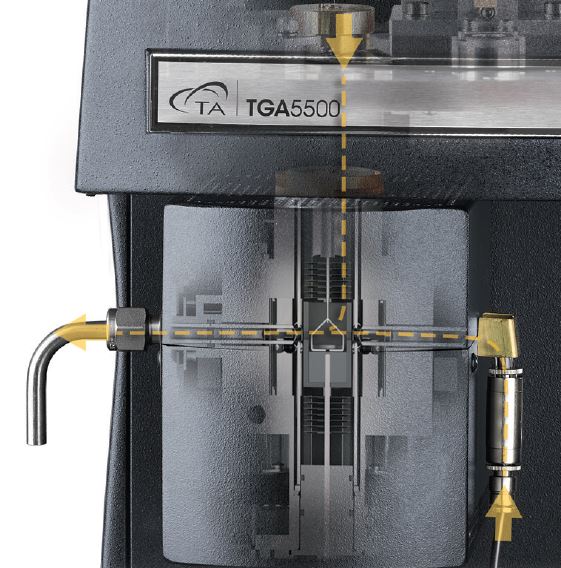 Discovery TGA's are designed with superior atmosphere control to meet the most demanding applications. Whether maintaining an inert atmosphere, switching to an oxidative purge, or maintaining a high vacuum the Discovery TGA is up to the task.
Atmosphere Control Features and Benefits:
Innovative Gas-Delivery manifold design eliminates potential leak points from tubing and hardware connections ensuring the most consistent, repeatable atmosphere.
Integrated software-controlled gas switching for experiments requiring dynamic or reactive atmospheres
New Gas blending module allows additional inputs of 4 gases with controlled gas switching and blending capability for flexible and demanding applications
Horizontal purge for best sample interactions
Vacuum tight to ensure inert, oxygen free atmospheres
Sealed pan option to maintain the atmosphere of the sample until the experiment starts
"APP" Style Touch Screen
"APP" Style Touch Screen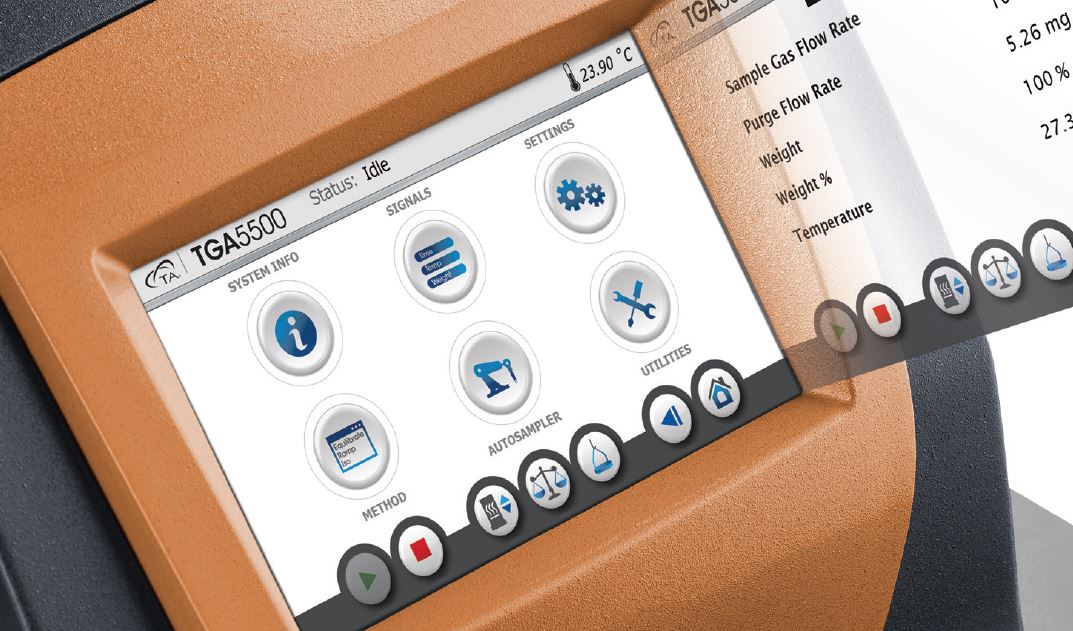 Touch Screen Features and Benefits:
Ergonomic design for easy viewing and operation
Packed with functionality to simplify operation and enhance user experience. The apps-style touch screen includes:
Start/stop runs
Test and instrument status
Real-time signals
Real-time plot
Active method viewing
Advance method segments
Autosampler calibration
Loading/unloading and taring pans
System information
The app-style touch screen, powerful new TRIOS software, the robust and reliable autosampler with automated calibration and verification routines all work seamlessly to dramatically improve laboratory workflow and productivity.
ITS NEVER BEEN EASIER TO GET GREAT DATA!
Discovery Mass Spectrometer
Discovery Mass Spectrometer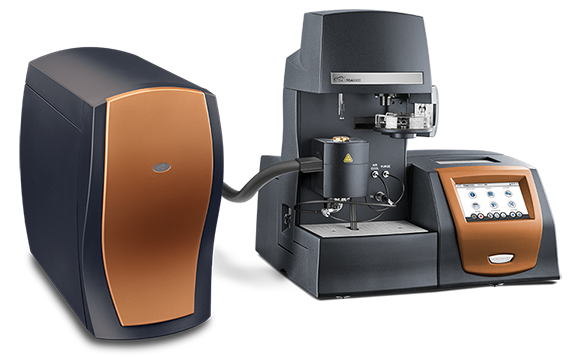 The Discovery MS is a benchtop quadrupole mass spectrometer, designed and optimized for  evolved gas analysis. It features industry-standard technology configured for the efficient transfer,  and rapid detection of offgas from the TGA furnace. Parts per billion (ppb) sensitivity is ensured with our state-of-the-art quadrupole detection system, including a closed ion source, a triple mass filter and a dual (Faraday and Secondary Electron Multiplier) detector system. This analyzer configuration is selected to optimize sensitivity and long-term stability performance.
Control of the experimental parameters and analysis of the mass spectral data is achieved through a user-friendly, recipe-driven software interface. Data collection can be triggered directly from the  TGA software, and the resulting MS  data can  be combined  with the corresponding TGA results for direct overlaying and comparison.
| | |
| --- | --- |
| Parameter | Performance |
| Mass range (amu) | 1-300 |
| Mass Resolution | >0.5 amu |
| Sensitivity | < 100 ppb (gas-dependent) |
| Ionization Source | Electron Ionization |
| Detector System | Dual (Faraday and Second Electron Multiplier) |
| Sample Pressure | 1 atm (nominal) |
| Data Collection Modes | Bargraph and Peak Jump |
| Scanning Speed | |
| Bargraph Mode | >50 amu/s |
| Peak Jump Mode | >64 channels/s |
| Transfer line Temperature | 300 °C (fixed) |
| Transfer line | 1.8 meters, flexible |
| Filaments | Dual, customer changeable |
| Capillary | Stainless Steel, changeable |
| Capillary size | I.D. = 0.22 mm |
| Inputs | Data collection controlled by TGA Trigger |
See applications under the "applications" tab
Sample Press
Sample Press
Proper sample preparation is of critical importance to the quality of data generated on a DSC. The Tzero sample encapsulation press and pans take into consideration every detail necessary by design to ensure simple and proper preparation for the highest data quality.
Tzero® Pans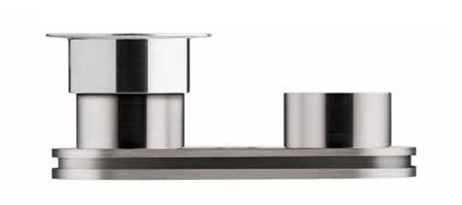 Tzero high-performance pans and lids are designed to maximize pan flatness and sample contact. Coupled with the unparalleled flatness and uniformity of the Fusion cell sensor, the Tzero pans and lids provide the most direct, uniform heat flow path from the sample to the sensor. These pans are tolerant of many sample forms and are designed with lids that conform to the top of irregular specimens, efficiently transferring heat to and from the entire sample. Competitive pan designs that have non-flat bases are unable to achieve appropriate thermal contact with solid specimens. Fabricated using advanced technology and to extremely tight tooling specifications, the Tzero pans offer significant improvements in resolution and repeatability over any other pan design.
Tzero® DSC Sample Encapsulation Press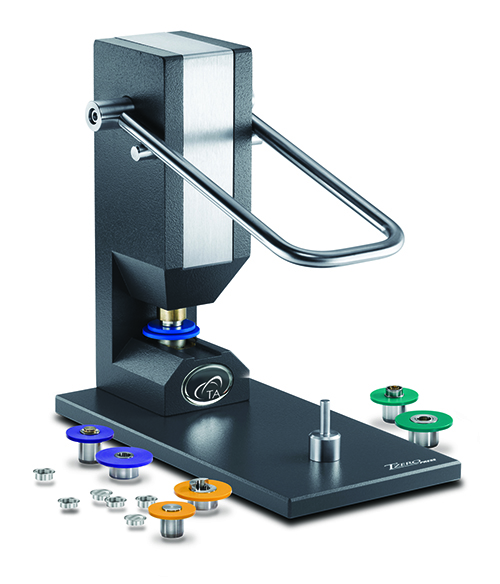 The Tzero press takes sample encapsulation to a higher level of performance and convenience in conventional and hermetic sealing of a wide variety of materials. The press kit includes four die sets for Tzero aluminum and hermetic pans & lids. Optional die sets are available for high-volume DSC pans and Discovery TGA sealed pans. The die sets are magnetically attached with no tools or adjustments required. In addition, each die set is color-coded to the box containing the compatible Tzero or standard aluminum hermetic pans and lids.
TGA Sealed Pans – Discovery TGA – Q5000
TGA Pans
TGA Pans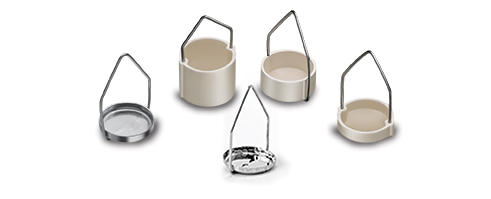 Pan Specifications
| | | | |
| --- | --- | --- | --- |
| Material | Size | Temperature Range | Notes |
| Platinum | 50µL100µL | Ambient to 1000°C | Robust, high performance, reusable pans |
| Ceramic | 100µL 250µL | Ambient to 1200°C | Reusable pans for higher temperatures |
| Aluminum | 80µL | Ambient to 600°C | One time use, can be sealed to prevent volatilization before experiment |
Compositional Analysis
Compositional Analysis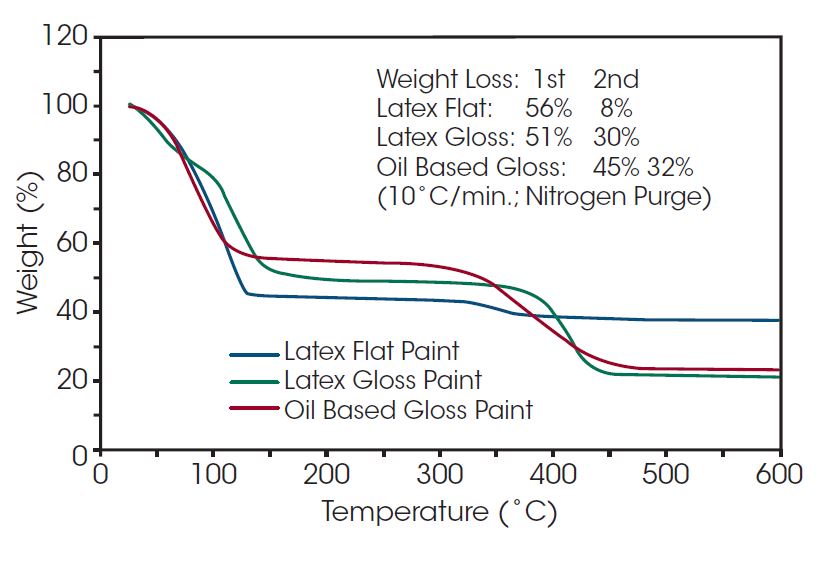 TGA is used to determine sample composition by measuring the weight of each component as it volatilizes or decomposes under controlled conditions of temperature, time, and atmosphere. This figure shows quantitative differences in type, amount, and decomposition mechanism of the main polymers in three paint samples. More detailed examination of the profiles below 150°C may reveal further information on the amount and possible nature of the carrier solvent (aqueous or oil) used in each paint.
Verification of Thermal Events
Verification of Thermal Events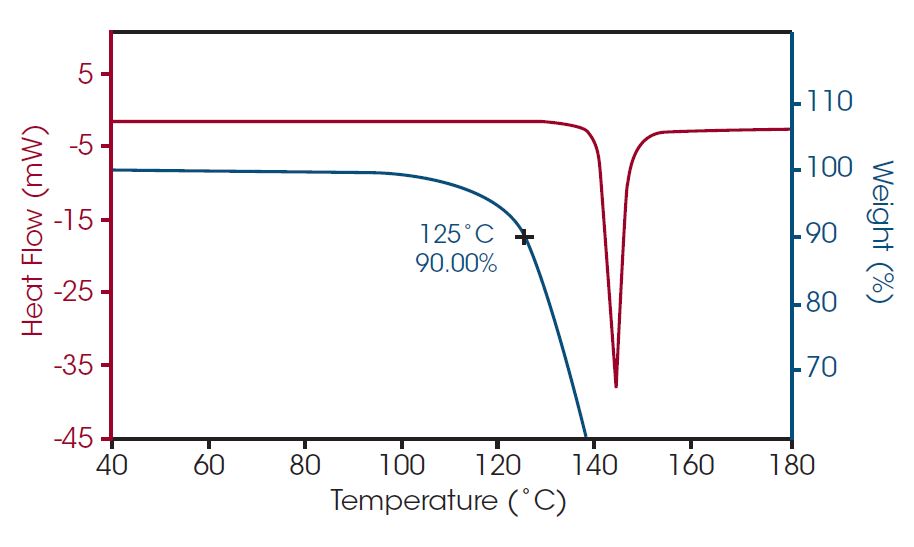 TGA is very useful in conjunction with other thermal analysis techniques such as DSC and is often critical to understanding the true nature of thermal events. In this data, a pharmaceutical material undergoes an endothermic transition above 125°C which was previously thought to be melting. TGA analysis demonstrates considerable weight loss below 125°C, which suggests that the endotherm is actually decomposition. DSC analysis at multiple rates exposes rate-dependence of this transition which confirms decomposition.
Volatiles Analysis
Volatiles Analysis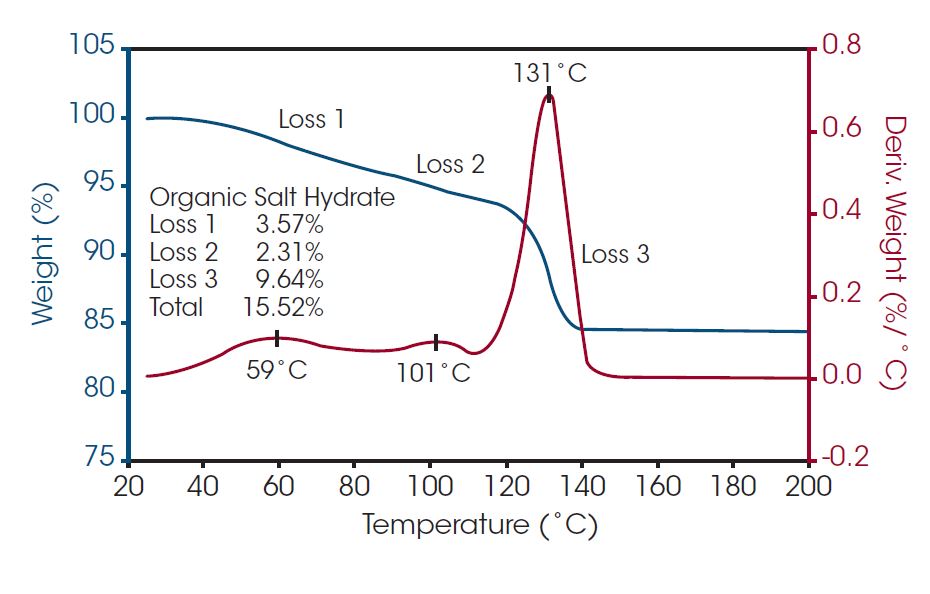 TGA determinations of absorbed, bound, or occluded moisture, and organic volatiles are important analyses for product performance and environmental acceptance. Analysis of an organic salt hydrate in nitrogen atmosphere shows a bound-water content of 9.6%, and two lower temperature weight losses of 3.6% and 2.3% respectively. These losses are likely due to adsorbed moisture at the salt surface or held to it by weak attractive forces.
Moisture Content & Thermal Stability of a Pharmaceutical Material
Moisture Content & Thermal Stability of a Pharmaceutical Material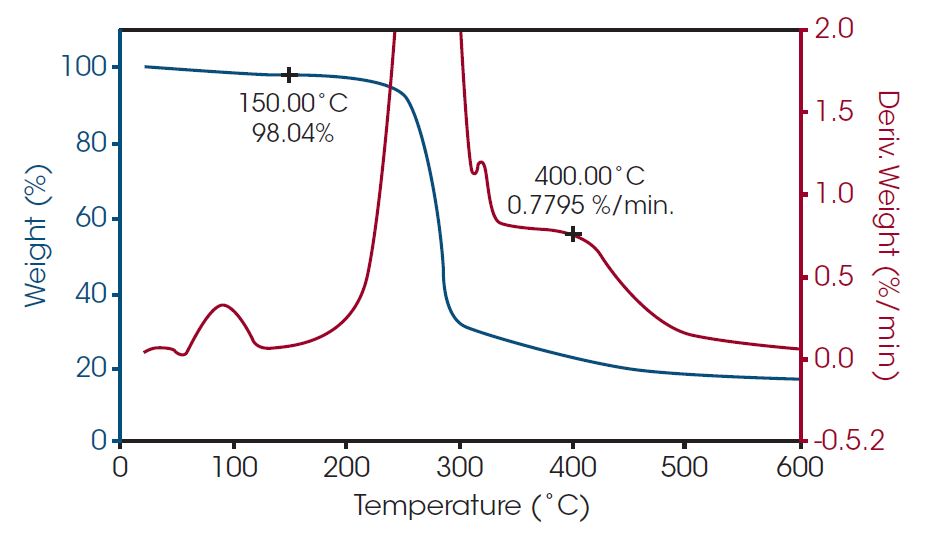 TGA is a useful technique for determining the absolute and relative thermal stability of pharmaceutical compounds, as well as the moisture content. In this example, an active pharmaceutical ingredient (API) is analyzed by TGA at a heating rate of 10°C/min. The data show a small (~2%) weight loss below 150°C, which is typical for adsorbed water. The material is relatively stable up to 200°C, after which a large, multi-step weight loss is indicative of thermal decomposition.
TGA-FTIR: Phenolic Resin Decomposition
TGA-FTIR: Phenolic Resin Decomposition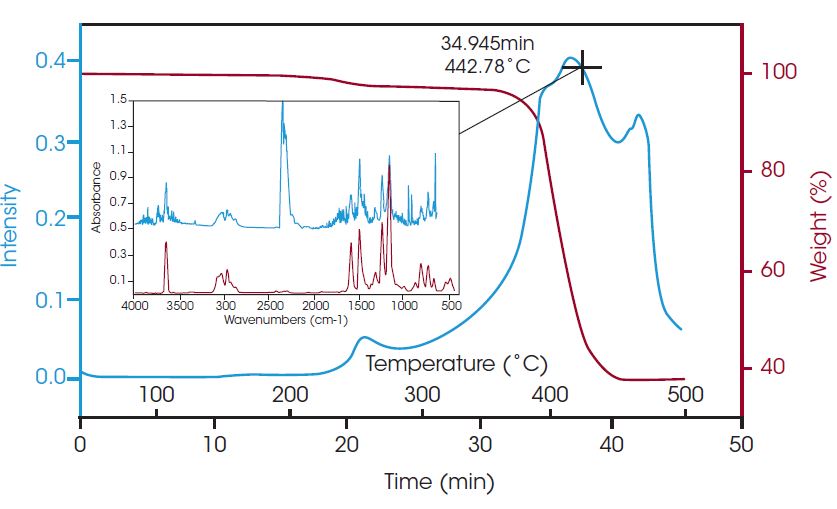 This figure contains the TGA-FTIR results for the thermal decomposition of a phenolic resin adhesive. A Gram-Schmidt reconstruction of the time-resolved FTIR spectra is compared to the weight loss signal as a function of time and temperature. The inset image contains the FTIR spectrum of the offgas composition at 34.95 minutes, near the point of the maximum rate of decomposition. The FTIR spectrum corresponding to this temperature indicates that the offgas products are primarily composed of phenols, including bisphenol A, which is included as a comparison spectrum. This level of chemical specificity is useful in comparing similar products, quality control, and fingerprint analysis.
TGA Mass Spec Application - Decomposition of An Engineered
TGA Mass Spectrometer Application
Decomposition of An Engineered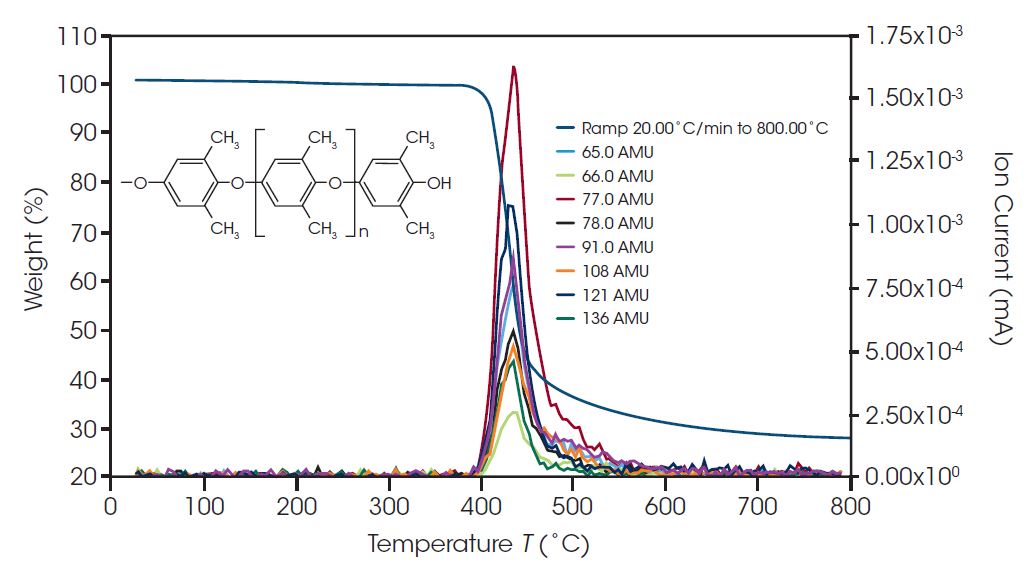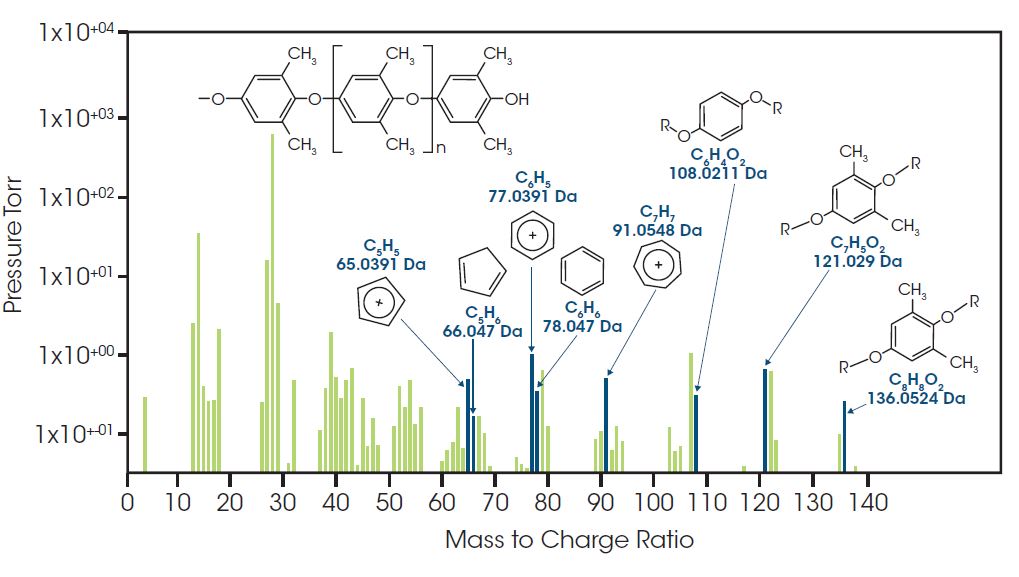 Poly(phenylene oxide), or PPO, is an engineering thermoplastic with desirable high-performance specifications for heat resistance, dimensional stability and cost. With a glass transition temperature as high as 215°C, the injection molding or extrusion processing temperature of PPO would need to be high, and as a result the process can be costly. Quite commonly, PPO is blended with other polymers such as polystyrene (HIPS) to aid processing and ductility. In this example, neat PPO is heated to decomposition in an inert nitrogen atmosphere. The TGA-MS hyphenated technique allows for the detection and identification of the resultant decomposition products. The data is displayed as an overlay of ion current and weight loss with respect to temperature. TGA shows a monotonic weight loss step; however, the mass spectroscopy data presents the detection of several decomposition entities that range in mass to charge ratios of 65 to 136 amu which is the molecular ion of the repeating unit. Proposed decomposition products based on the structure of the polyether are shown.
Trios Software
Trios Software
Discover powerful TRIOS software that delivers exceptional user experience in a combined package for instrument control, data analysis and reporting. New features such as automated calibration routines, multiple calibration sets, real-time test method editing, and inter-laboratory data and test method sharing provide unmatched flexibility, while one-click analysis and custom reporting raise productivity to new levels.
Control multiple instruments with a single PC and software package
TRIOS software makes calibration and operation simple
Autosampler-enable, unattended calibrations and verifications to raise productivity, ensure data accuracy and minimize instrument downtime
Create and switch between calibration data sets generated under different heating rates and gas selections to match the experimental conditions used for sample analysis
Effortlessly monitor real-time signals and progress of experiments with the added capability of editing the test method of an existing experiment on the fly
The advanced data collection system automatically saves all relevant signals, active calibrations, and system settings. This comprehensive set of information is invaluable for method development, procedure deployment and data validation
Optional TRIOS Guardian with electronic signatures for audit trail and data integrity
A feature-rich platform for analysis and reporting
Overlay and compare results across techniques including DSC, TGA, DMA, SDT and rheometers
One-click repeated analysis for increased productivity
Automated custom report generation including experimental details, data plots and tables, and analysis results
Convenient data export to plain-text, CSV, XML, Excel®, Word®, PowerPoint®, and image formats
Guided Methods
Polymer Guided Methods


A Guided Method for Decomposition and Residue provides an easy-to-use interface for new users to obtain desired results with minimal training. 
Decomposition and Residue  
Preconfigured ramp templates with customizable ramp rates and start/end temperatures

 

Automatically intelligently analyzes and reports all weight loss events and the final residue

 
The TGA 55 is specifically designed for those that want rugged, reliable, and cost-effective TGA, and are not willing to accept poor data. Utilizing TA's proprietary Tru-Mass™ Balance as the core of the system, the TGA 55 will outperform competitive research-grade models. Its sensitivity, accuracy and ease-of-use make this TGA an ideal instrument for basic research, teaching or industrial labs that need quality results.

Find relevant TA TGA applications

Features & Specifications


Instrument Features
TGA 55
TGA 550
TGA 5500
Low Mass IR Furnace

—

—

●

Hi-Res TGA™

—

○

●

Modulated TGA™

—

○

●

Auto-Stepwise TGA

●

●

●

DTA Signal

—

○

●

Auto-loader

●

●

—

25-Position Autosampler

—

○

●

Sealed Pan Punch

—

○

●

Color App-Style Touch Screen

●

●

●

Long-Life Wire Wound (Pt/Rh) Furnace

●

●

—

EGA Furnace Capable

○

○

●

Dual Input Gas-Delivery Manifold

●

●

●

Integrated Electromagnet

—

—

●

Temperature Calibration
Curie Point (ASTM E1582)

●

●

●

Temperature Calibration
Melting Point Standards

—

○

●

Blending Gas Delivery Module

—

○

○

Heated EGA Furnace Adapter

—

—

○

TGA/MS Operation

○

○

○

TGA/FTIR Operation

○

○

○

●Included ○Optional —Not Available

Instrument Specifications
TGA 55
TGA 550
TGA 5500
Temperature Range
Ambient to 1000 °C
Ambient to 1000 °C
Ambient to 1200 °C
Temperature Accuracy

±1 °C

±1 °C

±1 °C

Temperature Precision

±0.1 °C

±0.1 °C

±0.1 °C

Heating Rate (Linear)
0.1 to 100 °C/min
0.1 to 100 °C/min
0.1 to 500 °C/min
Heating Rate (Ballistic)
>600 °C/min

>600 °C/min

>1600 °C/min
Furnace Cooling (Forced air/N2)
1000 °C to 50 °C
in <12 min
1000 °C to 50 °C
in <12 min
1200 °C to 35 °C
in <10 min
Sample Weight Capacity

1000 mg

1000 mg

1000 mg

Dynamic Weighing Range

1000 mg

1000 mg

1000 mg

Weighing Precision

±0.01 %

±0.01 %

±0.01 %

Resolution

0.1 µg

0.1 µg

<0.1 µg

Weight Baseline Drift[1]
(Ambient to 1000 ˚C)

<25 µg

<25 µg

<10 µg

 Vacuum
50 µtorr
(EGA furnace)
50 µtorr
(EGA furnace)

50 µtorr

[1] No baseline subtractions

Tru-Mass™ Balance

Tru-Mass™ Balance

At the core of every new Discovery TGA is the proprietary Tru-Mass™ Balance. The Tru-Mass Balance system is Thermally isolated for high sensitivity in every laboratory environment, delivers highest Resolution to separate the components of the most challenging TGA samples, and Ultra low drift (Tru-Mass). Unlike competitive designs, the Discovery TGA delivers optimum performance without requiring baseline subtractions and other post-test manipulation required by competitors to make the data better. The result is an innovative new TGA with unrivaled performance in weight drift and sensitivity.

Balance Features and Benefits:

Ultra-low drift balance design ensures accurate detection of even the smallest weight changes.
High capacity (1 g) Tru-Mass balance with auto-ranging capability to ensure the best sensitivity no matter the size of the sample.
Free-hanging sample eliminates the heat sink prevalent in top-loading designs, for the most efficient heat transfer and gas flow around the sample.
Thermally isolated balance with low drift and high sensitivity to deliver the most accurate real time data.

The new proprietary balance system delivers the purest real-time weight data possible.

Wire-Wound (Pt/Rh) Furnace

Wire-Wound (Pt/Rh) Furnace

Standard furnace for the TGA 55 and TGA 550.

Features & Benefits

Ambient to 1000 °C
Linear controlled heating rates of 0.1 to 100 °C/min
Ballistic heating rates >600 °C/min
Low mass furnace allows fast cooling for quick and efficient turn around between runs

EGA Furnace

EGA Furnace

Optional Evolved Gas Analysis (EGA) furnace for the TGA 55 and TGA 550.

Features & Benefits

Ambient to 1000 °C
Heating rates of 0.1 to 50 °C/min linear controlled
Low volume, vacuum tight, and quartz lined for good evolved gas results
Quartz liner makes furnace easy to clean

Atmosphere Control

Atmosphere Control

Discovery TGA's are designed with superior atmosphere control to meet the most demanding applications. Whether maintaining an inert atmosphere, switching to an oxidative purge, or maintaining a high vacuum the Discovery TGA is up to the task.

Atmosphere Control Features and Benefits:

Innovative Gas-Delivery manifold design eliminates potential leak points from tubing and hardware connections ensuring the most consistent, repeatable atmosphere.
Integrated software-controlled gas switching for experiments requiring dynamic or reactive atmospheres
New Gas blending module allows additional inputs of 4 gases with controlled gas switching and blending capability for flexible and demanding applications
Horizontal purge for best sample interactions
Vacuum tight to ensure inert, oxygen free atmospheres
Sealed pan option to maintain the atmosphere of the sample until the experiment starts

"APP" Style Touch Screen

"APP" Style Touch Screen

Touch Screen Features and Benefits:

Ergonomic design for easy viewing and operation
Packed with functionality to simplify operation and enhance user experience. The apps-style touch screen includes:
Start/stop runs
Test and instrument status
Real-time signals
Real-time plot
Active method viewing
Advance method segments
Autosampler calibration
Loading/unloading and taring pans
System information
The app-style touch screen, powerful new TRIOS software, the robust and reliable autosampler with automated calibration and verification routines all work seamlessly to dramatically improve laboratory workflow and productivity.

ITS NEVER BEEN EASIER TO GET GREAT DATA!

Discovery Mass Spectrometer

Discovery Mass Spectrometer

The Discovery MS is a benchtop quadrupole mass spectrometer, designed and optimized for  evolved gas analysis. It features industry-standard technology configured for the efficient transfer,  and rapid detection of offgas from the TGA furnace. Parts per billion (ppb) sensitivity is ensured with our state-of-the-art quadrupole detection system, including a closed ion source, a triple mass filter and a dual (Faraday and Secondary Electron Multiplier) detector system. This analyzer configuration is selected to optimize sensitivity and long-term stability performance.

Control of the experimental parameters and analysis of the mass spectral data is achieved through a user-friendly, recipe-driven software interface. Data collection can be triggered directly from the  TGA software, and the resulting MS  data can  be combined  with the corresponding TGA results for direct overlaying and comparison.

| | |
| --- | --- |
| Parameter | Performance |
| Mass range (amu) | 1-300 |
| Mass Resolution | >0.5 amu |
| Sensitivity | < 100 ppb (gas-dependent) |
| Ionization Source | Electron Ionization |
| Detector System | Dual (Faraday and Second Electron Multiplier) |
| Sample Pressure | 1 atm (nominal) |
| Data Collection Modes | Bargraph and Peak Jump |
| Scanning Speed | |
| Bargraph Mode | >50 amu/s |
| Peak Jump Mode | >64 channels/s |
| Transfer line Temperature | 300 °C (fixed) |
| Transfer line | 1.8 meters, flexible |
| Filaments | Dual, customer changeable |
| Capillary | Stainless Steel, changeable |
| Capillary size | I.D. = 0.22 mm |
| Inputs | Data collection controlled by TGA Trigger |

See applications under the "applications" tab

Sample Press

Sample Press

Proper sample preparation is of critical importance to the quality of data generated on a DSC. The Tzero sample encapsulation press and pans take into consideration every detail necessary by design to ensure simple and proper preparation for the highest data quality.

Tzero® Pans

Tzero high-performance pans and lids are designed to maximize pan flatness and sample contact. Coupled with the unparalleled flatness and uniformity of the Fusion cell sensor, the Tzero pans and lids provide the most direct, uniform heat flow path from the sample to the sensor. These pans are tolerant of many sample forms and are designed with lids that conform to the top of irregular specimens, efficiently transferring heat to and from the entire sample. Competitive pan designs that have non-flat bases are unable to achieve appropriate thermal contact with solid specimens. Fabricated using advanced technology and to extremely tight tooling specifications, the Tzero pans offer significant improvements in resolution and repeatability over any other pan design.

Tzero® DSC Sample Encapsulation Press

The Tzero press takes sample encapsulation to a higher level of performance and convenience in conventional and hermetic sealing of a wide variety of materials. The press kit includes four die sets for Tzero aluminum and hermetic pans & lids. Optional die sets are available for high-volume DSC pans and Discovery TGA sealed pans. The die sets are magnetically attached with no tools or adjustments required. In addition, each die set is color-coded to the box containing the compatible Tzero or standard aluminum hermetic pans and lids.

TGA Sealed Pans – Discovery TGA – Q5000

TGA Pans

TGA Pans

Pan Specifications

| | | | |
| --- | --- | --- | --- |
| Material | Size | Temperature Range | Notes |
| Platinum | 50µL100µL | Ambient to 1000°C | Robust, high performance, reusable pans |
| Ceramic | 100µL 250µL | Ambient to 1200°C | Reusable pans for higher temperatures |
| Aluminum | 80µL | Ambient to 600°C | One time use, can be sealed to prevent volatilization before experiment |

Compositional Analysis

Compositional Analysis

TGA is used to determine sample composition by measuring the weight of each component as it volatilizes or decomposes under controlled conditions of temperature, time, and atmosphere. This figure shows quantitative differences in type, amount, and decomposition mechanism of the main polymers in three paint samples. More detailed examination of the profiles below 150°C may reveal further information on the amount and possible nature of the carrier solvent (aqueous or oil) used in each paint.

Verification of Thermal Events

Verification of Thermal Events

TGA is very useful in conjunction with other thermal analysis techniques such as DSC and is often critical to understanding the true nature of thermal events. In this data, a pharmaceutical material undergoes an endothermic transition above 125°C which was previously thought to be melting. TGA analysis demonstrates considerable weight loss below 125°C, which suggests that the endotherm is actually decomposition. DSC analysis at multiple rates exposes rate-dependence of this transition which confirms decomposition.

Volatiles Analysis

Volatiles Analysis

TGA determinations of absorbed, bound, or occluded moisture, and organic volatiles are important analyses for product performance and environmental acceptance. Analysis of an organic salt hydrate in nitrogen atmosphere shows a bound-water content of 9.6%, and two lower temperature weight losses of 3.6% and 2.3% respectively. These losses are likely due to adsorbed moisture at the salt surface or held to it by weak attractive forces.

Moisture Content & Thermal Stability of a Pharmaceutical Material

Moisture Content & Thermal Stability of a Pharmaceutical Material

TGA is a useful technique for determining the absolute and relative thermal stability of pharmaceutical compounds, as well as the moisture content. In this example, an active pharmaceutical ingredient (API) is analyzed by TGA at a heating rate of 10°C/min. The data show a small (~2%) weight loss below 150°C, which is typical for adsorbed water. The material is relatively stable up to 200°C, after which a large, multi-step weight loss is indicative of thermal decomposition.

TGA-FTIR: Phenolic Resin Decomposition

TGA-FTIR: Phenolic Resin Decomposition

This figure contains the TGA-FTIR results for the thermal decomposition of a phenolic resin adhesive. A Gram-Schmidt reconstruction of the time-resolved FTIR spectra is compared to the weight loss signal as a function of time and temperature. The inset image contains the FTIR spectrum of the offgas composition at 34.95 minutes, near the point of the maximum rate of decomposition. The FTIR spectrum corresponding to this temperature indicates that the offgas products are primarily composed of phenols, including bisphenol A, which is included as a comparison spectrum. This level of chemical specificity is useful in comparing similar products, quality control, and fingerprint analysis.

TGA Mass Spec Application - Decomposition of An Engineered

TGA Mass Spectrometer Application

Decomposition of An Engineered

Poly(phenylene oxide), or PPO, is an engineering thermoplastic with desirable high-performance specifications for heat resistance, dimensional stability and cost. With a glass transition temperature as high as 215°C, the injection molding or extrusion processing temperature of PPO would need to be high, and as a result the process can be costly. Quite commonly, PPO is blended with other polymers such as polystyrene (HIPS) to aid processing and ductility. In this example, neat PPO is heated to decomposition in an inert nitrogen atmosphere. The TGA-MS hyphenated technique allows for the detection and identification of the resultant decomposition products. The data is displayed as an overlay of ion current and weight loss with respect to temperature. TGA shows a monotonic weight loss step; however, the mass spectroscopy data presents the detection of several decomposition entities that range in mass to charge ratios of 65 to 136 amu which is the molecular ion of the repeating unit. Proposed decomposition products based on the structure of the polyether are shown.

Trios Software

Trios Software

Discover powerful TRIOS software that delivers exceptional user experience in a combined package for instrument control, data analysis and reporting. New features such as automated calibration routines, multiple calibration sets, real-time test method editing, and inter-laboratory data and test method sharing provide unmatched flexibility, while one-click analysis and custom reporting raise productivity to new levels.

Control multiple instruments with a single PC and software package
TRIOS software makes calibration and operation simple

Autosampler-enable, unattended calibrations and verifications to raise productivity, ensure data accuracy and minimize instrument downtime
Create and switch between calibration data sets generated under different heating rates and gas selections to match the experimental conditions used for sample analysis
Effortlessly monitor real-time signals and progress of experiments with the added capability of editing the test method of an existing experiment on the fly

The advanced data collection system automatically saves all relevant signals, active calibrations, and system settings. This comprehensive set of information is invaluable for method development, procedure deployment and data validation
Optional TRIOS Guardian with electronic signatures for audit trail and data integrity

A feature-rich platform for analysis and reporting

Overlay and compare results across techniques including DSC, TGA, DMA, SDT and rheometers
One-click repeated analysis for increased productivity
Automated custom report generation including experimental details, data plots and tables, and analysis results

Convenient data export to plain-text, CSV, XML, Excel®, Word®, PowerPoint®, and image formats

Guided Methods

Polymer Guided Methods


A Guided Method for Decomposition and Residue provides an easy-to-use interface for new users to obtain desired results with minimal training. 

Decomposition and Residue  

Preconfigured ramp templates with customizable ramp rates and start/end temperatures

 

Automatically intelligently analyzes and reports all weight loss events and the final residue

 
Discovery TGA Series Photo Gallery