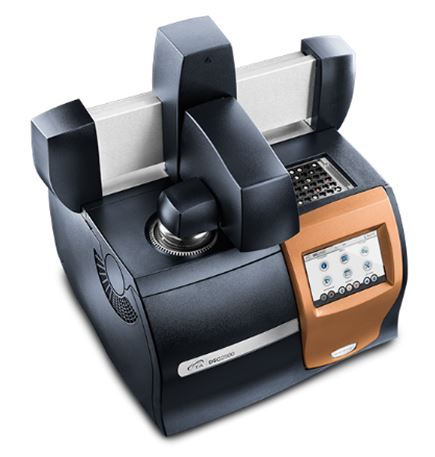 New Castle, Delaware, USA. March 7, 2016 – TA Instruments is pleased to introduce a new line of Differential Scanning Calorimeters, the Discovery DSC2500, DSC250, and DSC25.  These instruments feature enhanced sensing technologies resulting in unprecedented performance in baseline flatness, sensitivity, resolution, and reproducibility, reaffirming TA's position as the technology and global leader in thermal analysis.
At the core of every new Discovery DSC is the exclusive TA Fusion Cell™, which incorporates design concepts that "fuse" together the best features of the world's bestselling Q-Series and first generation Discovery DSC, patented Tzero® technology, and new proprietary manufacturing processes.  Additionally, an app-style user interface is standard with each new model and combined with powerful new TRIOS software, automated calibration and verification routines work seamlessly to dramatically improve laboratory work-flows and productivity.
The Discovery DSC measures the change in energy in a sample as the temperature is raised or lowered. It is used for a wide range of applications, including material science, pharmaceuticals, chemistry and studies of biomaterials. It excels in both research environments and production control processes.
Commenting on the introduction, Terry Kelly, President of TA Instruments said, "DSC is the anchor of a thermal analysis laboratory, and is TA's best-selling product. In terms of performance and ease-of-use the new Discovery Series DSC has jumped so far ahead of competitive units, scientists will easily see the benefits of upgrading to our powerful new systems".
The DSC2500 comes standard with all options, which includes the all-new linear autosampler that allows for ultimate flexibility in assigning sample and reference pans to any combination of the available 54 positions. It includes TA's exclusive T4P heat flow technology, enabling the highest performance of any DSC on the market. It is the only DSC on the market capable of making and storing heat capacity measurements in a single run.
The DSC250 is a flexible and configurable research-grade DSC that includes Tzero technology, and is well-equipped to satisfy the most demanding researcher. The DSC25 is a cost-effective, easy to use, general purpose DSC with performance superior to competitive research grade systems.  It is ideal for research, teaching, and quality control laboratories that require a rugged, reliable, basic DSC.
TA Instruments – a subsidiary of Waters Corporation (NYSE: WAT) – is the leading manufacturer of analytical instruments for thermal analysis, rheology, and microcalorimetry. The company is headquartered in New Castle, Delaware, USA, and has direct operations in 24 countries.
Contact:  ­Ed Moriarty, Director, Worldwide Marketing, P:  302-427-1033