Discovery Hybrid Rheometer
Sensitivity, ease-of-use, and versatility to meet your needs and exceed your expectations.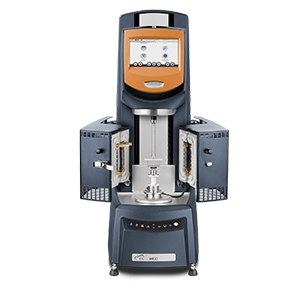 Advances in core measurement technology enable more sensitive measurements with superior precision. This empowers you to measure lower viscosities and weaker liquid and soft-solid structure, while consuming less material. Superior dynamic performance gives a higher level of accuracy in measurements of G' and G" so you can make decisions quickly, with confidence.
Thoughtful hardware and software design results in a complete system that simplifies every user interaction. Routine functions are faster and more intuitive, so you can accomplish more with less training.
The performance of the Discovery Hybrid Rheometer is supported by the widest range of powerful, easy-to-use environmental systems and accessories that allow you to replicate demanding environmental conditions, incorporate complementary simultaneous measurements, or extend your rheometer beyond conventional shear rheology.
The HR 30 is a premier research-grade rheometer for scientists looking to advance the boundaries of material science by exploiting its unparalleled measurement sensitivity and accuracy. With integrated linear Dynamic Mechanical Analysis, the HR 30's two-in-one instrument capabilities empowers users to explore entirely new possibilities for mechanical testing.
Performance
Sensitivity
Sensitivity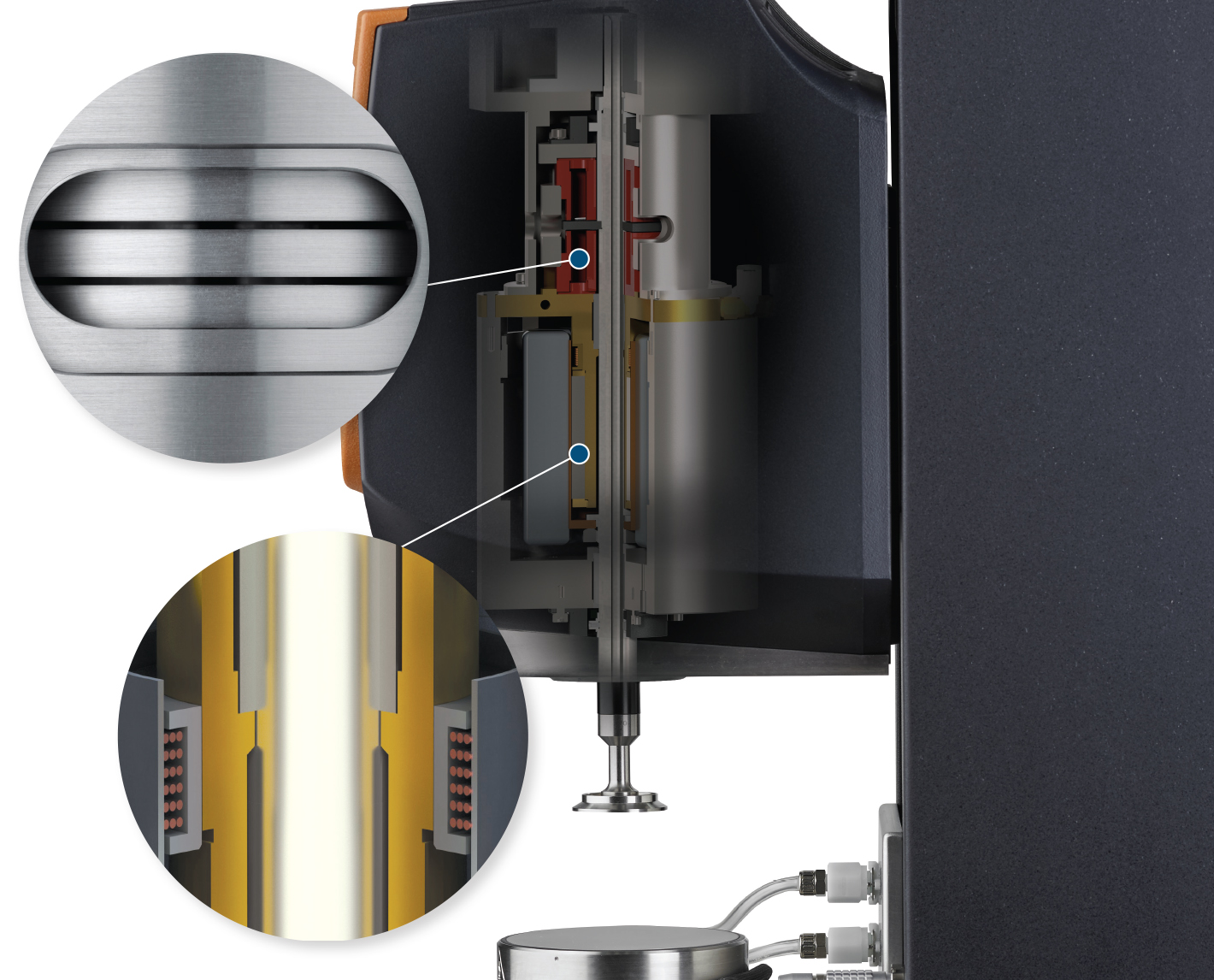 Measure the lowest stresses and smallest sample volumes with revolutionary torque sensitivity
Unrivaled low torque sensitivity empowers you to measure lower viscosities and weaker intermolecular structures while using lower sample volumes.
All Discovery Hybrid Rheometers feature TA's patented Magnetic Thrust Bearing which reduces basic system friction by 70% compared to traditional designs. By eliminating the contributions of high pressure, turbulent air flow from the measurement system, lower torques can be measured reliably and accurately.
The unparalleled sensitivity of the magnetic thrust bearing is coupled with the NEW improved Advanced Drag Cup Motor. Enhanced torque precision increases the accuracy of every measurement, especially at low torques
Dynamic Measurements
Dynamic Measurements
Report G' and G" with confidence
The storage and loss modulus, G' and G", are two of the most insightful measurements provided by any rheometer.
The Discovery Hybrid Rheometer's exclusive Optical Encoder Dual Reader improves phase angle precision by 70% compared to conventional single- reader designs. This leads directly to a more accurate measurement of G', G", and tan δ. This advantage becomes most evident under challenging experimental conditions such as low stresses, small strains, or difficult samples that exhibit only trace amounts of damping or elasticity. The Optical Encoder Dual Reader also provides a 5× improvement in displacement resolution, permitting more accurate measurements at lower strains.
The Advanced Drag Cup Motor is optimized for accuracy in dynamic measurements. The low-mass and -radius design reduces system inertia by up to 80% compared to DC motors, minimizing corrections to oscillation data, especially at higher measurement frequencies. The result is a wider range of accurate measurement frequencies, material types, and experimental designs.
Strain and Stress Control
Strain and Stress Control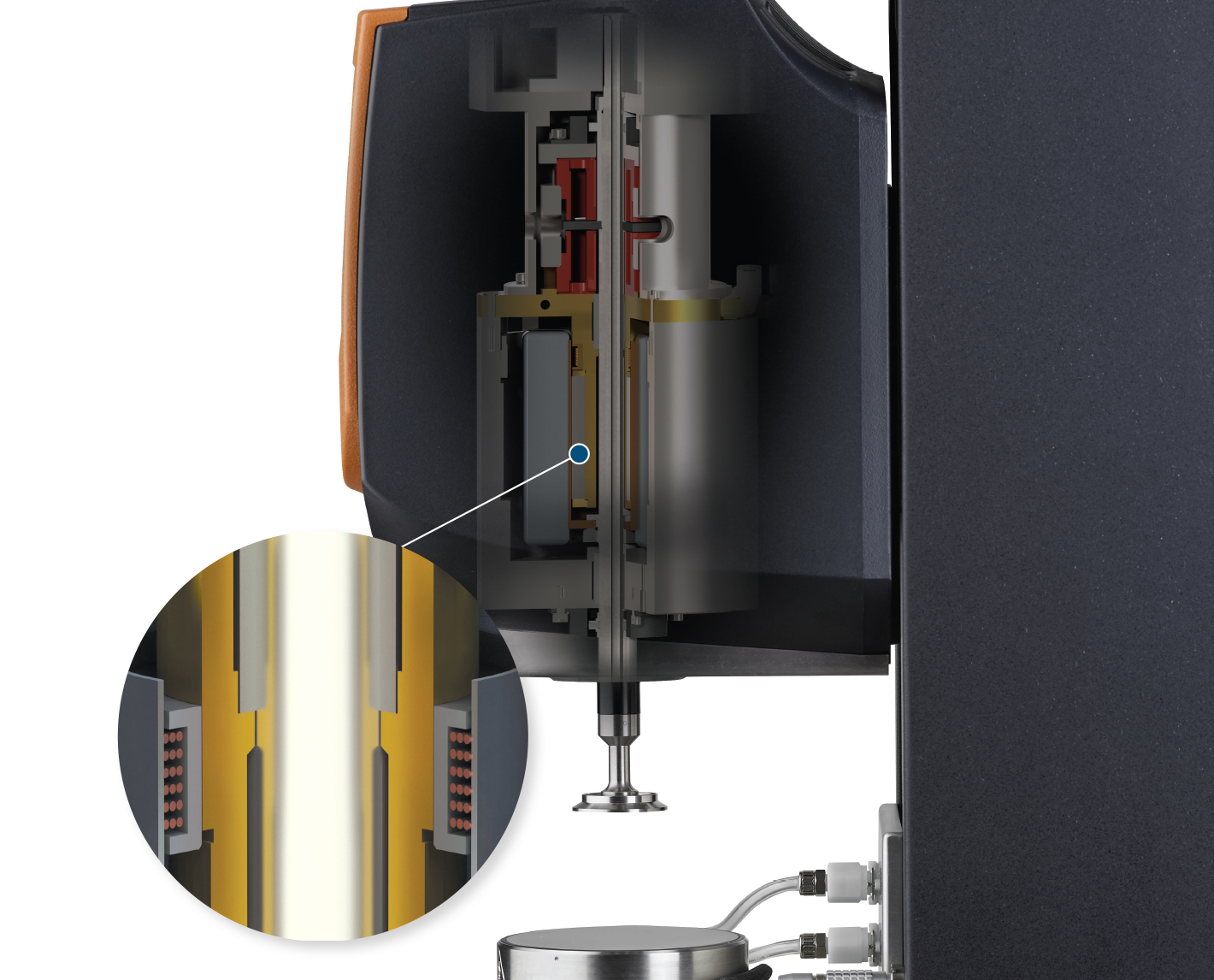 The measurement you want: Advanced Strain and Stress Control
The Discovery Hybrid Rheometer performs the experiment you want, whether stress-controlled, strain-controlled, or both. State-of-the-art high-speed electronics and the responsive Advanced Drag Cup Motor provide the fastest transient responses and accurate control in any type of deformation. Direct Strain oscillation provides real-time strain control at every point of the oscillatory measurement.
Responsive strain control ensures rapid data collection so you can characterize materials that are undergoing thermal, chemical, or structural transitions. Highly accurate deformation control (stress or strain) also ensures the highest data quality, particularly when evaluating materials that show a non-linear response at very large amplitudes.
Reliability
Reliability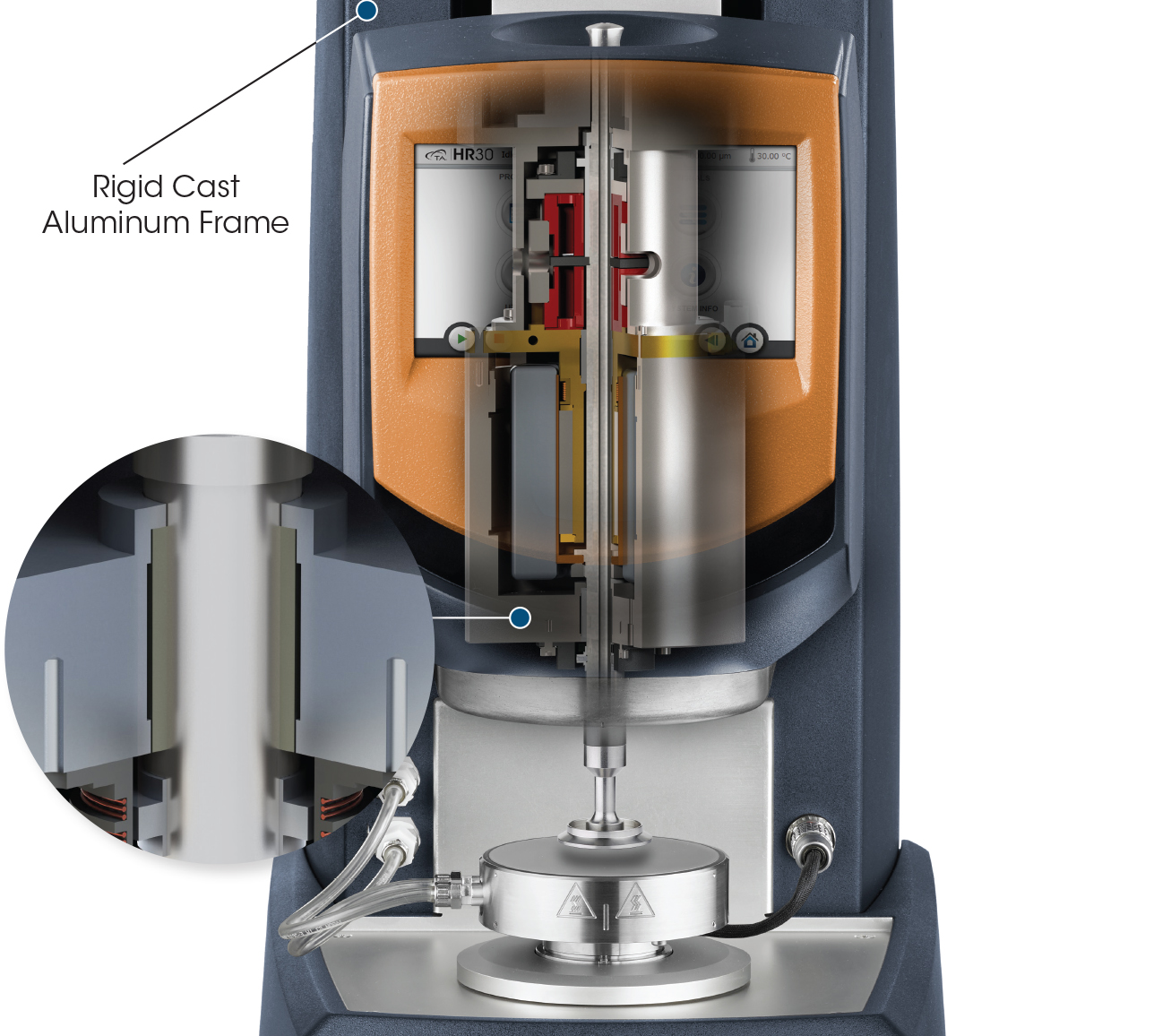 The Discovery Hybrid Rheometers are designed with sensitivity to measure the softest materials, and are constructed to be rugged enough to handle the stiffest materials and toughest users.
A rigid cast aluminum frame and rugged linear ball slide provide more than 60% greater axial and torsional stiffness than other designs and permit gap position resolution of 0.02 µm.
Two high-stiffness radial bearings stabilize the system from side loads exerted by samples or operators while the Optical Encoder Dual Reader further cancels displacement measurement drift associated with testing very stiff samples over long times.
The Advanced Drag Cup Motor provides stable control and measurement even when operating under extreme conditions. Active and passive thermal systems manage heat and account for system temperature, guaranteeing measurement accuracy under all test conditions.
These innovations provide the most accurate and sensitive measurement, under even the most extreme experimental conditions.
Advanced Technology
Advanced Technology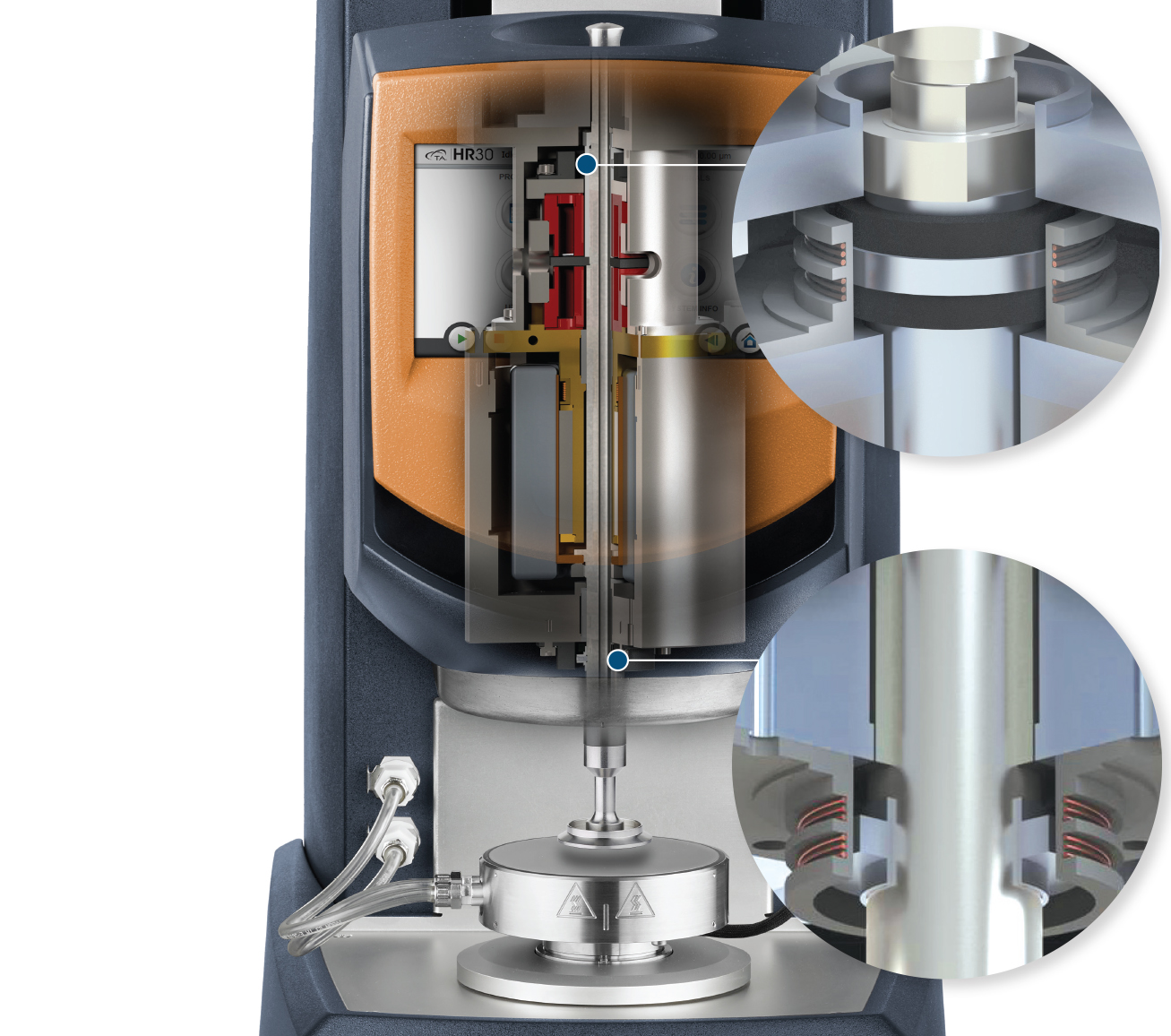 True Position Sensor
The DHR includes the patented True Position Sensor (TPS) for true gap accuracy. The TPS is a high-resolution linear position sensor that measures and compensates for the effects of thermal expansion in real time. Unlike competitive devices, the TPS eliminates errors associated with thermal expansion without the need for special high inertia iron core geometries and environmental systems.
The TPS works with all Smart Swap™ geometries and Smart Swap™ environmental systems.
(US Pat #10,161,843)
Normal Force Rebalance Transducer (FRT)
The Force Rebalance Transducer is the premier technology for normal force measurements. This active, non-compliant device accurately measures normal and axial forces without deflection. Competitive capacitive or strain gauge sensors rely on physical movement of the device to sense a force, resulting in measurement error. The FRT provides the most accurate normal force measurement by driving the linear motor to maintain zero deflection at all times and conditions. The FRT also works in conjunction with the magnetic thrust bearing to enable axial DMA capability.
Ease of Use
Sample handling
Sample Handling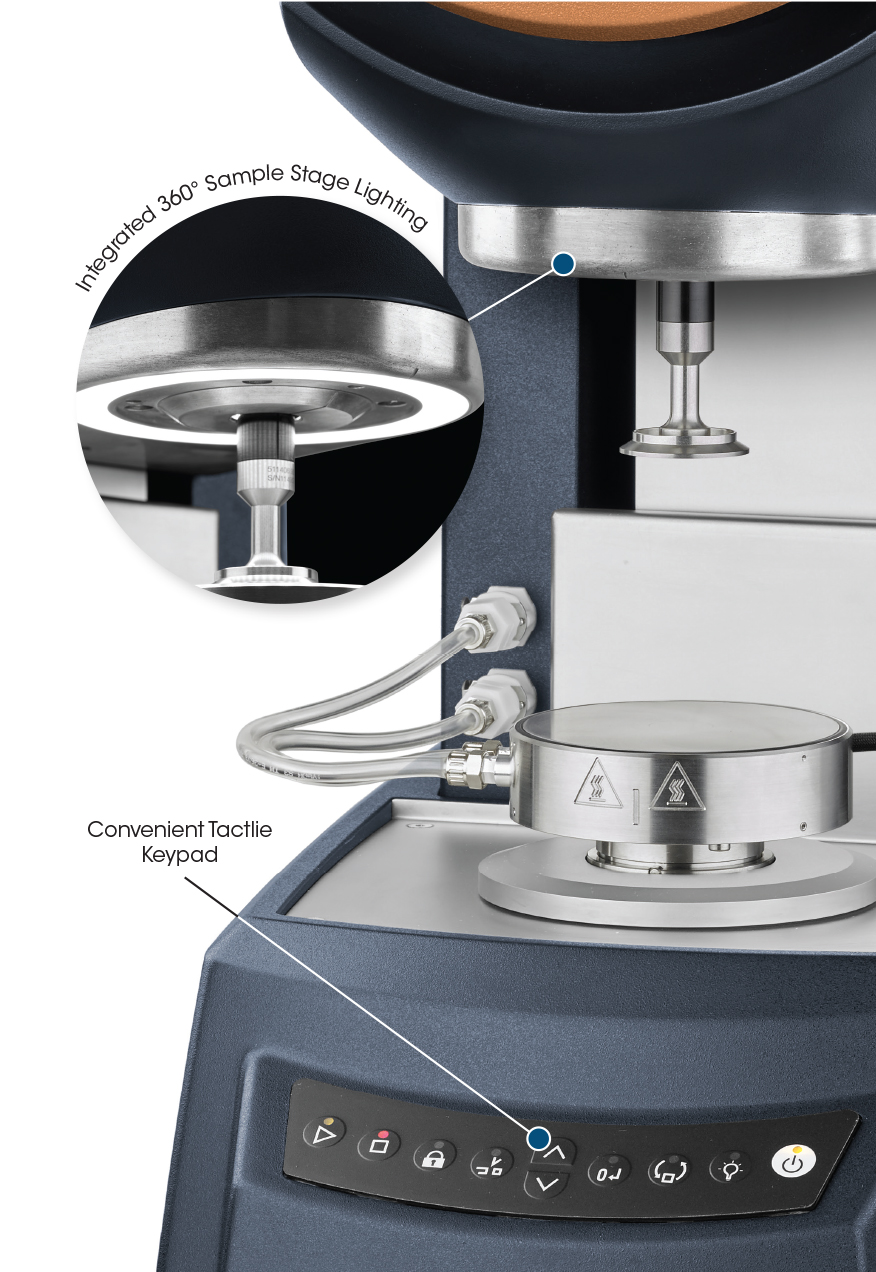 The NEW Discovery Hybrid Rheometer is your invisible partner in the lab, reducing the time from question to insight.
Load samples with confidence and ease
The Discovery Hybrid Rheometer is designed by rheometer users to make sample loading faster, easier, and improve measurement precision for every operator.
Expedite routine interactions with a gap positioning system that is 3× faster than other rheometers while maintaining a 0.02 µm gap resolution. A convenient tactile keypad places the most common actions where you need them most, including thoughtful features like automated trim gap, measurement position, and bearing lock.
Even more power is offered by the brand new One-Touch-Away™ app-style touchscreen that greatly enhances usability by placing key instrument features at your fingertips.
Every user will appreciate the brand new integrated 360° sample stage lighting that enhances visibility in any lab environment. The result is easier, more repeatable sample loading and trimming, leading to improved data accuracy and precision.
One-Touch-Away™
One-Touch-Away™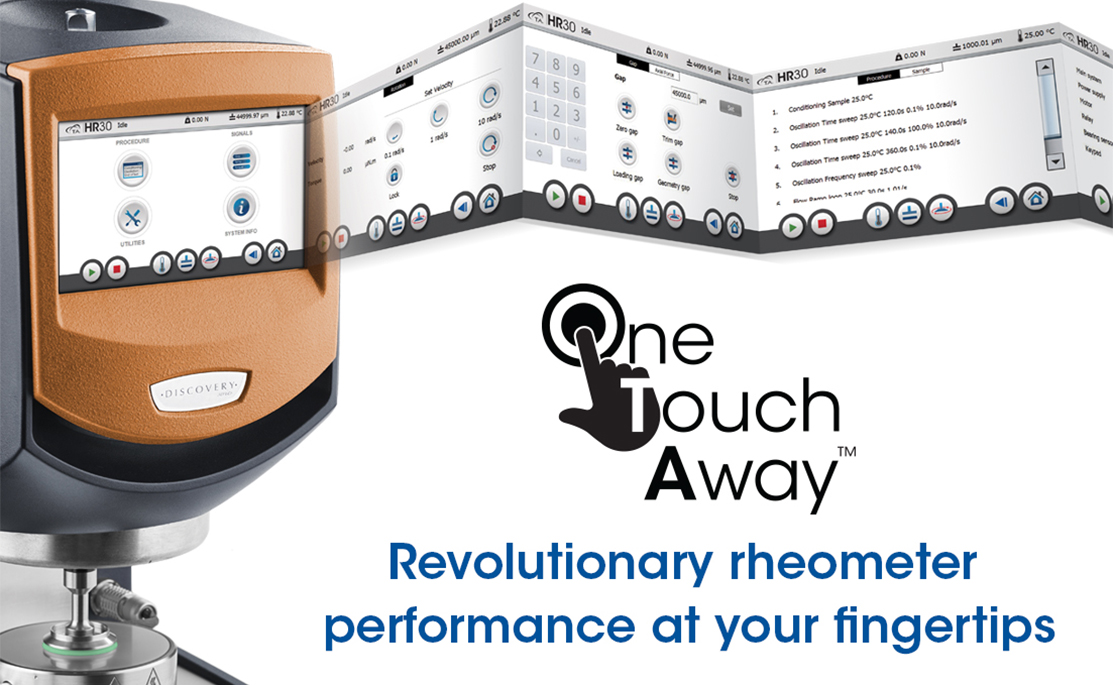 Revolutionary rheometer performance at your fingertips
The new Discovery Hybrid Rheometer boasts a brand-new One-Touch-Away™ app-style touchscreen that greatly enhances usability by placing key instrument features at your fingertips.
Ergonomic design for easy viewing and operation
Packed with functionality to simplify operation and enhance user experience
The app-style touch screen includes:
Start/stop experiments
Set temperature
Set gap
Controlled rotation for sample loading
Procedure and sample details
Real-time signals
Test and instrument status at a glance
User prompts
The app-style touchscreen, powerful new TRIOS software, and quick robust calibration routines work seamlessly to dramatically improve laboratory workflows and productivity.
Versatility
Versatility is being ready to face whatever the day brings. Whatever that may be, the NEW Discovery Hybrid Rheometer will be ready. The Discovery Hybrid Rheometer features the widest range of powerful, easy-to-use environmental systems and accessories that  allow you to replicate demanding environmental conditions, incorporate complementary simultaneous measurements,or extend your rheometer beyond conventional shear rheology.
Dynamic Mechanical Analysis
Dynamic Mechanical Analysis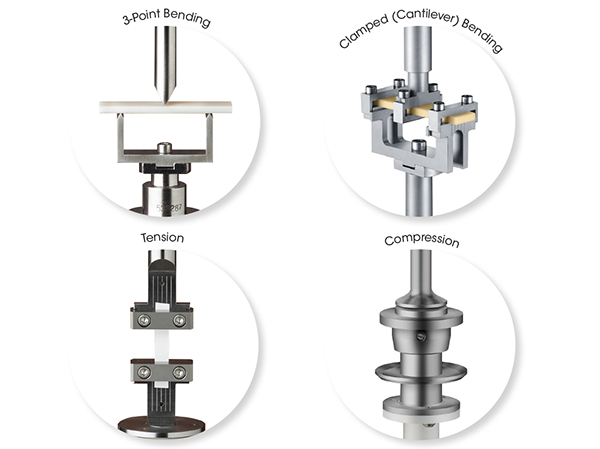 Backed by over four decades of TA Instruments' expertise in rotational rheology and linear DMA measurements, the Discovery Hybrid Rheometer's DMA Mode adds a new dimension for testing solid and soft-solid materials. Now, in addition to the most sensitive and accurate rotational shear measurements, the DHR can deliver accurate linear Dynamic Mechanical Analysis (DMA) data. Controlled axial oscillations permit the direct measurement of E', E", and tan 𝛿 in tension, bending and compression, a perfect addition to shear measurements, including solids in torsion. The new DMA mode is ideal for identifying a material's transition temperatures and provides reliable measurements over the instrument's full range of temperatures.
The axial DMA capability is enabled by the DHR's active Force Rebalance Transducer (FRT) and patented magnetic bearing technologies that permit amplitude- controlled oscillatory deformation in the axial direction. Installation of external components is never required, so it is always quick and easy to get great data! Competitive instruments that employ air bearings and passive normal force measurements are inherently incapable of such measurements without costly modifications.
DMA Mode
Specifications

 

Motor Control

Force Rebalance Transducer

 

Minimum Force in Oscillation

 

3 

mN

 

Maximum Axial Force

 

50 N

 

Minimum Displacement

 

in Oscillation

 

0.01 

μm

 

Maximum Displacement

 

in Oscillation

 

100 

μm

 

Axial Frequency Range

 

6×10-5 rad/s to 100 rad/s 
(10-5 Hz to 16 Hz)
Smart Swap™ Geometries
Smart Swap™ Geometries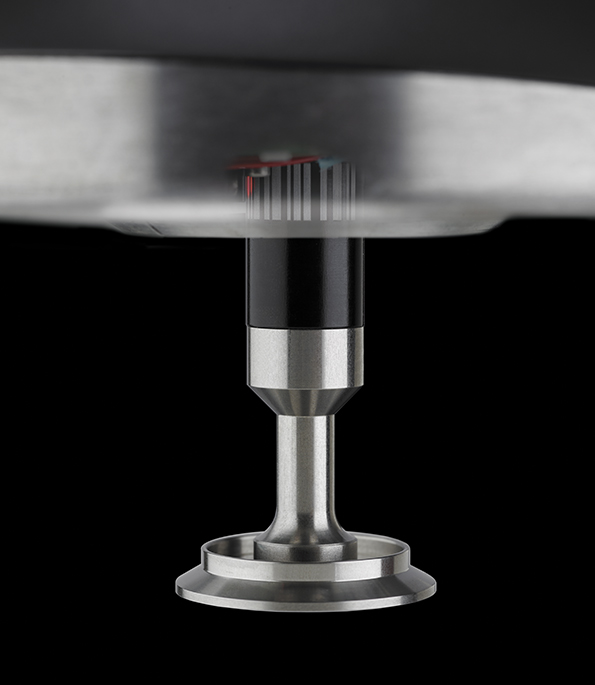 The NEW Smart Swap™ 2 geometry system features an all new system for optical information storage and transfer.This system provides greater storage and durability than chip-based systems. When attached, the complete geometry information, including unique dimensions is automatically detected and the software is appropriately configured.
Smart Swap™ Temperature Systems and Accessories
Smart Swap™ Temperature Systems and Accessories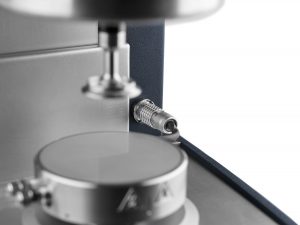 Only TA Instruments offers the convenience and versatility of Smart Swap™ temperature control options and accessories. Smart Swap™ options are attached to the instrument on its unique magnetic base, providing faster, easier installation than mechanical systems. Once attached, the instrument automatically detects and configures the system for operation.
Software
TRIOS Software 
TA Instruments' state-of-the-art software package uses cutting-edge technology for instrument control, data collection, and data analysis for thermal analysis and rheology. The intuitive user interface allows you to simply and effectively program experiments, and move easily between processing experiments and viewing and analyzing data
Control multiple instruments with a single PC and software

 

package

 

Overlay

 

and

 

compare

 

results

 

across

 

techniques

 

including

 

DSC,TGA

,

 

DMA,

 

SDT, 

TMA and

 

rheometers

One-click repeated analysis for increased

 

productivity

 

Automated 

custom 

report 

generation 

including:

 experimental

 

details, 

data plots and tables, analysis

 

results

 

Convenient data export to plain-text, 

CSV, 

XML, Excel

®

, Word

®

, PowerPoint

®

, and image

 

formats

 

Optional TRIOS Guardian with electronic signatures for audit trail and data integrity including 

U.S. FDA 

21 CFR 11

 

compliance

 
User Experience
User Experience
TRIOS Software provides the right experience for every user
TRIOS for the Discovery Hybrid Rheometer features two powerful user interfaces that present users with what they need to collect the data they want.

TRIOS Express helps users to design the most common measurements quickly and easily. Simple forms and sensible defaults streamline the process of experiment design and execution.

TRIOS Unlimited gives you complete control. A robust set of detailed experimental controls and data collection options ensures that you will be able to design the experiment you envision and collect the data you need.
Complete Data Record
Complete Data Record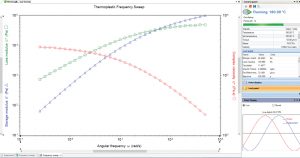 The advanced data collection system automatically saves all relevant signals, active calibrations, and system settings. Waveforms for each data point may be displayed as Lissajous plots and provide a visual representation of the stress-strain relationship. This comprehensive set of information is invaluable for method development, procedure deployment and data validation.
Data Analysis
Data Analysis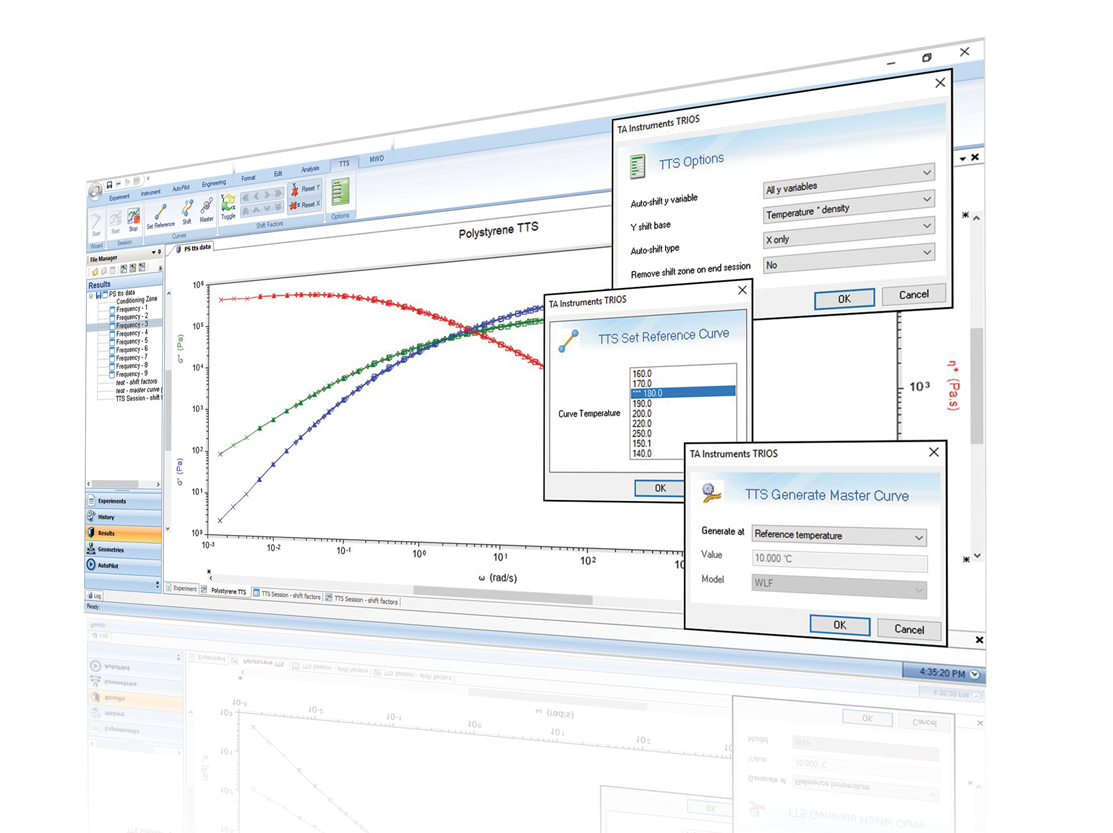 Complete Data Analysis Capabilities
A comprehensive set of relevant tools are available for real-time data analysis, even during experiments. Gain actionable insights into your material behavior through a powerful and versatile set of features seamlessly integrated into TRIOS.
All Standard Analyses
Onset and endset analysis
Signal maximum and minimum
Signal change
Modulus crossover
Curve values at specific X or Y points
1st and 2nd derivatives
Area under the curve
Peak height
Peak integration and running integral
Mathematical fitting: straight line, polynomial, or exponential
Statistical functions
Advanced Analysis Capabilities
More than 10 flow models including automatic model selection based on best fit to experimental data
Time-Temperature Superposition (TTS) analysis with automatic curve shifting and Mastercurve generation
Activation Energy calculation
WLF coefficient calculation
Convert between temperature ramps and frequency sweeps
Cole-Cole, Van Gurp-Palmen, and Lissajous plots
Built-in models for: discrete and continuous relaxation or retardation spectra, Oldroyd and Spriggs models
Creep ringing analysis by Kelvin, Maxwell, or Jeffreys models
Viscoelastic transformations to interconvert between oscillation, stress relaxation, stress growth, creep, relaxation spectra, retardation spectra, and memory functions.
Advanced custom analysis with user-defined variables and models
Cox-Merz: η*(ω)→η()
Fluid Inertia Correction
Rabinowicz Correction
Direct Creep – Oscillation conversion
Discrete Fourier Transformation (DFT)
Window Correlation
AutoPilot
AutoPilot
Experience a new paradigm in software functionality and unleash the full potential of your Discovery Hybrid Rheometer with AutoPilot, a premium feature that enables complete automation of powerful TRIOS software.
AutoPilot allows users to quickly and easily create automated routines: from test methods to data analysis and report generation. These routines empower laboratories to streamline and standardize operations and decision-making across local or global laboratory enterprises. From quality control to research and development, laboratory environments of all types will benefit from increased productivity, improved data precision, and reduced training time.
See AutoPilot for Discovery HR
World's Most Versatile Platform for Rheological Measurements
All DHR temperature systems and accessories are designed with superior performance and ease-of-use in mind. Only TA Instruments' DHR offers the convenience and versatility of Smart Swap™ geometries, temperature systems, and accessories. Smart Swap™ technologies provide fast and easy interchanging of accessories and automatic detection and configuration of the rheometer for operation.
Specifications
| | |
| --- | --- |
| Specification | HR 30 |
| Bearing Type, Thrust | Magnetic |
| Bearing Type, Radial | Porous Carbon |
| Motor Design | Drag Cup |
| Minimum Torque (nN.m) Oscillation | 0.3 |
| Minimum Torque (nN.m) Steady Shear | 1 |
| Maximum Torque (mN.m) | 200 |
| Torque Resolution (nN.m) | 0.1 |
| Minimum Frequency (Hz) | 1.0E-07 |
| Maximum Frequency (Hz) | 100 |
| Minimum Angular Velocity [1] (rad/s) | 0 |
| Maximum Angular Velocity (rad/s) | 300 |
| Displacement Transducer | Optical Encoder |
| Optical Encoder Dual Reader | Standard |
| Displacement Resolution (nrad) | 2 |
| Step Time, Strain [2] (ms) | 15 |
| Step Time, Rate [2] (ms) | 5 |
| Normal/Axial Force Transducer | FRT |
| Maximum Normal Force (N) | 50 |
| Normal Force Sensitivity (N) | 0.005 |
| Normal Force Resolution (mN) | 0.5 |
[1]Zero in controlled stress mode. Controlled rate mode depends on duration of point being measured and sampling time.
[2] Results at 99% of commanded value
Instrument Features
Optical Encoder Dual Reader

 

True Position Sensor (TPS)

 

Controlled stress (steady, transient, oscillation)

 

Controlled strain (steady, transient, iterative oscillation)

 

Direct Strain (oscillation)

 

Fast data collection

 

Normal Force measurements with FRT

 

Axial and tack testing

 

One-Touch-Away Display

 

Integrated Sample Lighting

 

FastTrack

 

DMA Mode 

AutoPilot (optional)

 
Advances in core measurement technology enable more sensitive measurements with superior precision. This empowers you to measure lower viscosities and weaker liquid and soft-solid structure, while consuming less material. Superior dynamic performance gives a higher level of accuracy in measurements of G' and G" so you can make decisions quickly, with confidence.

Thoughtful hardware and software design results in a complete system that simplifies every user interaction. Routine functions are faster and more intuitive, so you can accomplish more with less training.

The performance of the Discovery Hybrid Rheometer is supported by the widest range of powerful, easy-to-use environmental systems and accessories that allow you to replicate demanding environmental conditions, incorporate complementary simultaneous measurements, or extend your rheometer beyond conventional shear rheology.

The HR 30 is a premier research-grade rheometer for scientists looking to advance the boundaries of material science by exploiting its unparalleled measurement sensitivity and accuracy. With integrated linear Dynamic Mechanical Analysis, the HR 30's two-in-one instrument capabilities empowers users to explore entirely new possibilities for mechanical testing.

Performance

Sensitivity

Sensitivity

Measure the lowest stresses and smallest sample volumes with revolutionary torque sensitivity

Unrivaled low torque sensitivity empowers you to measure lower viscosities and weaker intermolecular structures while using lower sample volumes.

All Discovery Hybrid Rheometers feature TA's patented Magnetic Thrust Bearing which reduces basic system friction by 70% compared to traditional designs. By eliminating the contributions of high pressure, turbulent air flow from the measurement system, lower torques can be measured reliably and accurately.

The unparalleled sensitivity of the magnetic thrust bearing is coupled with the NEW improved Advanced Drag Cup Motor. Enhanced torque precision increases the accuracy of every measurement, especially at low torques

Dynamic Measurements

Dynamic Measurements

Report G' and G" with confidence

The storage and loss modulus, G' and G", are two of the most insightful measurements provided by any rheometer.

The Discovery Hybrid Rheometer's exclusive Optical Encoder Dual Reader improves phase angle precision by 70% compared to conventional single- reader designs. This leads directly to a more accurate measurement of G', G", and tan δ. This advantage becomes most evident under challenging experimental conditions such as low stresses, small strains, or difficult samples that exhibit only trace amounts of damping or elasticity. The Optical Encoder Dual Reader also provides a 5× improvement in displacement resolution, permitting more accurate measurements at lower strains.

The Advanced Drag Cup Motor is optimized for accuracy in dynamic measurements. The low-mass and -radius design reduces system inertia by up to 80% compared to DC motors, minimizing corrections to oscillation data, especially at higher measurement frequencies. The result is a wider range of accurate measurement frequencies, material types, and experimental designs.

Strain and Stress Control

Strain and Stress Control

The measurement you want: Advanced Strain and Stress Control

The Discovery Hybrid Rheometer performs the experiment you want, whether stress-controlled, strain-controlled, or both. State-of-the-art high-speed electronics and the responsive Advanced Drag Cup Motor provide the fastest transient responses and accurate control in any type of deformation. Direct Strain oscillation provides real-time strain control at every point of the oscillatory measurement.

Responsive strain control ensures rapid data collection so you can characterize materials that are undergoing thermal, chemical, or structural transitions. Highly accurate deformation control (stress or strain) also ensures the highest data quality, particularly when evaluating materials that show a non-linear response at very large amplitudes.

Reliability

Reliability

The Discovery Hybrid Rheometers are designed with sensitivity to measure the softest materials, and are constructed to be rugged enough to handle the stiffest materials and toughest users.

A rigid cast aluminum frame and rugged linear ball slide provide more than 60% greater axial and torsional stiffness than other designs and permit gap position resolution of 0.02 µm.

Two high-stiffness radial bearings stabilize the system from side loads exerted by samples or operators while the Optical Encoder Dual Reader further cancels displacement measurement drift associated with testing very stiff samples over long times.

The Advanced Drag Cup Motor provides stable control and measurement even when operating under extreme conditions. Active and passive thermal systems manage heat and account for system temperature, guaranteeing measurement accuracy under all test conditions.

These innovations provide the most accurate and sensitive measurement, under even the most extreme experimental conditions.

Advanced Technology

Advanced Technology

True Position Sensor

The DHR includes the patented True Position Sensor (TPS) for true gap accuracy. The TPS is a high-resolution linear position sensor that measures and compensates for the effects of thermal expansion in real time. Unlike competitive devices, the TPS eliminates errors associated with thermal expansion without the need for special high inertia iron core geometries and environmental systems.

The TPS works with all Smart Swap™ geometries and Smart Swap™ environmental systems.
(US Pat #10,161,843)

Normal Force Rebalance Transducer (FRT)
The Force Rebalance Transducer is the premier technology for normal force measurements. This active, non-compliant device accurately measures normal and axial forces without deflection. Competitive capacitive or strain gauge sensors rely on physical movement of the device to sense a force, resulting in measurement error. The FRT provides the most accurate normal force measurement by driving the linear motor to maintain zero deflection at all times and conditions. The FRT also works in conjunction with the magnetic thrust bearing to enable axial DMA capability.

Ease of Use

Sample handling

Sample Handling

The NEW Discovery Hybrid Rheometer is your invisible partner in the lab, reducing the time from question to insight.

Load samples with confidence and ease

The Discovery Hybrid Rheometer is designed by rheometer users to make sample loading faster, easier, and improve measurement precision for every operator.

Expedite routine interactions with a gap positioning system that is 3× faster than other rheometers while maintaining a 0.02 µm gap resolution. A convenient tactile keypad places the most common actions where you need them most, including thoughtful features like automated trim gap, measurement position, and bearing lock.

Even more power is offered by the brand new One-Touch-Away™ app-style touchscreen that greatly enhances usability by placing key instrument features at your fingertips.

Every user will appreciate the brand new integrated 360° sample stage lighting that enhances visibility in any lab environment. The result is easier, more repeatable sample loading and trimming, leading to improved data accuracy and precision.

One-Touch-Away™

One-Touch-Away™

Revolutionary rheometer performance at your fingertips
The new Discovery Hybrid Rheometer boasts a brand-new One-Touch-Away™ app-style touchscreen that greatly enhances usability by placing key instrument features at your fingertips.

Ergonomic design for easy viewing and operation
Packed with functionality to simplify operation and enhance user experience

The app-style touch screen includes:

Start/stop experiments
Set temperature
Set gap
Controlled rotation for sample loading
Procedure and sample details
Real-time signals
Test and instrument status at a glance
User prompts

The app-style touchscreen, powerful new TRIOS software, and quick robust calibration routines work seamlessly to dramatically improve laboratory workflows and productivity.

Versatility

 

Versatility is being ready to face whatever the day brings. Whatever that may be, the NEW Discovery Hybrid Rheometer will be ready. The Discovery Hybrid Rheometer features the widest range of powerful, easy-to-use environmental systems and accessories that  allow you to replicate demanding environmental conditions, incorporate complementary simultaneous measurements,or extend your rheometer beyond conventional shear rheology.

Dynamic Mechanical Analysis

Dynamic Mechanical Analysis

Backed by over four decades of TA Instruments' expertise in rotational rheology and linear DMA measurements, the Discovery Hybrid Rheometer's DMA Mode adds a new dimension for testing solid and soft-solid materials. Now, in addition to the most sensitive and accurate rotational shear measurements, the DHR can deliver accurate linear Dynamic Mechanical Analysis (DMA) data. Controlled axial oscillations permit the direct measurement of E', E", and tan 𝛿 in tension, bending and compression, a perfect addition to shear measurements, including solids in torsion. The new DMA mode is ideal for identifying a material's transition temperatures and provides reliable measurements over the instrument's full range of temperatures.

The axial DMA capability is enabled by the DHR's active Force Rebalance Transducer (FRT) and patented magnetic bearing technologies that permit amplitude- controlled oscillatory deformation in the axial direction. Installation of external components is never required, so it is always quick and easy to get great data! Competitive instruments that employ air bearings and passive normal force measurements are inherently incapable of such measurements without costly modifications.

DMA Mode

Specifications

 

Motor Control

Force Rebalance Transducer

 

Minimum Force in Oscillation

 

3 

mN

 

Maximum Axial Force

 

50 N

 

Minimum Displacement

 

in Oscillation

 

0.01 

μm

 

Maximum Displacement

 

in Oscillation

 

100 

μm

 

Axial Frequency Range

 

6×10-5 rad/s to 100 rad/s 
(10-5 Hz to 16 Hz)

Smart Swap™ Geometries

Smart Swap™ Geometries

The NEW Smart Swap™ 2 geometry system features an all new system for optical information storage and transfer.This system provides greater storage and durability than chip-based systems. When attached, the complete geometry information, including unique dimensions is automatically detected and the software is appropriately configured.

Smart Swap™ Temperature Systems and Accessories

Smart Swap™ Temperature Systems and Accessories

Only TA Instruments offers the convenience and versatility of Smart Swap™ temperature control options and accessories. Smart Swap™ options are attached to the instrument on its unique magnetic base, providing faster, easier installation than mechanical systems. Once attached, the instrument automatically detects and configures the system for operation.

Software

 

TRIOS Software 

TA Instruments' state-of-the-art software package uses cutting-edge technology for instrument control, data collection, and data analysis for thermal analysis and rheology. The intuitive user interface allows you to simply and effectively program experiments, and move easily between processing experiments and viewing and analyzing data

Control multiple instruments with a single PC and software

 

package

 

Overlay

 

and

 

compare

 

results

 

across

 

techniques

 

including

 

DSC,TGA

,

 

DMA,

 

SDT, 

TMA and

 

rheometers

One-click repeated analysis for increased

 

productivity

 

Automated 

custom 

report 

generation 

including:

 experimental

 

details, 

data plots and tables, analysis

 

results

 

Convenient data export to plain-text, 

CSV, 

XML, Excel

®

, Word

®

, PowerPoint

®

, and image

 

formats

 

Optional TRIOS Guardian with electronic signatures for audit trail and data integrity including 

U.S. FDA 

21 CFR 11

 

compliance

 

User Experience

User Experience

TRIOS Software provides the right experience for every user

TRIOS for the Discovery Hybrid Rheometer features two powerful user interfaces that present users with what they need to collect the data they want.

TRIOS Express helps users to design the most common measurements quickly and easily. Simple forms and sensible defaults streamline the process of experiment design and execution.

TRIOS Unlimited gives you complete control. A robust set of detailed experimental controls and data collection options ensures that you will be able to design the experiment you envision and collect the data you need.

Complete Data Record

Complete Data Record

The advanced data collection system automatically saves all relevant signals, active calibrations, and system settings. Waveforms for each data point may be displayed as Lissajous plots and provide a visual representation of the stress-strain relationship. This comprehensive set of information is invaluable for method development, procedure deployment and data validation.

Data Analysis

Data Analysis

Complete Data Analysis Capabilities

A comprehensive set of relevant tools are available for real-time data analysis, even during experiments. Gain actionable insights into your material behavior through a powerful and versatile set of features seamlessly integrated into TRIOS.

All Standard Analyses

Onset and endset analysis
Signal maximum and minimum
Signal change
Modulus crossover
Curve values at specific X or Y points
1st and 2nd derivatives
Area under the curve
Peak height
Peak integration and running integral
Mathematical fitting: straight line, polynomial, or exponential
Statistical functions

Advanced Analysis Capabilities

More than 10 flow models including automatic model selection based on best fit to experimental data
Time-Temperature Superposition (TTS) analysis with automatic curve shifting and Mastercurve generation
Activation Energy calculation
WLF coefficient calculation
Convert between temperature ramps and frequency sweeps
Cole-Cole, Van Gurp-Palmen, and Lissajous plots
Built-in models for: discrete and continuous relaxation or retardation spectra, Oldroyd and Spriggs models
Creep ringing analysis by Kelvin, Maxwell, or Jeffreys models
Viscoelastic transformations to interconvert between oscillation, stress relaxation, stress growth, creep, relaxation spectra, retardation spectra, and memory functions.
Advanced custom analysis with user-defined variables and models
Cox-Merz: η*(ω)→η()
Fluid Inertia Correction
Rabinowicz Correction
Direct Creep – Oscillation conversion
Discrete Fourier Transformation (DFT)
Window Correlation

AutoPilot

AutoPilot

Experience a new paradigm in software functionality and unleash the full potential of your Discovery Hybrid Rheometer with AutoPilot, a premium feature that enables complete automation of powerful TRIOS software.

AutoPilot allows users to quickly and easily create automated routines: from test methods to data analysis and report generation. These routines empower laboratories to streamline and standardize operations and decision-making across local or global laboratory enterprises. From quality control to research and development, laboratory environments of all types will benefit from increased productivity, improved data precision, and reduced training time.

See AutoPilot for Discovery HR

World's Most Versatile Platform for Rheological Measurements

All DHR temperature systems and accessories are designed with superior performance and ease-of-use in mind. Only TA Instruments' DHR offers the convenience and versatility of Smart Swap™ geometries, temperature systems, and accessories. Smart Swap™ technologies provide fast and easy interchanging of accessories and automatic detection and configuration of the rheometer for operation.

Specifications

| | |
| --- | --- |
| Specification | HR 30 |
| Bearing Type, Thrust | Magnetic |
| Bearing Type, Radial | Porous Carbon |
| Motor Design | Drag Cup |
| Minimum Torque (nN.m) Oscillation | 0.3 |
| Minimum Torque (nN.m) Steady Shear | 1 |
| Maximum Torque (mN.m) | 200 |
| Torque Resolution (nN.m) | 0.1 |
| Minimum Frequency (Hz) | 1.0E-07 |
| Maximum Frequency (Hz) | 100 |
| Minimum Angular Velocity [1] (rad/s) | 0 |
| Maximum Angular Velocity (rad/s) | 300 |
| Displacement Transducer | Optical Encoder |
| Optical Encoder Dual Reader | Standard |
| Displacement Resolution (nrad) | 2 |
| Step Time, Strain [2] (ms) | 15 |
| Step Time, Rate [2] (ms) | 5 |
| Normal/Axial Force Transducer | FRT |
| Maximum Normal Force (N) | 50 |
| Normal Force Sensitivity (N) | 0.005 |
| Normal Force Resolution (mN) | 0.5 |

[1]Zero in controlled stress mode. Controlled rate mode depends on duration of point being measured and sampling time.

[2] Results at 99% of commanded value

Instrument Features

Optical Encoder Dual Reader

 

True Position Sensor (TPS)

 

Controlled stress (steady, transient, oscillation)

 

Controlled strain (steady, transient, iterative oscillation)

 

Direct Strain (oscillation)

 

Fast data collection

 

Normal Force measurements with FRT

 

Axial and tack testing

 

One-Touch-Away Display

 

Integrated Sample Lighting

 

FastTrack

 

DMA Mode 

AutoPilot (optional)