HP TGA 75/750
The World's First Benchtop High Pressure TGA Featuring Patented Top Loading Magnetic Suspension Balance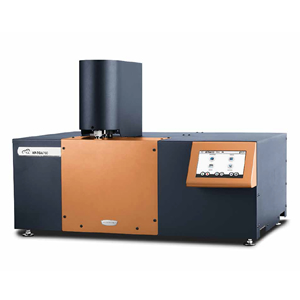 TA Instruments invites you to experience two new high pressure thermogravimetric (HP-TGA) instruments, the Discovery HP-TGA 75 and HP-TGA 750. From the world leader in Magnetic Suspension Balance (MSB) technology for over 20 years comes an ingeniously designed, user-friendly top-loading microbalance with unprecedented performance. In addition, the Discovery HP-TGA's are the first available in a convenient benchtop design and feature on-board gas dosing and blending systems, temperature control to 1100°C, One-Touch-Away™ functionality, and TA's powerful TRIOS software. Getting great high pressure data has never been so easy!
Features and Benefits:
Patented* top-loading magnetic levitation balance enables sealed environment for thermogravimetric testing in reactive atmospheres under high pressure (up to 80 bar) and high temperatures (up to 1100°C)
Unrivaled 0.1 μg balance resolution provides the most accurate measurements of small samples or materials with rapid reaction kinetics
Top-loading balance design ensures superior weight stability at high temperature and pressure, and provides convenient access to sample for easy loading/unloading
Integrated gas dosing & pressure control eliminates need for a separate system and enables a compact footprint
Highly accurate balance temperature control for optimized baseline stability
Non-porous isolation material in contact with the reaction gas within the furnace eliminates potential retention of gases ("memory" effect) and enables rapid attainment of vacuum
Curie-point calibration eliminates the effects of the reaction gas type and pressure on the temperature measurement
Compact design puts high pressure TGA on the benchtop, minimizing valuable lab space requirements and enabling installation in a fume hood to easily manage ventilation when working with toxic gases
High heating and cooling rates (~250 K/min**), even under high pressure, reduces potential for unwanted side reactions and improves sample throughput
Small internal volume allows for rapid gas changes and quick pressurization, low gas consumption, and safe operational conditions due to the small quantity of compressed gas
* European Patent: 1958323, U.S. Patent: 2009/0160279 Al, German Patent : DE 10 2015 116 767.0
** Cooling rate at ~250 K/min possible when at T ≥ 300°C
Top-Loading Magnetic Levitation Balance
The latest innovation in NON-CONTACT ELECTROMAGNETIC WEIGHT  MEASUREMENT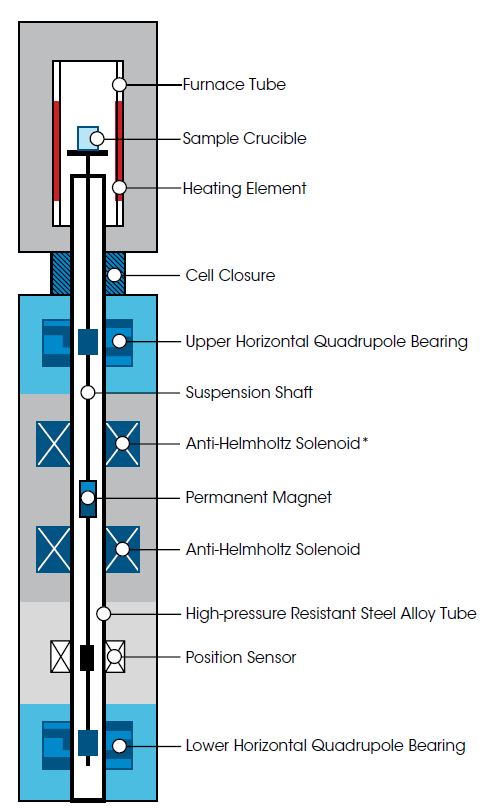 * Solenoid = Coil wound in a straight hollow helix
At the core of every Discovery HP-TGA is the new top-loading magnetically-levitated (MagLev) balance. Multiple patented technologies are combined to bring to life a highly sensitive and compact balance that can operate under high pressure and high temperature.
How it Works
Within the Mag-Lev Balance, a small-diameter high pressure-resistant steel alloy tube encloses a suspension shaft and crucible setup. A dual Anti-Helmholtz coil array, LVDT electronic sensor coils and the quadrupole magnet assembly are outside of the tube. The Anti-Helmholtz coils generate an extremely uniform electromagnetic field which levitates a permanent magnet attached to the suspension shaft. A platform at the top of the shaft holds the sample crucible. The suspension shaft is centered horizontally inside the tube by patented 2D magnet quadrupole bearing rings located at the top and bottom of the shaft. The vertical location of the permanent magnet is held constant via a control feedback loop between the Anti-Helmholtz coils and an LVDT position sensor with sub-micron resolution located on the shaft below the magnet. The amount of current that is delivered to the coils in order to maintain a constant position of the magnet is proportional to the weight of the shaft, magnet, and crucible. This weight is set to zero through a balance tare. When a sample is added to the crucible, the current required to maintain the balance position is now proportional to the sample weight.
In this configuration, the components contained within the small-volume tube are completely sealed off from the outside. The electronmagnetic coils and other sensitive parts are located outside of the tube and operate under normal atmospheric conditions to generate the electromagnetic levitation force through the pressure-resistant tube. Only the sample crucible and other components within the small-volume tube need to be pressurized and can be exposed to a variety of gases or gas mixtures. This complete separation of the balance electronics from the reaction atmosphere enables TGA measurements to be performed from vacuum to high pressures using toxic, corrosive and explosive reaction atmospheres.
High Pressure Furnace
ADVANCED REACTION FURNACE DESIGN for OPTIMAL TEMPERATURE and PRESSURE CONTROL
An innovative high-pressure reaction furnace for the most accurate and responsive temperature control under ALL pressure and gas flow conditions.
At the core of the Discovery HP-TGA furnace is a robust corrosion resistant ceramic tube with an embedded platinum heating element capable of temperature control to 1100°C*. Sample temperature is measured by a thermocouple within the heater tube directly adjacent to the sample. The compact, low-mass design is highly responsive and capable of heating/cooling rates of up to 250°C/min. The ceramic heater tube is contained within a pressure vessel which  enables characterizing samples to 80 bar. Testing can be performed in corrosive reaction atmospheres and, as no porous material is in contact with the atmosphere, changing of the reaction gas is clean, fast, and without any memory effects.
The Discovery HP-TGA is the only high pressure TGA to feature Curie-point temperature calibration at any pressure and with any reaction gas. HP-TGA temperature calibration has never been so
easy.
* Maximum temperature obtained with N2 and other reaction gases with similar heat conductivity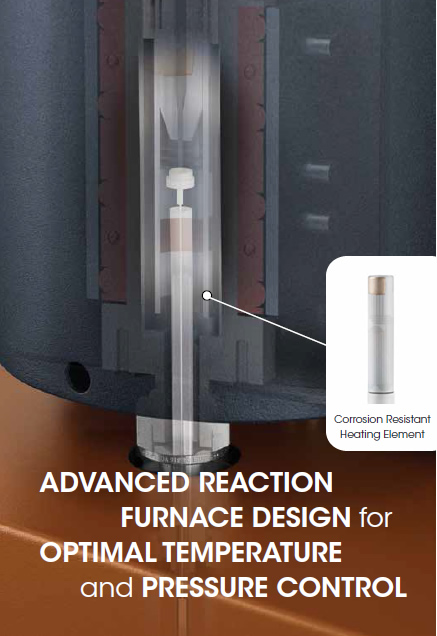 Integrated Gas Dosing and Blending Systems with Pressure Controllers
The accuracy of TGA measurements depends on reliable control of the pressure and composition of the reaction atmosphere. All Discovery HP-TGA models feature integrated gas dosing and blending systems with pressure controllers, which ensure the highest data
quality while providing flexibility to address the widest range of applications. The pressure can be controlled in the range from 200 mbar to 80 bar or complete evacuation to ultimate vacuum.
Both the HP-TGA 75 and 750 instruments include a mass flow  controller connected to an inert gas for the balance purge. The Discovery HP-TGA 75 is equipped with a single reaction gas mass flow controller and three gas connections. One reaction gas can be selected from the three connected. During a measurement the reaction gas can be switched.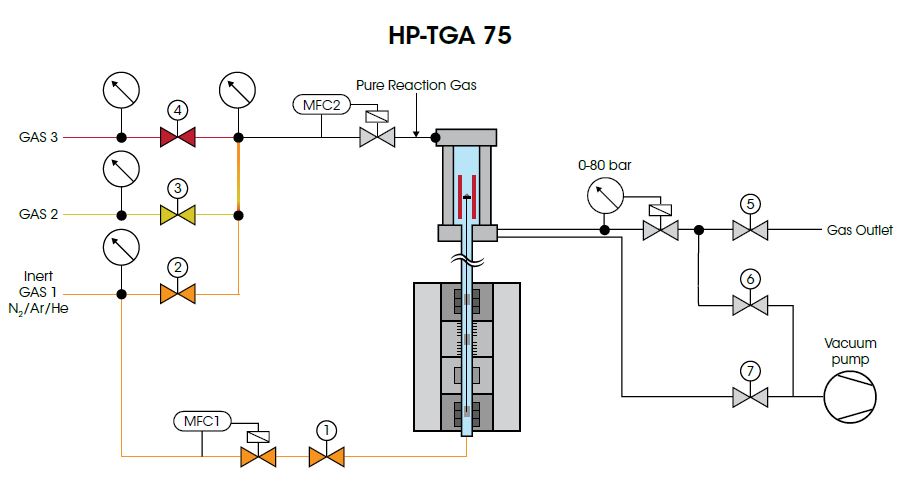 The Discovery HP-TGA 750 is equipped with three reaction gas connections and three independent reaction gas mass flow controllers, which enables the reaction gas to be a pure gas or a blend of up to three gases.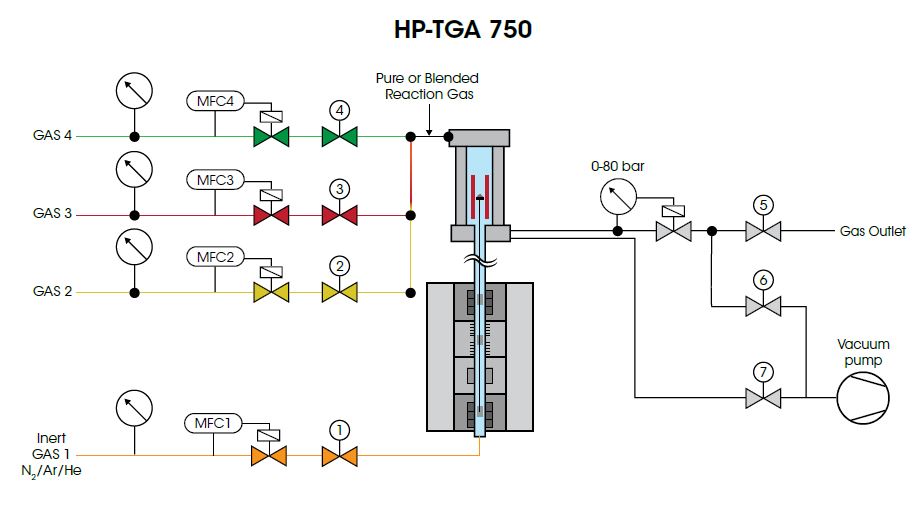 "APP" Style Touch Screen
Powerful HP-TGA performance at your fingertips

The HP-TGA 75 and 750 boast a brand-new One-Touch-Away™ app-style touch screen that greatly enhances usability by placing key instrument features at your fingertips.
Touch Screen Features and Benefits:
Ergonomic design for easy viewing and operation
Packed with functionality to simplify operation and enhance user experience.
The app-style touch screen includes:
Start/stop runs
Test and instrument status
Real-time signals
Real-time plot
Active method viewing
Advance method segments
Curie point temperature calibration
Loading/unloading samples
System information
WITH ONE-TOUCH-AWAY, IT'S NEVER BEEN EASIER TO GET GREAT HIGH PRESSURE DATA! 
Model

Max Sample   Temperature

Max. Heating/
Cooling Rate

Max. Pressure 

Weighing Resolution

Mass Range

Reaction Atmosphere

HP-TGA 750
1100°C*
250°C/min

250 °C/min

(at T > 300°C)

80 bar
0.1µg
500 mg
Pure Gas (select 1 of 3)
HP-TGA 750
Pure Gas & Gas Blends
(of 3 Gases)
* Maximum temperature obtained with N2 and other reaction gases with similar heat conductivity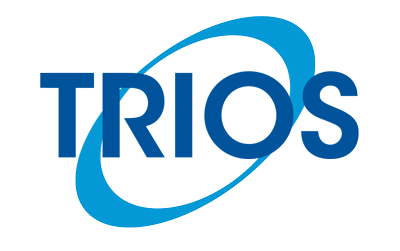 The Most VERSATILE CONTROL and ANALYSIS SOFTWARE!
Discover powerful TRIOS software that delivers exceptional user experience in a combined package for instrument control, data analysis and reporting for thermal analysis and rheology. New features such as multiple calibration sets, real-time test method editing, and inter-laboratory data and test method sharing provide unmatched flexibility, while one-click analysis and custom reporting raise productivity to new levels.
TRIOS Features
TRIOS Features
Control multiple instruments with a single PC and software package
Overlay and compare results across techniques including DSC, TGA, DMA, SDT
and rheometry
Unlimited licenses and free lifetime software upgrades
One-click repeated analysis for increased productivity
Automated custom report generation including: experimental details, data plots and tables, and analysis results
Convenient data export to plain-text, CSV, XML, Excel®, Word®, PowerPoint®,
and image formats
Optional TRIOS Guardian with electronic signatures for audit trail and data integrity
Ease of Use
Ease of Use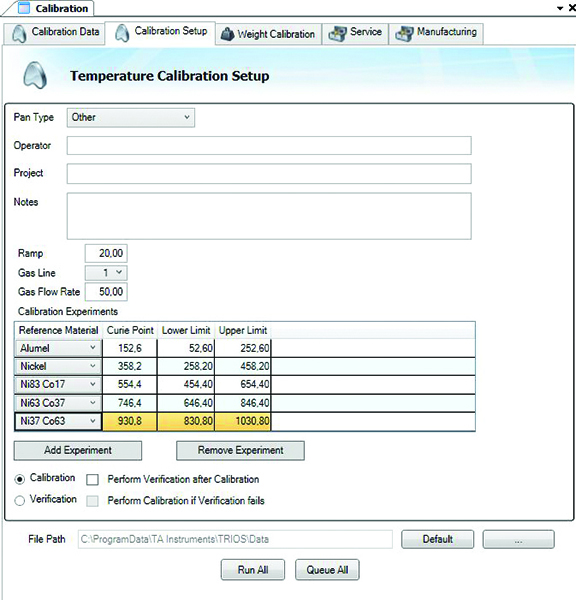 TRIOS software makes calibration and operation of the entire line of Thermogravimetric Analyzers simple. Users can easily generate Curie-point temperature calibration data sets under varying experimental conditions (e.g. different pressures or gas selections) which are automatically applied to match the experimental conditions used for sample testing. Real-time signals and the progress of running experiments is readily available with the added capability of modifying a running method on the fly. TRIOS software offers a level of flexibility that is unmatched in the industry.
Complete Data Record
Complete Data Record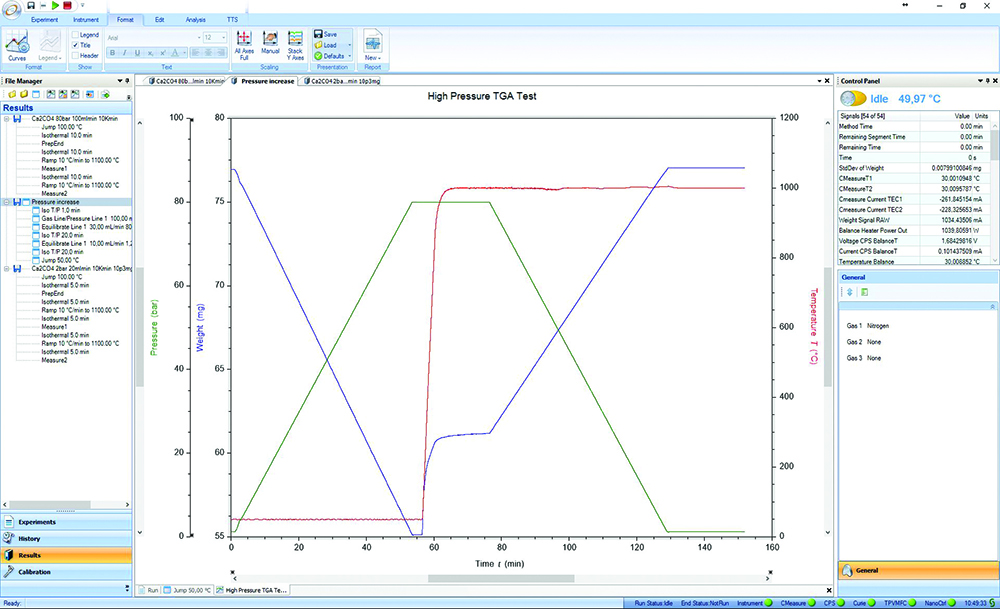 The advanced data collection system automatically saves all relevant signals, active calibrations, and system settings. This comprehensive set of information is invaluable for method development, procedure deployment, and data validation.
Complete Data Analysis Capabilities
Complete Data Analysis Capabilities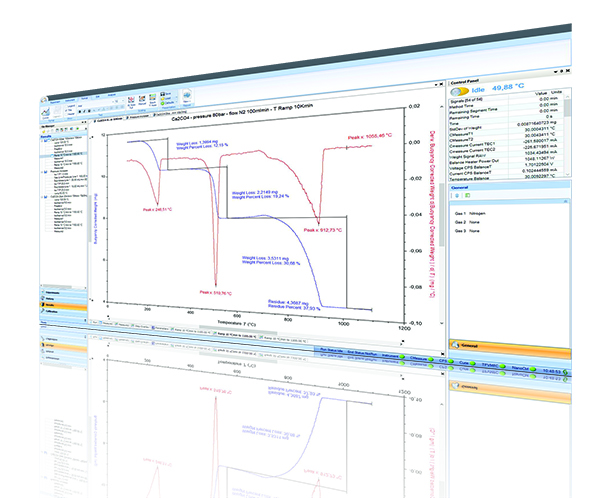 A comprehensive set of relevant tools are available for real-time data analysis, even during experiments. Gain actionable insights into material behavior through a powerful and versatile set of features seamlessly integrated into TRIOS.
All Standard TGA Analyses:
 Weight change (absolute and as a percentage)
Residue content
1st and 2nd derivatives
Weight at a specified time or temperature
Weight loss at a specified time or temperature
Peak height and area
Temperature at peak maximum
Onset and endset analyses
Step transition analysis
Easily import and export TGA data with TRIOS
Advanced Analysis Capabilities:
Decomposition kinetics
Advanced custom analysis with user-defined variables and models
Applications
The DISCOVERY HP-TGA is Uniquely Suited for Challenging Thermogravimetric Applications
Weight Loss of Calcium Oxalate under Varying Conditions
Weight Loss of Calcium Oxalate under Varying Conditions
Calcium Oxalate is a widely characterized material with very well-known and understood weight loss behavior. It undergoes three discrete decomposition events, each with a pronounced step change in weight. The onset of the weight change associated with each decomposition is affected by sample mass, heating rate, and pressure. The magnitude of the weight changes, as a percent of total starting weight, should not change with these variables.
In standard thermogravimetry measurements (TGA), the onset of decomposition can be studied under variable mass and heating rate. However, with the TA Instruments high pressure TGA (HP-TGA), measurements can be conducted as a function of all three variables (mass, heating rate, and pressure).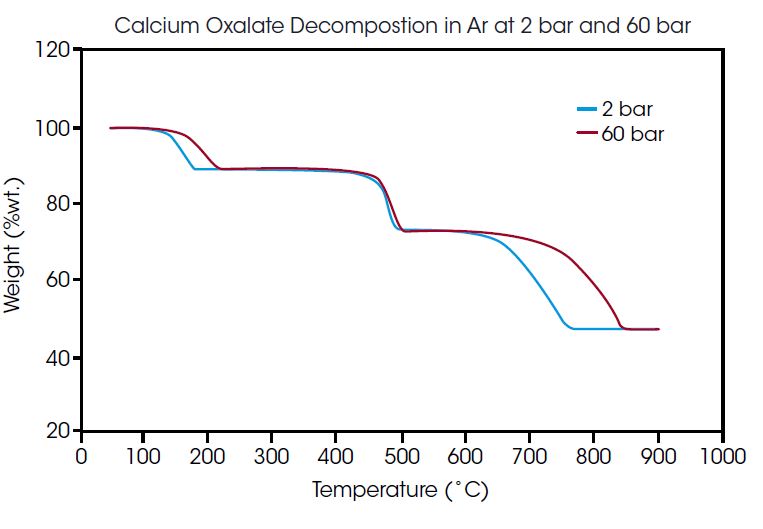 In the diagram above, two Calcium Oxalate decomposition measurements in Ar at 2 bar and 60 bar pressure are compared. While the decomposition temperatures of the three steps are all shifted to higher temperatures at high pressures, the weight changes in each decomposition step are identical. This illustrates the kinetic nature of decomposition. Varying the pressure, heating rate, or initial sample mass will impact the temperature at which a material decomposes.
Pyrolysis and Gasification
Pyrolysis and Gasification
Coal, biomass, waste and other organic materials are gasified for energy utilization or as alternative feedstock. Such processes can be measured under application-relevant conditions in the Discovery HP-TGA. The first step in a gasification process is pyrolysis
of the raw material, where, while heating the organic material in an inert atmosphere (eg. N2 or Ar), volatile components (water, hydrocarbons, tar) are evaporated and char is generated. Gasifying this carbon-rich char as a second reaction step requires a gasifying agent.
The gasification agent carbon dioxide and the carbon char generate carbon monoxide gas according to the following main reaction:
CO2 + C → 2CO
Additional gases can be products of further or incomplete conversions and side reactions.
Because the process reaction kinetics depend on the reaction conditions and the raw material, the composition and pressure of the gases generated will vary. Discovery HP-TGA instruments allow optimization of operating conditions for a given raw material. In
addition, they can be equipped with a mass spectrometer for evolved gas analysis.
In the diagram below, the pyrolysis and gasification process of a lignite at 30 bar measured with the Discovery HP-TGA is shown. During heating to 1000°C at a heating rate of 10°C/min, Ar is dosed as the reaction gas. The resulting weight loss of approximately 60% is due to charring and pyrolysis of the lignite.
When constant weight is reached, 30% CO2 is blended into the Ar to start the gasification process. Gasification leads to another weight loss of 35%.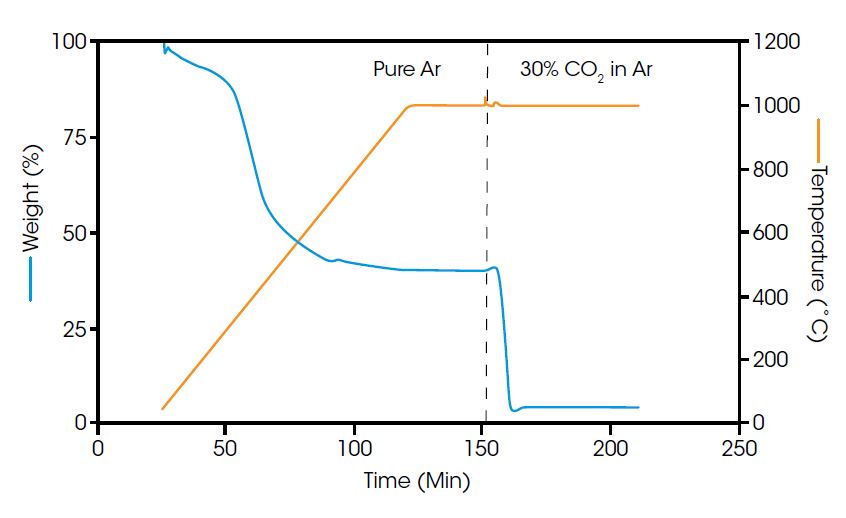 Graphite Oxidation
Graphite Oxidation
Burning of solid or liquid fuels is an oxidation process. The oxidation temperature and the reaction kinetics depends on the pressure and the oxygen content of the reaction gas. With the Discovery HP-TGA the influence of pressure and oxygen concentration on the oxidation can be studied.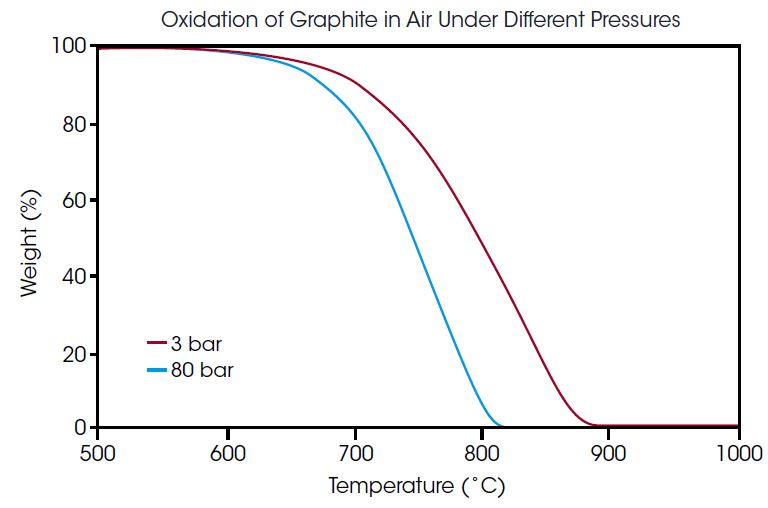 In the diagram above, graphite was oxidized in air at 3 bar and at 80 bar. The data in the figure to the left show that at the higher pressure of 80 bar, the reaction comes to completion at a much lower temperature compared to the experiment at lower pressure. The ability to complete a reaction with lower energy input can save significant cost in manufacturing processes. Some relevant applications include pressurized fluidized bed power plant design and underground coal gasification.
High Temperature Corrosion
High Temperature Corrosion
Understanding the corrosion resistance of a material can be critical for improving technical processes and increasing efficiency. For example, the efficiency of gas or steam turbines and jet engines is directly related to their maximum operation temperature. The maximum temperature is limited by the high-temperature corrosion of the materials used.
The mass change of a metal or other material caused by corrosion is generally very small. Additionally, even high temperature corrosion is usually a slow process. The Discovery HP-TGA is ideally suited for such measurements because the exceptional high resolution and accuracy allows measurement of small changes in sample mass over a comparably short period of time.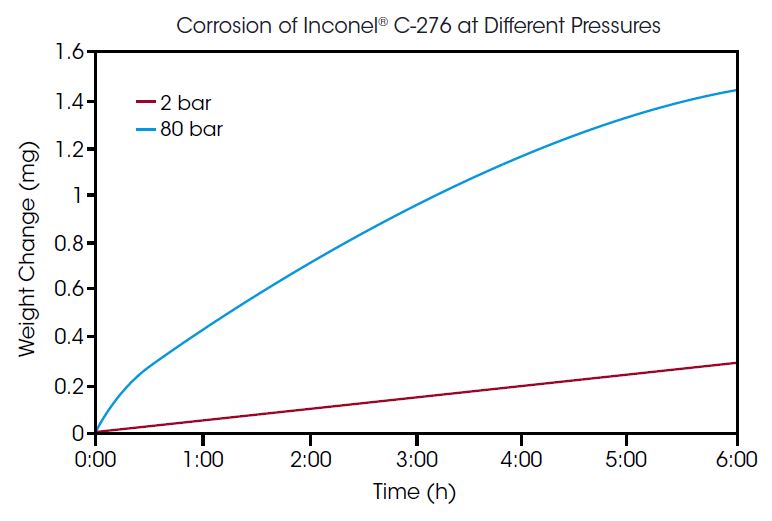 The figure above compares the mass increase of a Inconel®* C-276 alloy in air at 1000°C at 3 bar and at 80 bar. The observed weight gain is caused by oxidation of the alloy's surface. The total mass change here is about 287 μg at 3 bar and 1444 μg at 80 bar. As expected, the pressure of the corrosive atmosphere has an influence on the kinetics of, and amount of, corrosion.
PVC Decomposition
PVC Decomposition
Thermal decomposition of polymeric materials is a routine thermogravimetric test. The new Discovery HP-TGA enables the added dimension of understanding the influence of pressure on decomposition temperatures and kinetics. This information is critical to define the limits of operation which should not be exceeded during manufacturing or applications. Polymer materials can be tested under real-world conditions using the actual pressures and reaction gases of interest. In the diagram below, the decomposition of PVC-P in nitrogen gas is compared at pressures of 1.2 and 80 bar. The decomposition is a multistage process. Typically HCL, aliphatic and aromatic hydrocarbons are the decomposition products.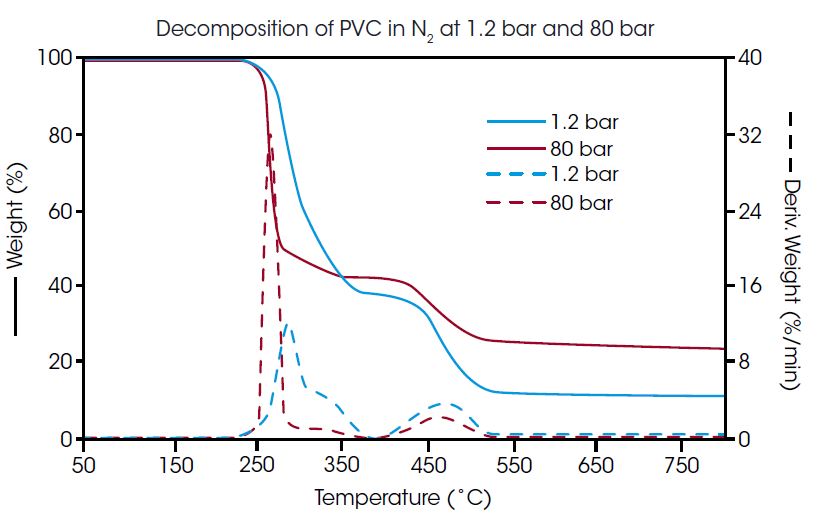 At higher pressure, the kinetics of the first step of decomposition is much faster compared to the measurement at ambient pressure. The following decomposition steps are more clearly separated than at low pressure.
Decomposition temperature is not significantly changed by the higher pressure. At 80 bar however, a residue of ca. 23%wt is remaining after the decomposition while at ambient pressure only 10% of the PVC is not decomposed.