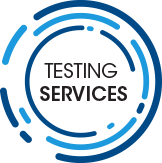 TA Instruments
Testing Services
TA Instruments Testing Services
TA Analytical Services Laboratory is an expert in material and structural property testing across various techniques including thermal, rheological, and physical testing. The testing laboratory is led by our specialized knowledge in material science instrumentation development, delivery of first-class application methods, and commitment to delivering what you need.
The TA Analytical Services Laboratory is able to provide routine material characterization and structural property testing or even more advanced development services. Our skills and in-depth understanding of customer needs span across multiple industries and can deliver numerous offerings including (and not limited to):
Running single or batch samples
Method development
Results validation

Verify your results
Confirm with complementary technique
Contact us today for pricing and more information.



Fine & specialty chemicals














What to expect from the TA Analytical Services Laboratory
After you provide us a few details either through our contact form or email, you will be contacted by the Lab to further discuss your needs.
Once the project has been scoped, a quote will be provided to you for your review and approval. Upon approval, there will be multiple payment options available for your convenience.
Then ship your samples along with the form provided with the quote. Once received, we will send you a confirmation and the expected completion date. We will be in constant contact as needed and don't hesitate to check in with us on the status of your samples!
Once our high-precision measurement results are completed, verified, and analyzed, we will send you a detailed report of the findings and if needed, schedule a time to discuss.
We are here and ready to review and quote our laboratory testing services for you, whether you need thermal testing services, viscosity testing services, differential scanning calorimetry services, thermal resistivity testing services, glass testing services or any of the other multitude of laboratory testing services we provide!
Submit your request through our contact form and a materials scientist will contact you to discuss your needs
A quote will then be provided for your approval. Upon approval, there will be multiple payment options available for your convenience
Ship your labeled sample(s) with the provided form. Once received, we will send you a confirmation along with the expected completion date
Once results are complete, verified, and analyzed, we will send you a detailed report of the findings
Techniques and Testing Standards
  Contact Us About Sample Testing